Facility Management
Articles
In the commercial workspace, there are endless types of carpets in an office space – nylon and wool, Type 6 and 6,6, solution-dyed, yarn-dyed, cut pile and loop, tiles and rolls. One thing they all have in common is their need to be cleaned – properly.
In this COVID-19 world, facility managers have had to adjust how and how often they clean their spaces to ensure their facilities are clean and healthy to reduce risk and keep their clients safe. Some might say, they have become surface care experts. For those who have not mastered this equation, SOLID is here to help. We believe the cleanest, safest, healthiest facilities are those that have a surface care specialty partner to support the efforts of their daily building services contractor's efforts.

There are 3 primary ways to clean carpets professionally: low moisture, hot water extraction, and dry cleaning. Here is a link to speak to these methods – clean carpets prevent infection in your facility and make it a safe, healthy environment.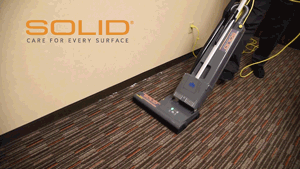 Commercial Facility Vacuuming – The Most Important Step:
Vacuuming is the most important step to caring for your soft surfaces. A dual motor, multiple filters, upright vacuum is your best choice. It's essential to follow best practices to ensure carpets not only look clean but are clean. Follow these recommendations:
Extract soil and pathogens from carpet daily with a CRI certified commercial-grade dual-motor triple-filtration vacuum.
Use vacuums with a dedicated motor to the beater bar or a machine that provides agitation of carpet fibers.
Perform deep cleaning for all hard and soft floors on a routine basis, tailored to the surface's usage and traffic, to help reduce soil, viruses, and other pathogens transferring from one area of the facility to another.
Clean up spills of any kind as soon as possible so they don't set up and attract more dirt that occupants can track onto other floor surfaces.
Work with a specialized maintenance provider to create a clear and proactive care plan for all surfaces.
EPA: Carpets Can't Be Disinfected, Only Sanitized
After vacuuming, regular deep cleaning keeps carpets clean, healthy, and safe. But according to the EPA, only hard surfaces can be disinfected. There are, however, EPA-List N disinfectants available to sanitize carpets and other soft surfaces. These can be applied using hot water extraction after the carpet has been pre-sprayed. Carpet has a porous surface, collecting dirt and germs that become trapped in the surface. The good news is porous surfaces are less hospitable to viruses. Once carpets are sanitized, viruses are less likely to transfer to other surfaces.

Clean For Health
Cleaning for health is equally as important as cleaning for appearance. Carpet that looks, feels, and smells clean brings peace of mind to building occupants, allowing them to Reoccupy Reassured™.
SOLID's professional craftsmen can clean, sanitize, and disinfect all the hard and soft surfaces in your facility. We ensure your spaces are clean, healthy, and safe through testing, certification, and the exacting standards our technicians bring to these processes.
Get your free site assessment and customized consolidated care plan now.