Featured
Articles
Continuous cleaning has become a new way of life.  However, it doesn't necessarily do much to kill and prevent the spread of COVID-19. Cleaning and disinfecting needs to be combined with an antiviral coating, SurfaceWise2™,  that continuously removes pathogens from surfaces for months with a single application.
SOLID Partners with Allied BioScience to Provide Antiviral Treatment
SOLID has partnered with Allied Bioscience to offer SurfaceWise2™, the only long-lasting, EPA-approved antiviral coating that's proven to prevent the spread of COVID-19 on surfaces even after new germs are deposited.  As a nationwide preferred partner, SOLID recommends a smarter approach by adding  SurfaceWise2™ to your routine disinfecting protocols for a complete consolidated care plan.
Hygiene Theater Offers Little-to-No Protection
Excessive sanitizing of surfaces and spaces is called "hygiene theater." It leads to a false sense of security because typical disinfectant sprays provide only a momentary clean. Once the surface is touched, more germs are deposited, contaminating the surface again.
Hand spraying and wiping are widely used within facilities. However, it is generally considered the least effective approach for several reasons. The disinfectant product is not atomized, so when it is sprayed, it does not break into the fine particles needed to adequately cover the surface. Cross-contamination occurs from wiping the same cloth across multiple areas. And it's easier for areas to be missed.
How to Kill and Prevent the Spread of COVID-19
That's where Allied Bioscience's SurfaceWise2™ comes in. It's the first and only EPA-approved, non-toxic antiviral protectant that's proven to kill coronaviruses on surfaces even after new germs are deposited. SOLID uses SurfaceWise2™ as part of a consolidated surface care plan designed specifically for your facility. A single application helps protect against the spread of COVID-19 and infectious diseases around the clock for up to 90 days.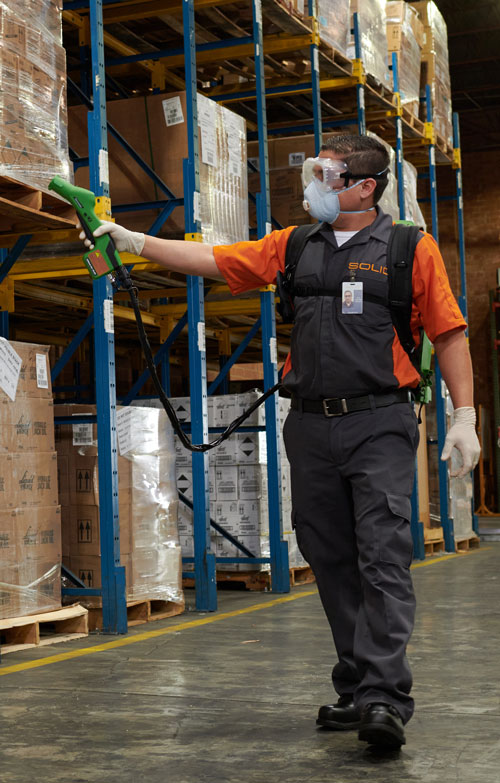 Before SurfaceWise2™ is applied, however, surfaces must be properly cleaned and disinfected. Once cleaning and disinfection are complete, non-toxic SurfaceWise2™ is applied. When coronaviruses and other germs encounter the SurfaceWise2™ barrier, they are physically broken down. Moreover, it provides safe and sustained protection on treated surfaces around the clock, for up to 90 days.
Add SurfaceWise2™ to your cleaning and maintenance protocols to make it safer to open and operate your business. Once SurfaceWise2™ is applied, even the repeated aggressive cleaning occurring in hygiene theater will not wipe it away. You can continue the regular cleaning and disinfecting protocols without interfering in the effective killing action of SurfaceWise2™.

SOLID's account management and operations teams are experts at developing cleaning and disinfecting solutions for facilities. For a complimentary facility assessment, please contact us at 844.227.6543 ext. 3 or visit solidcare.com/contact.