Soft Surface Care
Articles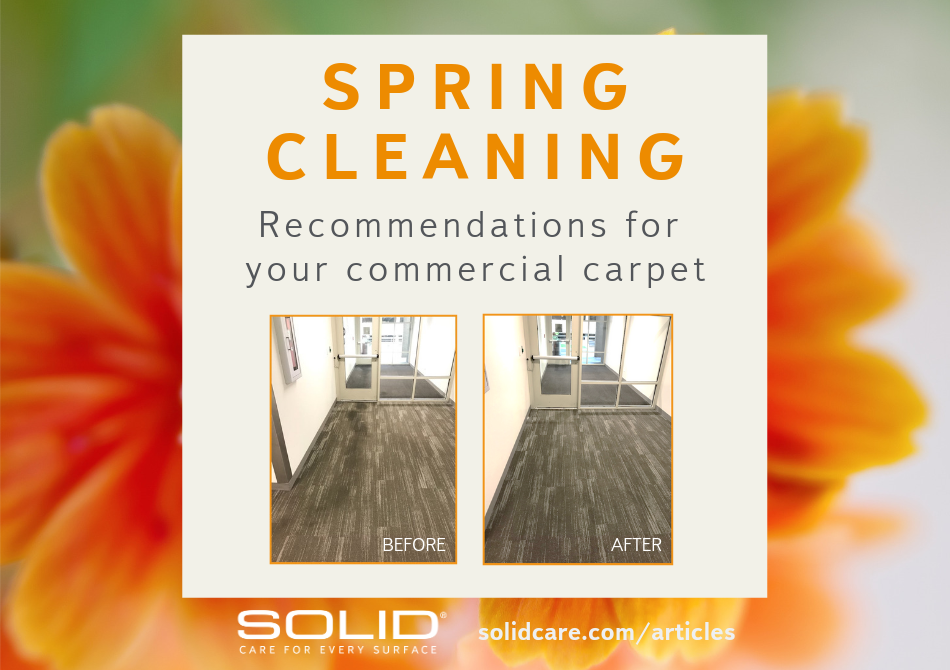 Spring is finally here! Trees are growing leaves, birds are chirping and bees are buzzing. While the sun is shining and temperatures are heating up, it is easy to forget about the cold months when abrasive salt, ice melt and slush was tracked through your spaces, and your facility's carpet took a beating. Now is the time to recover from the wrath of winter weather and rejuvenate your facility's carpet with a restorative spring clean.
Soiled Carpet Chaos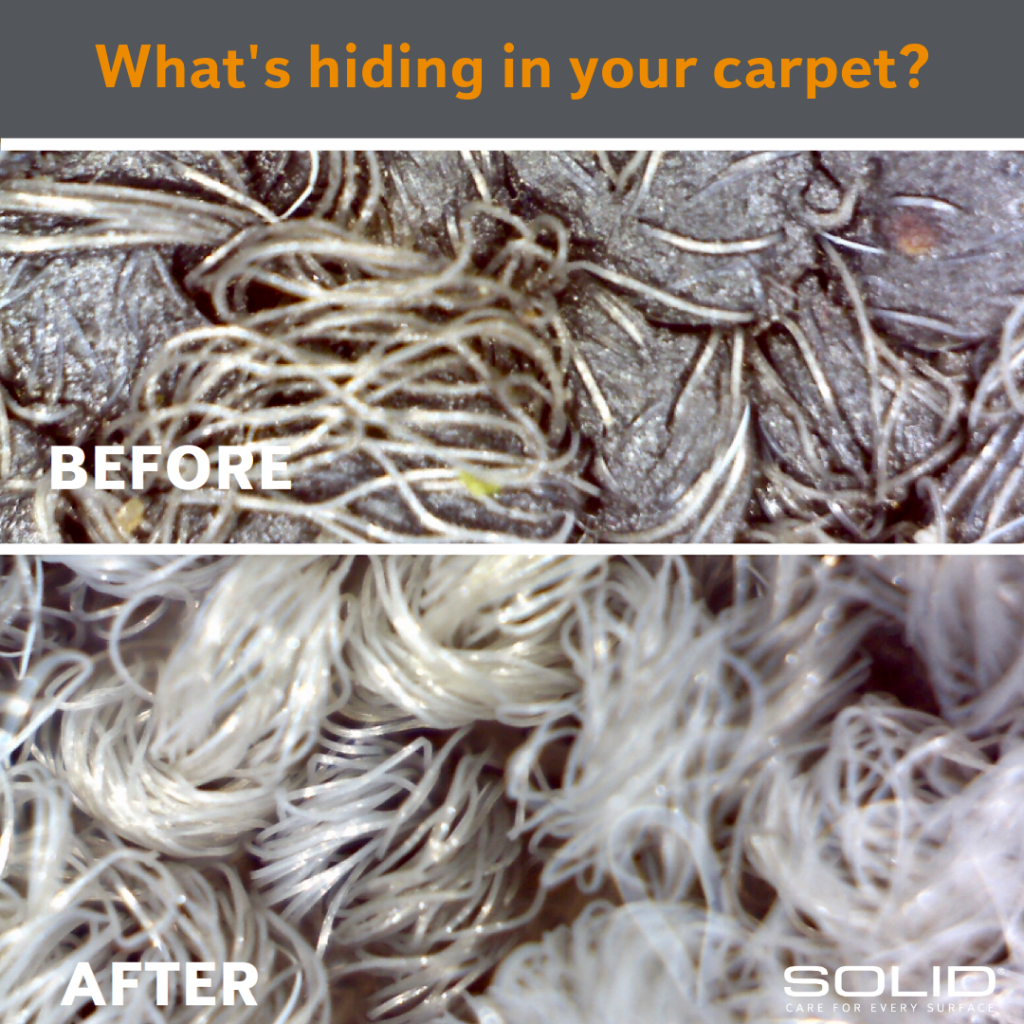 Winter boots, shoes, umbrellas, roller bags and other items track and leave residue most often in high traffic areas as well as under/around desks. The damage from the soil, mud and moisture can go beyond what is visible on the surface and may cause irreversible damage. Here's one way:
Think of carpet fibers as a clear plexiglass tube filled with dye sites, and the soil, salt and debris found in carpet as sand paper. Once plexiglass has sand paper applied to it for a few passes, the finish is scratched and damaged, sometimes beyond repair, and has a cloudy or muted appearance preventing you from seeing the color within. The same happens to carpet when dirt, sand and other abrasive particulates are not evacuated properly. Carpet becomes muted and visible traffic patterns appear, possibly past the point of restoration, and costly replacement is necessary.
Generally, the best approach to prevent dull and damaged carpet is to perform a customized restorative clean followed by a tailored routine maintenance plan and daily vacuuming. Daily vacuuming is vital to a maintenance plan year-round, specifically with the use of a commercial dual-motor vacuum at a slow to moderate rate of speed to keep up with soil evacuation.
How much residue is living in your carpet?
An easy way to evaluate the amount of soil and residue deep in your carpet fibers is to perform a filter test with commercial vacuum. This test can be performed with a filter kit or by detaching the hose and placing a cloth over the opening. Vacuum a 3'x3' area and observe the results.
Next Steps for Cleaner Carpet  
An experienced carpet care specialist will be able to identify needs throughout the facility. Traffic patterns and usage will help determine the best course of action, including frequency, the best cleaning methodology and more. Remember there are a variety of carpet care methods (https://www.solidcare.com/surfaces/carpet/). One size does not fit all.
After a restorative clean, it may be recommended to use advanced surface guards to protect against future soil and water-based spots, while keeping stains from bonding to your carpet fibers. Benefits of this approach include:
Life and performance of your carpet is extended

Carpet stays cleaner longer

Fibers are harder to stain

General maintenance costs are reduced
Spring is also a perfect time to evaluate a facility's annual maintenance plan and audit all carpeted areas. By removing dirt, allergens and damaging corrosive material, a restorative clean also improves indoor air quality by removing up to 99% of pollutants and allergens.
And to prepare for next winter, learn more about how to prevent ice melt issues in your facility here.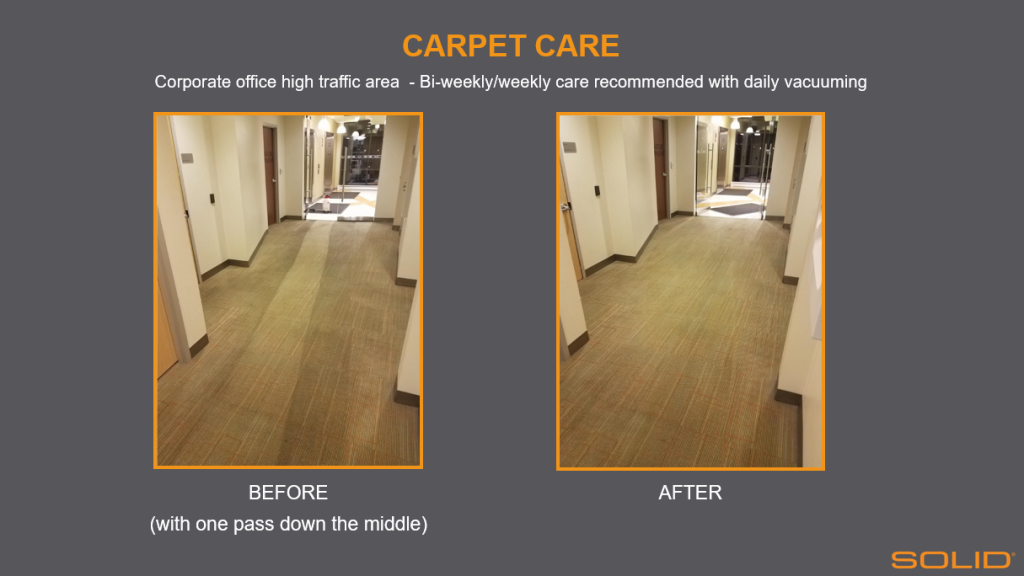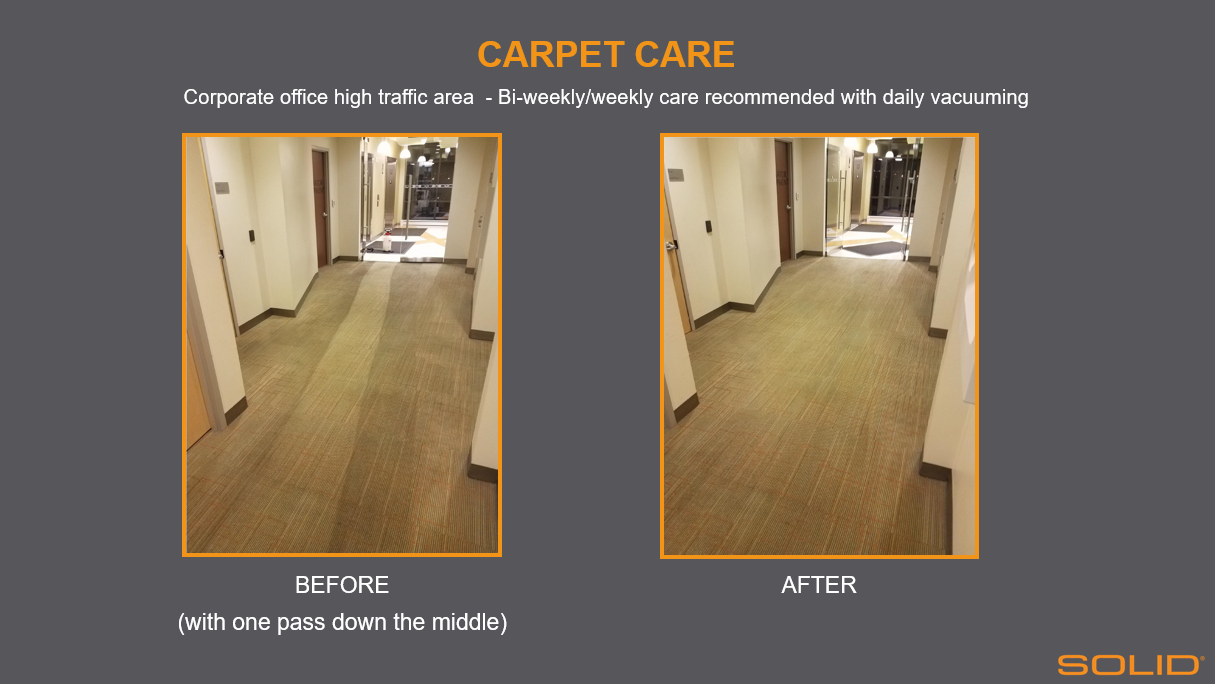 SOLID Surface Care, Inc., is a unified team of surface care experts who deliver the highest level of care for all hard and soft surfaces while providing a world-class client experience. With SOLID, your surfaces are protected, your spaces are kept clean and healthy, and your expectations are exceeded. From carpet to stone to metal and wood, we care for the most precious surfaces in the world – Yours.
Contact SOLID for Your Carpet's Spring Cleaning
Call 844.227.6543 ext. 3 or visit https://www.solidcare.com/contact/.