Home
Solid
AAAE
Visit SOLID at the 93RD ANNUAL AAAE CONFERENCE & EXPOSITION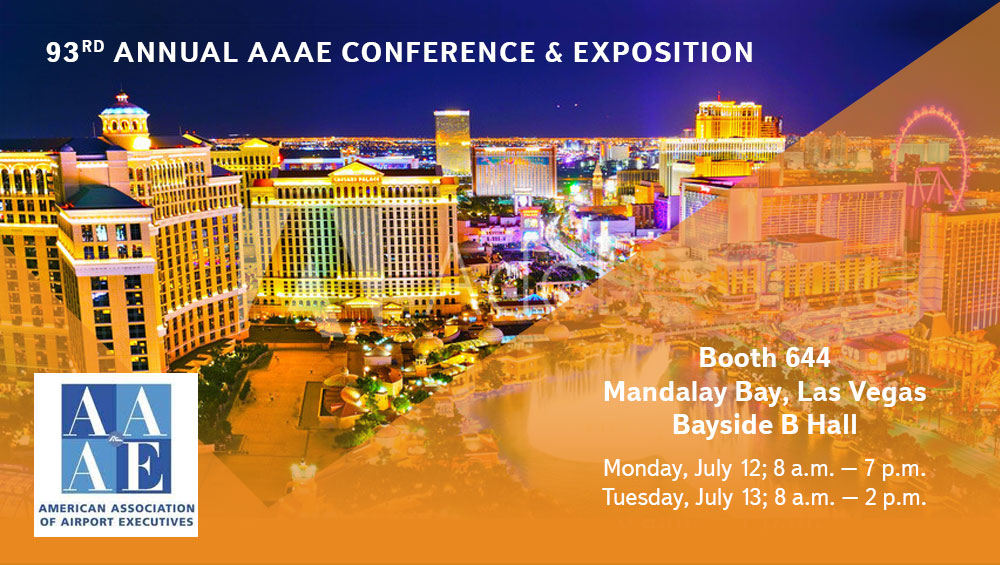 SCHEDULE YOUR APPOINTMENT HERE
SOLID. We Are the Premier Surface Care Experts.
From carpet to stone to metal and wood, we care for the most precious surfaces in the world – Yours.
Are You Ready To Welcome Back Travelers?
SOLID Can Help.
Air travel is on the rise. Is your airport ready to welcome visitors with a safe and healthy environment?
Trust the Experts at SOLID.
SOLID has over a decade of experience with airport facilities management's nuances and safety standards. Our expert technicians can restore, repair, and enhance the performance and aesthetics of all your hard and soft surfaces: Carpet, stone, terrazzo, metal, wood, tile, and resilient surfaces.
The busiest airport in the nation trusts SOLID to provide specialty care for millions of square feet of flooring annually – that's 7.2 million sq. ft. of carpet alone!
SOLID offers services to keep travelers reassured your airport is healthy and safe, like hand sanitizer damage removal, high-performance coatings, and antiviral and antimicrobial treatments.
It all comes down to one: SOLID is the ONE partner, ONE contract, ONE invoice, and ONE point-of-contact for all airport specialty surface care needs.
Here's who you can expect to meet at the SOLID booth: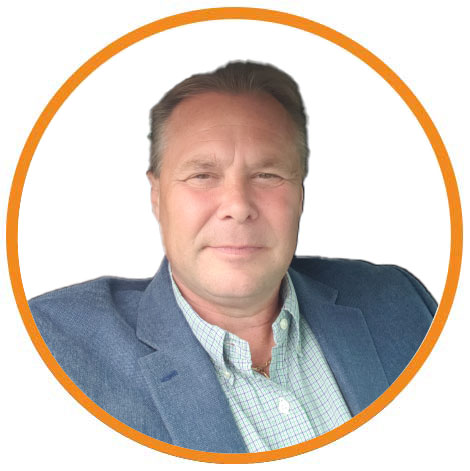 Tim Martins
Senior Strategic Account Manager
Tim resides in Milwaukee and has years of experience providing solutions to many of our key clients throughout the North Central Region of the United States. His expertise is in partnering with clients to ensure their surfaces and capital are protected with the highest quality of care. His diverse client-centric approach has afforded many major partnerships within the Healthcare, Airport, Government, University, Legal, Energy, Casino/Gaming, Banking, and Manufacturing markets. Tim's client portfolio includes the likes of:
General Mitchell International Airport
Northwestern Mutual
Medtronic
University of Nebraska
Milwaukee County
City of Omaha
Healthcare (Froedtert Health, UW Health, Aspirus & Ascension)
Alliant Energy
Centene
Potawatomi Hotel & Casino
Tim enjoys family, traveling, and sports.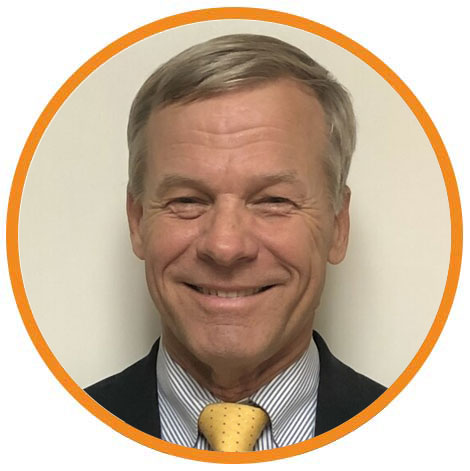 Bud Blide
Senior Sales Associate
Bud is responsible for the Atlanta Hartsfield Airport and Coca Cola Headquarters, among other accounts. During his time with SOLID, he has been involved in numerous projects, including:
Concrete resurfacing and polishing
Concrete coatings
Concrete overlays
Terrazzo restoration and revitalization
Stone restoration and revitalization
Carpet restoration and maintenance
Ceramic and porcelain tile revitalization and maintenance
Bud is an avid golfer and a graduate of Clemson University. He resides in Atlanta with his family.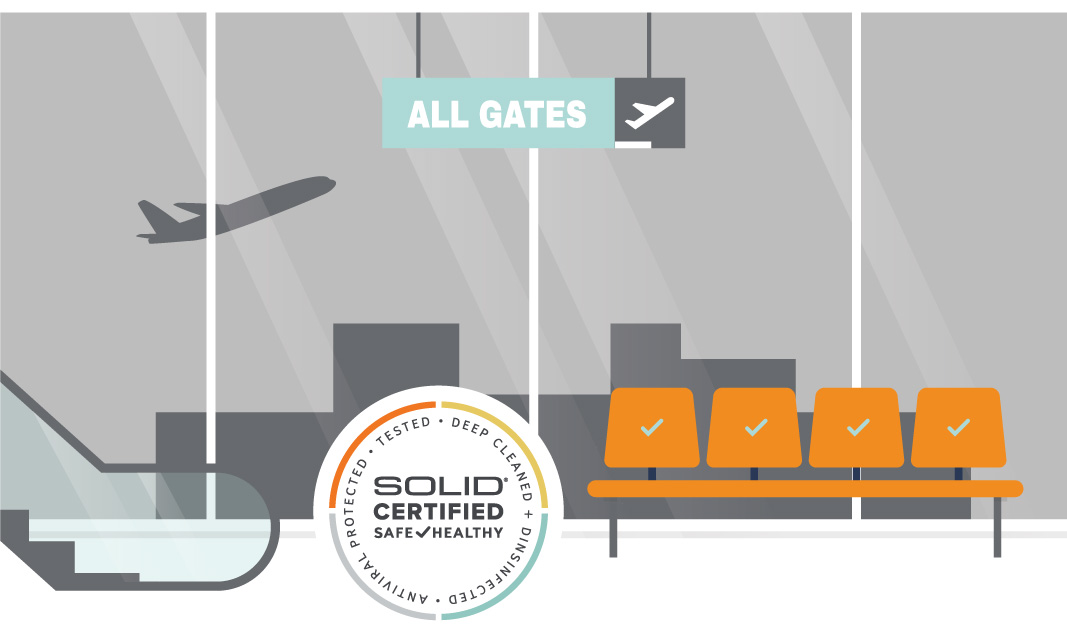 SOLID FAST FACTS REGARDING AIRPORTS:
What are the benefits of dry carpet cleaning?
No downtime, uses less water, reduces the risk of moisture, re-soiling, and slips and falls.
Could you also perform Hot Water Extraction (HWE)?
SOLID can meet any manufacturer guidelines and warranty recommendations. HWE can be part of a customized Consolidated Care Plan to extend the life of a facility's carpet.
Do you work at 12-2 am/3rd shift for the 6 am arrivals – hard & soft surfaces?
Yes, we will work whenever and wherever is needed.
Do you use wet floor signs and other safety precautions?
Yes, and we are happy to follow your airport standards and recommendations.
How do your services align with the manufacturer's guidelines?
SOLID aligns with all manufacturer's guidelines, recommended methodologies, and frequencies.
How long will the surfaces last if we use your services?
The surface appearance will vary depending on foot traffic, daily cleaning schedule, and frequency of SOLID's service schedule. SOLID will provide you with several frequency options based on manufacturer recommendations, over 25+ years of in-field experience, and of course the client's expectations.  All of these are discussed during the collaborative build stage that allows us to work together to provide you with expert information in order to make the very best informed decision for your facility and passengers.
Different surfaces have different life cycles and lengths of life, but regardless of what surface we're working with we'll use the best products, equipment, and processes to care for those surfaces while following your manufacturer's guidelines and recommendations.
What is your experience in an airport environment?
Over 20 yrs of experience working with airports.
SOLID cares for the busiest airport in the world – Hartsfield-Jackson Atlanta International Airport
Busiest airport since 2000

107,394,029 passengers passed through in 2018

Carpet – since 2003; 600,000 sft/mo or 7.2 M sft/yr = 93,600,000 in 13 yrs.

Terrazzo – 18 months daily cleaning; 365/7days a week; 135,000 sq ft/day

Granite - 18 months daily cleaning; 365/7days a week; 150,000 sq ft/day

Concrete as requested
How do you manage the 3rd shift?
Our teams are constantly monitored for quality purposes by both onsite team leads and local operation teams. SOLID invests heavily in training and certification so that all our team members are surface experts in their craft.  In addition, we have a pre and post-walk process performed by local managers that oversee all work, as well as a robust system to deliver industry-leading before and after photography for your daily review.  This ensures that any work SOLID performs meets the highest of standards; rather it is the daytime, second or third shift, or the weekend
What is the scope of work?
Share the SOLID spectrum of hard and soft surface services.
What process best fits my current/future needs? What is the cost breakdown and how can I use these dollars most efficiently.
Varies per FM and facility. Use a consultative approach to ask for details about their needs and budget.
Can you clean and neutralize odors from service animals and in rest rooms?
Yes, our technicians' specialized services can resolve and restore damage issues from service animals and other pet waste, and reduce odors from restrooms and service stations.
Downloads