About Us
Solid
About Us
From carpet to stone to metal and wood, we care for the most precious surfaces in the world - Yours.
WHO WE ARE
From carpet to stone to metal and wood, we care for the most precious surfaces in the world – Yours. When working with SOLID, it all comes down to one: ONE partner, ONE contract, ONE invoice, and ONE point-of-contact for all your specialty surface care needs.
With almost three decades of experience, SOLID® Surface Care, Inc. is the nation's largest self-performing surface care company. SOLID is recognized nationally for its breadth of environmentally conscious, science-based cleaning, enhanced disinfection services, and world-class craftsman. Since 1996, the SOLID team has maintained and restored more than 700 million square feet of commercial surfaces, annually.
CLIENT-CENTRIC SERVICE
The client comes first with SOLID. We go beyond the surface to offer a best-in-class client experience by understanding your brand, your pain points, and your culture. Then, because we offer a full suite of innovative services, we develop a customized ConSOLIDated Care Plan that's right for your facility and your budget.
SOLID can restore, repair, and enhance the performance and aesthetics of all your hard and soft surfaces— and bundle them together to save you money. You can manage your plan with our advanced online data management platform, ES4U, assuring immediate information and complete transparency. Our overarching goal is to become your strategic partner in specialty surface care.
One Source For all Your Surface Care
Hard Surfaces
Natural and Engineered Stone
Terrazzo
Concrete
Metal
Wood
Tile & Grout
LVT & VCT
Soft Surfaces
Carpet
Fabric Cubicles
Upholstery
Additional Services
Disinfection
Antimicrobial
Long-lasting coatings
Odor Neutralization
Repair & Restoration
With SOLID, you can rest assured that your surfaces are protected, your spaces are kept clean and healthy, and your expectations are exceeded.

LEARN ABOUT OUR LEADERSHIP
Transforming an industry takes a certain kind of vision. SOLID's leadership team brings passion, talent, and service together to care for its people, its clients, and the communities in which it operates.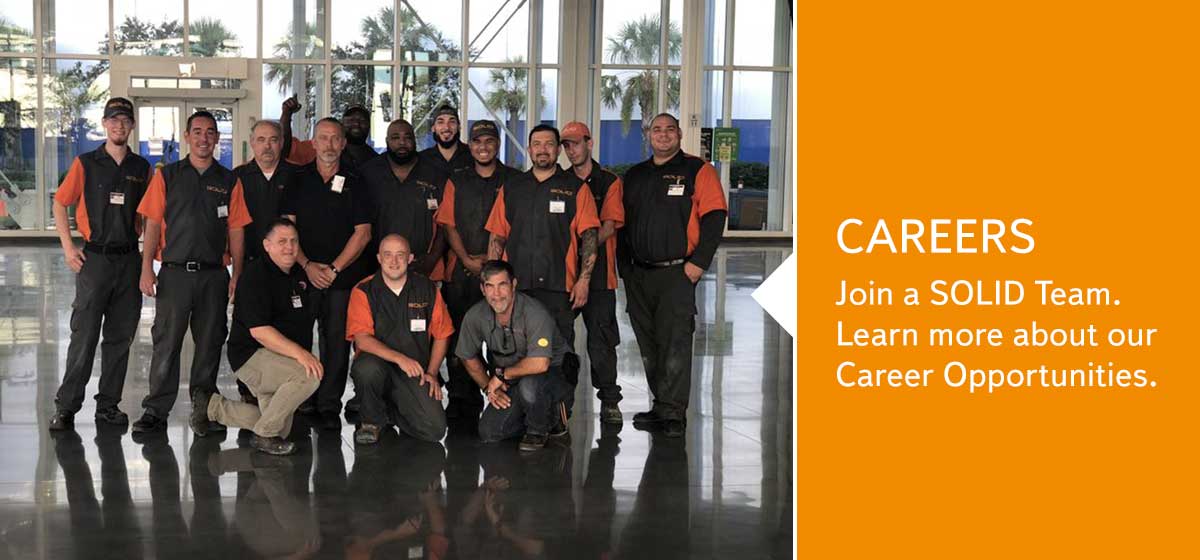 ---
HONORING OUR ASSOCIATES 
Learn about our Associate Recognition Program, the SOLID Associate Spotlight Award. Each month, we honor an individual and/or a team. It acknowledges the contributions of associates who go above and beyond the everyday scope of their responsibilities or who have particularly excelled in executing a job duty.