SOLID Associate Spotlight Award Winners
Solid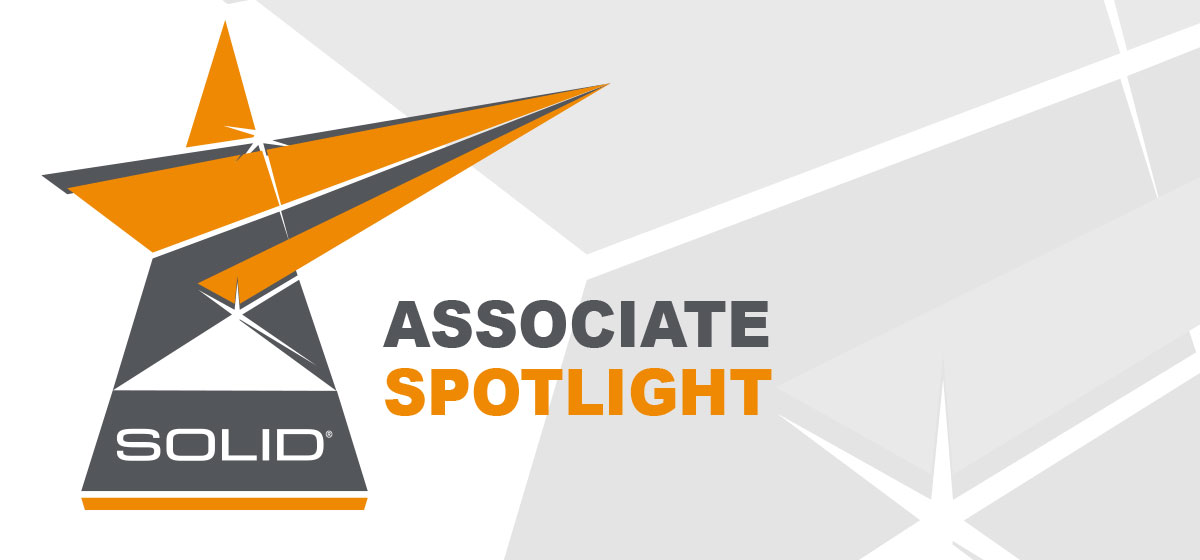 SOLID Surface Care, Inc. is proud to announce its new Associate Recognition Program, the SOLID Associate Spotlight Award. The SOLID Associate Spotlight Award is presented monthly to an individual or team. It acknowledges the contributions of associates who go above and beyond the everyday scope of their responsibilities or who have particularly excelled in executing a job duty.
Examples of these contributions include:

Providing exceptional customer service.
Producing high-quality work under a tight deadline.
Keeping operations running smoothly.
Implementing a new system or procedure that saves time or money.
Fostering camaraderie and collaboration within a department.
Boosting morale or creating a positive, inclusive work environment.
SOLID Associates Honored at Year-End Awards Program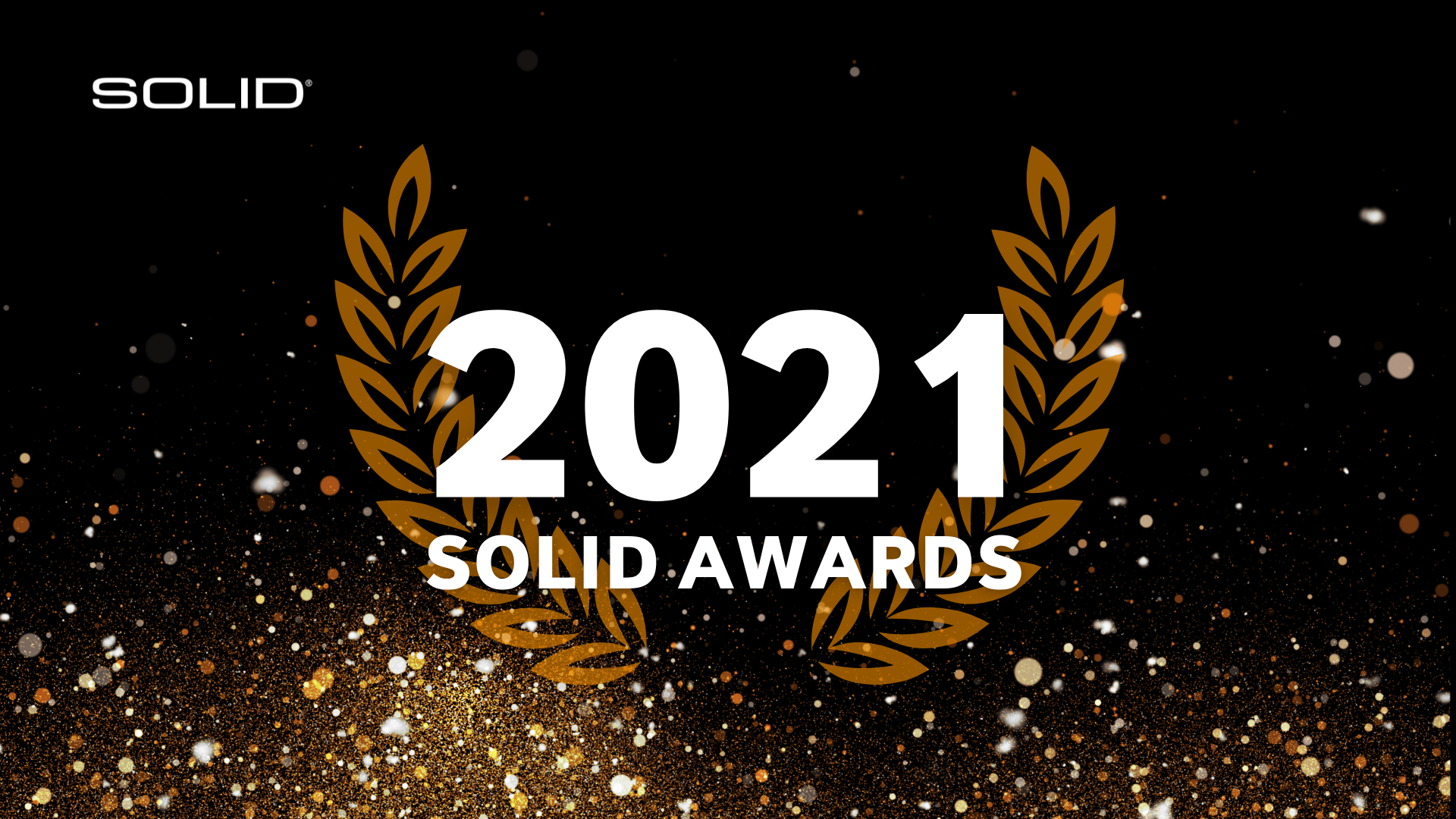 At SOLID, 2021 was a year to celebrate our associates and their achievements. We recently held an awards program at our headquarters in Charlotte, NC, to honor individuals and teams across the company for their exceptional performance in 2021
Read more about our 2021 Winners.
February 2022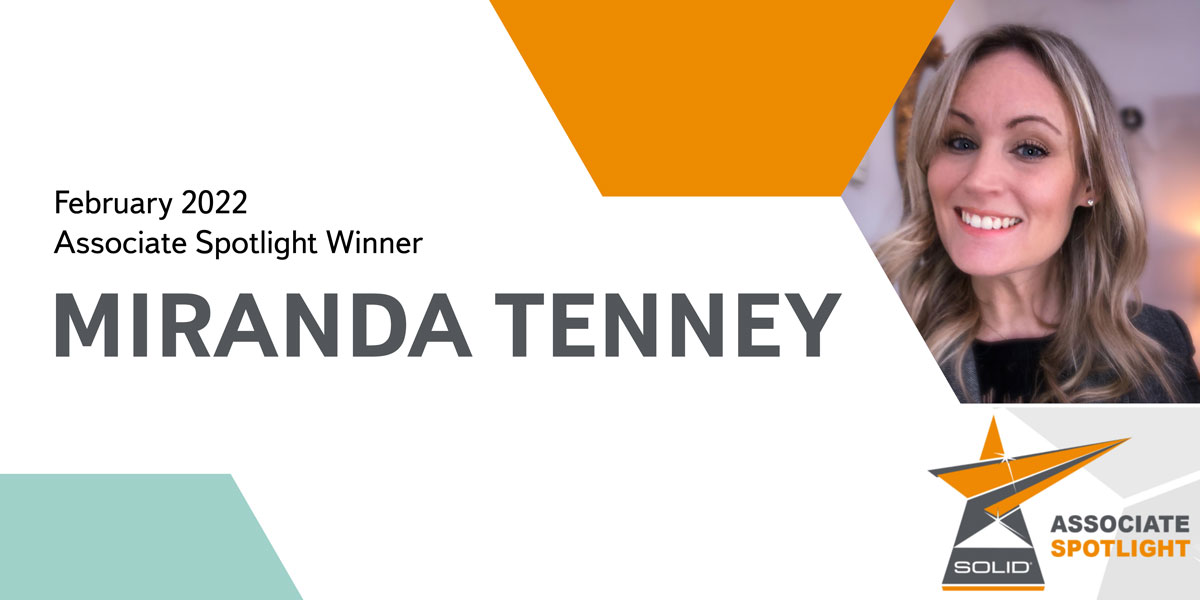 Miranda is a Sales Support Specialist at SOLID. She was nominated for the associate recognition program by Tom Haslach, SOLID Chief Development Officer and Chris Taylor, SOLID Division Vice President‑ East Region.
Read more about Amanda in our February Associate Spotlight Award blog.
June 2021
SOLID congratulates the following associates on their SOLID Associate Spotlight Award.
Inaugural Associate Spotlight Award Recipient, June 2021 Jose Bautista, National Technical Manager
The Arrowhead Regional Medical Center (ARMC) is a California healthcare facility whose growth is due in no small part to Jose's nurturing of the client relationship. "Jose has taken responsibility for this account and led it with such passion. His client interaction is amazing. He has a wonderful relationship with the entire team at ARMC, both on and off the golf course," said Bethany Legler, SOLID Senior Account Lead. Jose has been with the SOLID organization for more than 15 years. He attributes his teammates and their desire to deliver their best every day as the real reason he was fortunate to receive this honor.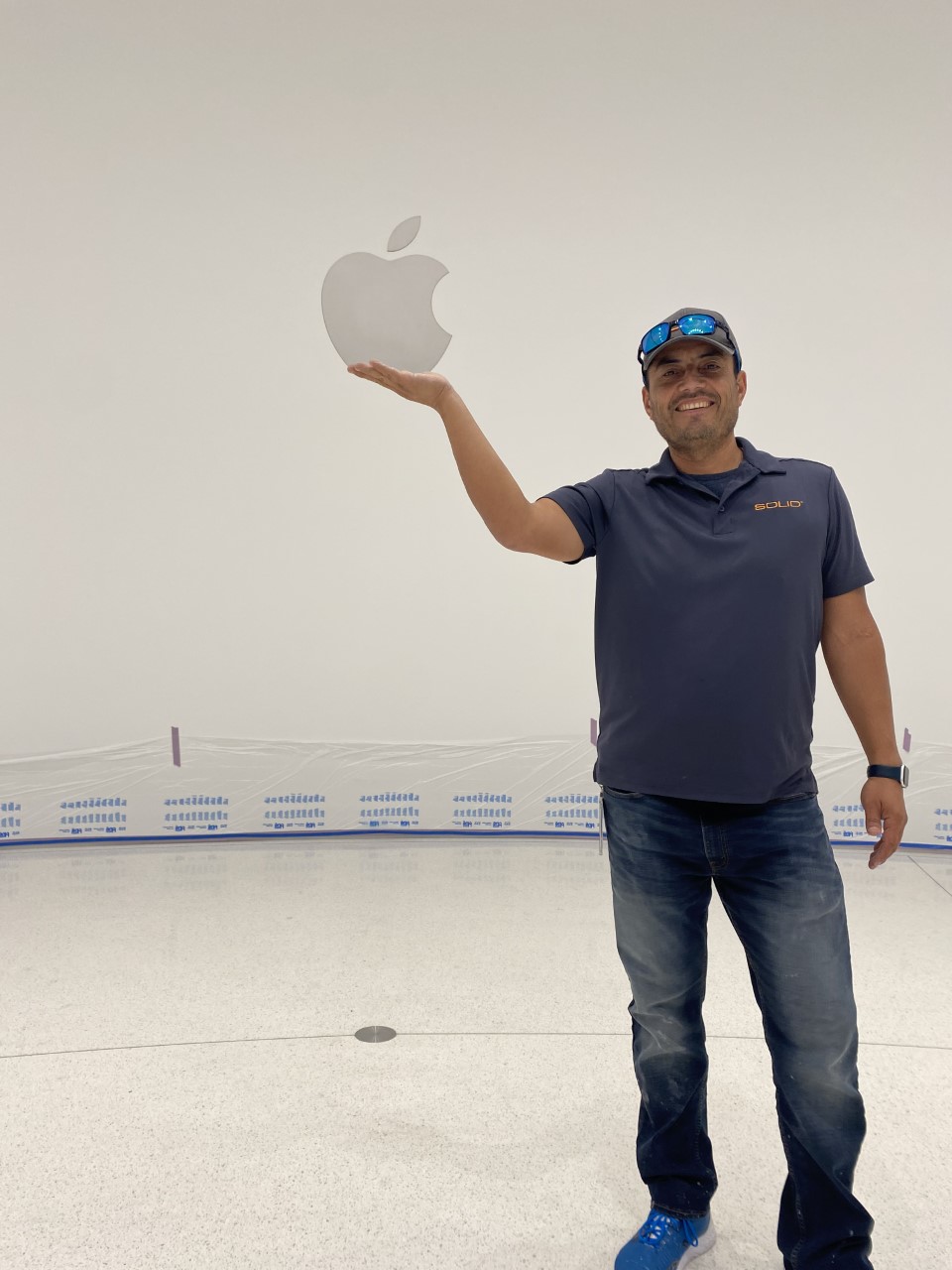 Inaugural SOLID Associate Spotlight Award Recipient, June 2021 Jose Bautista, National Technical Manager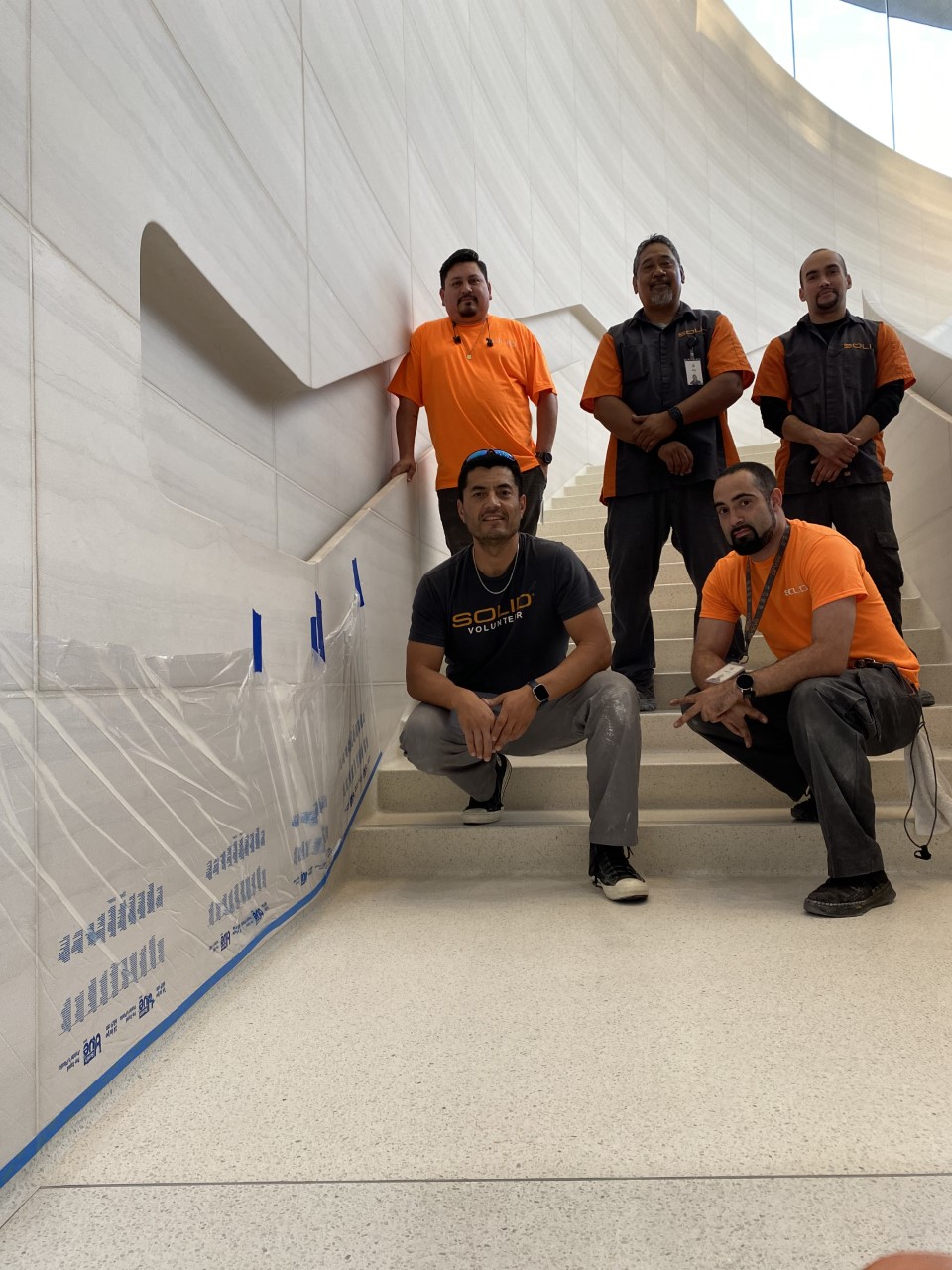 SOLID team picture features bottom left, Jose Bautista; bottom right, Gave Gonzalez; top left, Arnaldo Morris; top middle, Mike Pablo; top right, Angel Hotel.
July 2021
Spotlight Award Recipient Nora Mulholland, Account Manager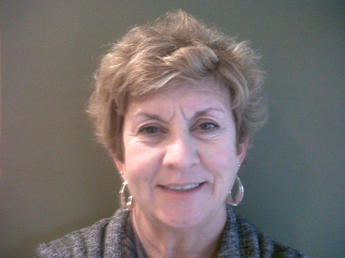 July 2021 Spotlight Award Recipient Nora Mulholland, Account Manager
"Every year when Nora gets together with her clients, she walks in there with updated drawings and discusses what is new and what will change with their program. She keeps her clients updated annually, and this is just one example of how she provides value," said Rick Gulick, SOLID Regional Vice President. Nora retired in early July after serving more than 10 years with the brand.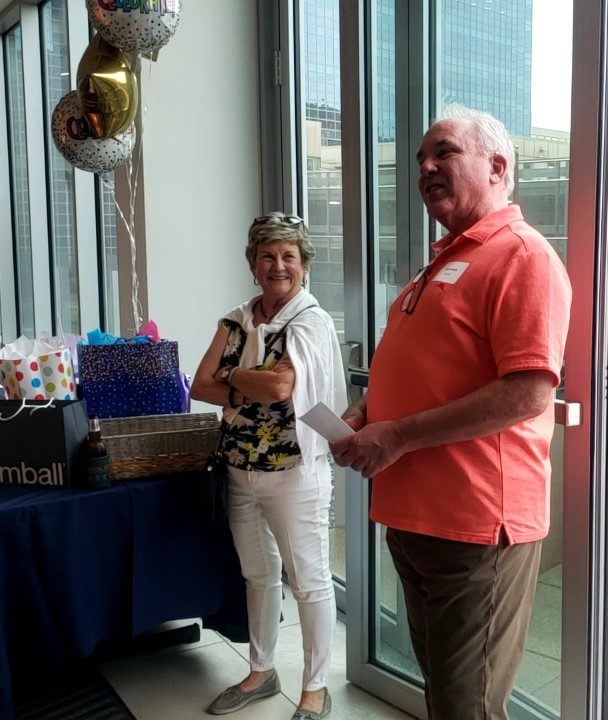 Rick Gulick celebrates Nora during her retirement party.
August 2021
Spotlight Award Recipient Amber Otto, Order Management Specialist II
SOLID is pleased to congratulate Amber Otto, Order Management Specialist II, as our August Associate Spotlight Award winner. Amber was nominated for the Associate Spotlight Award by David Bremer, Operations Manager, and Mollie Spaugh, Account Manager, for her excellent job performance. She genuinely exemplifies SOLID's core values of Be Great, Caring, Expert, Creative, and Honest.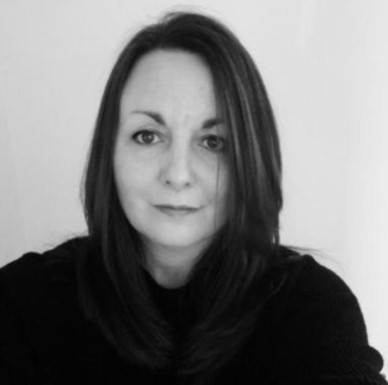 "Winning the Associate Spotlight Award is a huge honor," said Amber. "Over the past two years, I have built relationships with SOLID associates across the country in different departments. These relationships have helped me grow, understand our industry, and perform my job at a higher level. It's very rewarding to know that I'm recognized for my efforts, work ethic and that what I am doing is making a difference at SOLID is very rewarding."
Read more about Amber by visiting our August Winner blog announcement.
September 2021
Spotlight Award Recipients: Jason Ruppel, National Technical Manager & Team Milwaukee II
SOLID is pleased to congratulate Jason Ruppel, National Technical Manager, as our September Associate Spotlight Award winner and Team Milwaukee as our first team Associate Spotlight Winners. Jason was nominated by Tommy Hitchcock, Strategic Accounts Executive, and Don Maroney, Strategic Account Manager, Northwest, for his demonstration of SOLID's core values in action and his superior job execution for a new client, Chartwells, at Carnegie Mellon University. Jason has been with SOLID for almost nine years.
Dean Holmes, MIL Operations Manager, nominated the entire SOLID team in Milwaukee for the extraordinary service they demonstrate daily.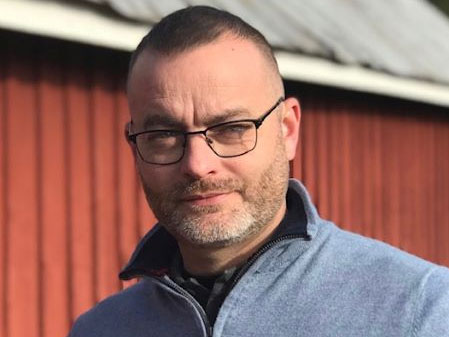 Jason Ruppel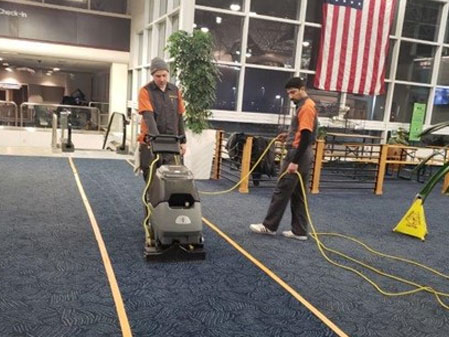 Shaun Scott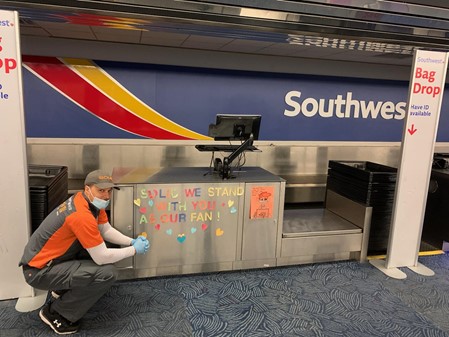 Nicholas Talley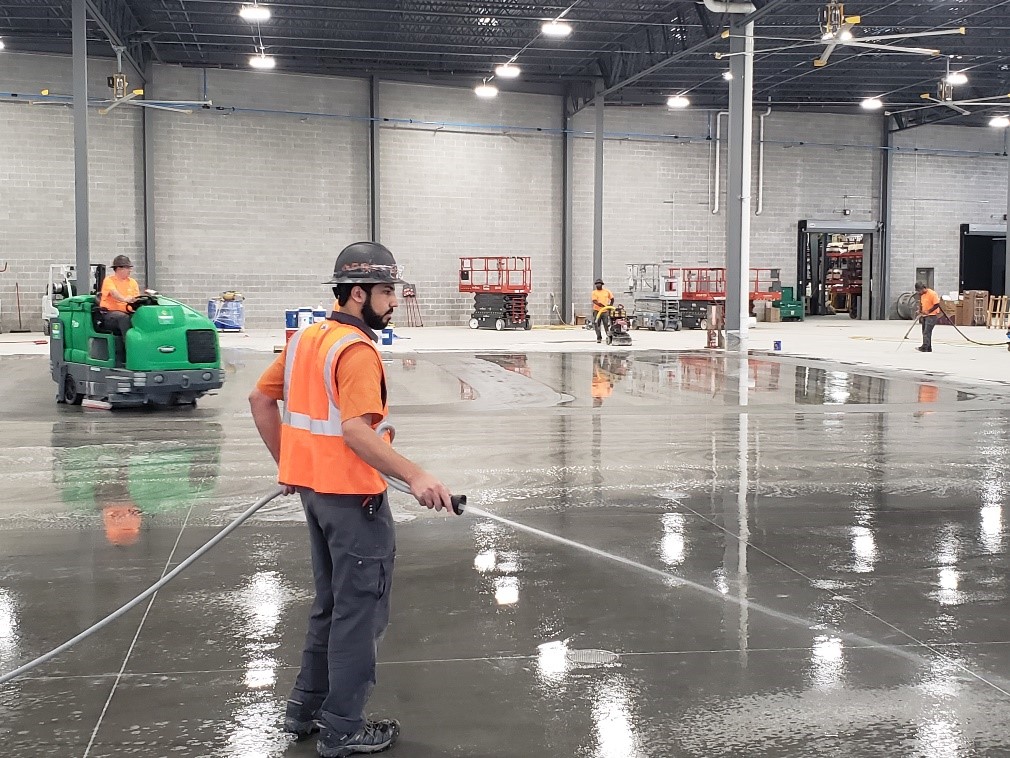 Ali Balasem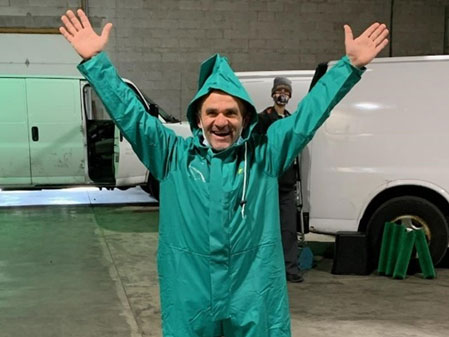 Mirandi Nuho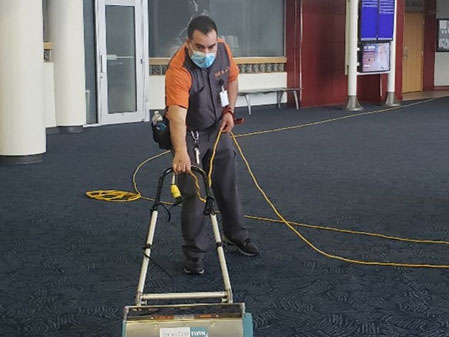 Ramon Alicea
"This team has been putting in the extra hours to ensure that we are delivering the promises of our services," said Dean. "On average, the team is putting in 10 or more hours of overtime each week. They show up every day to work with very few complaints and ensure that they complete each job as best as possible. They welcome techs from other markets and show them how we get things done here in MIL. Team Milwaukee truly 'Owns The Farm.'"
Read more about this month's winners by visiting our September Winners blog announcement.
October 2021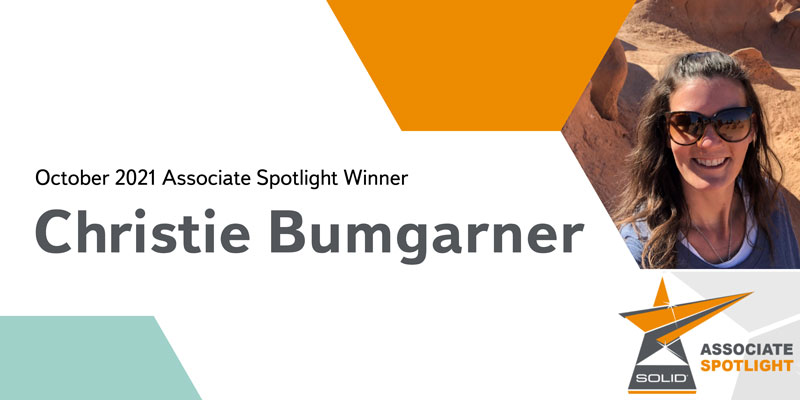 Our October Associate Spotlight recipient is Christie Bumgarner, PMO Analyst in the East Region PMO department. Rob Neal and Tara Walker, both Operations Managers at SOLID, nominated Christie because she not only embodies SOLID's core values of being Great, Caring, Expert, Creative and Honest, she also goes above and beyond to provide exceptional customer service daily. In addition, she has been a tremendous asset in keeping the department running smoothly despite a management position vacancy. Christie has been a part of the SOLID team since April 2013.
Read more about Amber by visiting our October Winner blog announcement.
November 2021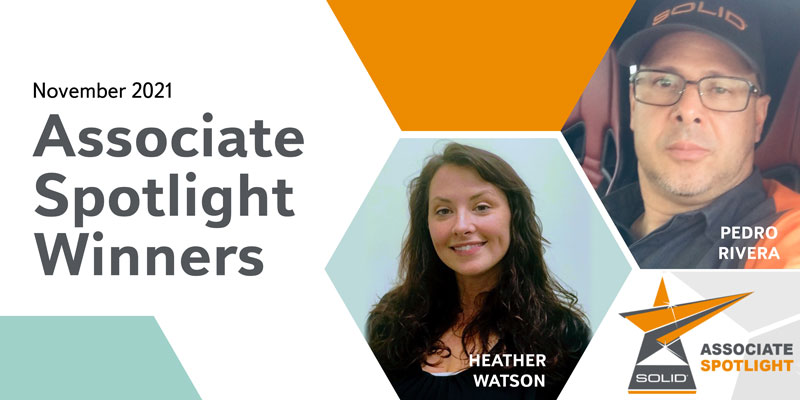 Two SOLID Associates Earn November Spotlight Award
Across the nation, SOLID associates work behind the scenes to ensure our operations run smoothly and successfully. Our monthly Associate Spotlight Award honors some of these associates who make a difference in daily business operations. November's Spotlight Award is given to Heather Watson, Administrative Assistant and Pedro Rivera, Northeast Field Manager.