Associate Spotlight Award
Articles
Congratulations to Christie Bumgarner, Spotlight Award WInner
Earlier this year, SOLID established the SOLID Associate Spotlight Award to honor an associate or team for outstanding contributions they've made to our company. The peer-nominated award recognizes those individuals or team members who go the extra mile to get the job done or their superior execution of a particular task.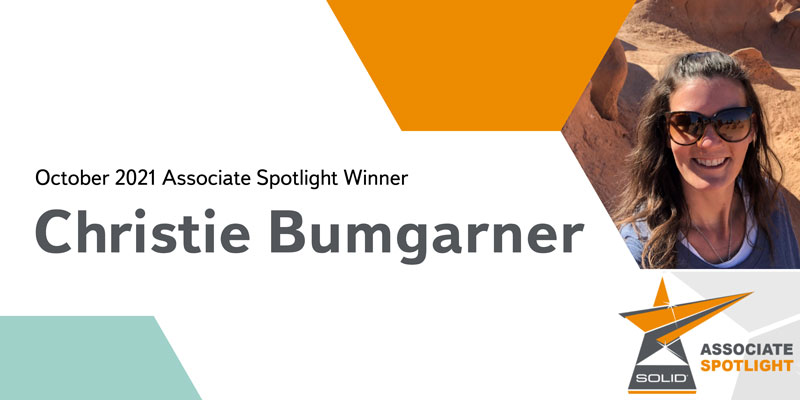 Our October Associate Spotlight recipient is Christie Bumgarner, PMO Analyst in the East Region PMO department. Rob Neal and Tara Walker, both Operations Managers at SOLID, nominated Christie because she not only embodies SOLID's core values of being Great, Caring, Expert, Creative and Honest, she also goes above and beyond to provide exceptional customer service daily. In addition, she has been a tremendous asset in keeping the department running smoothly despite a management position vacancy. Christie has been a part of the SOLID team since April 2013.
Kudos for Christie
"My heart is full of gratitude and appreciation for my peers that nominated me for the Associate Spotlight Award," said Christie. "I truly love what I do each day. Knowing that it is making a difference in the company keeps me charging ahead."
"Without Christie's assistance, insight, and application of her past operations knowledge, we would be struggling," said Rob. "She has also helped with the logistical challenges from three different dispatch points. Not only do I thank her for her help, but I appreciate her digging in, rolling up her sleeves, and getting her hands dirty. She is a joy to work with."
"Christie is a go-to person for the operations department," said Tara. "No question or task is too big or too small, and she never makes you feel like you're bothering her. If Christie does not know the answer, she finds it out. She goes out of her way to solve issues that the operations team is facing. Christie is the absolute embodiment of our Core Values. She is Great, Honest, Caring, Creative, and Expert. She is my role model, and I think "WWCD" (What Would Christie Do) when I'm struggling with an issue."
Learn more about the SOLID Associate Spotlight Award and view previous recipients here.