Commercial Construction
SOLID. We Are the Premier Surface Care Experts.
From carpet to stone to metal and wood, we care for the most precious surfaces in the world – Yours.
Post Construction Damage? Don't Replace — Repair and Restore Instead.
SOLID Can Help.
CREATE A CUSTOM CONSOLIDATED CARE PLAN
---
Restoring and Repairing Damage from Post Construction Projects
Trust the Experts at SOLID.
Planning a commercial construction project can be very time-consuming. There's naturally a lot of planning that takes place during the preparation phase, but did you know there's just as much planning that needs to take place once the construction crews depart? Surface damage often occurs during these projects despite how much caution was taken. It is easy for floors, metal railings, elevators, doorframes, walls, and other surfaces to receive unintended damage during construction. That's why it's so important to plan on getting your space clean and address any restoration needs post-construction. That's where the craftsmen at SOLID can assist.
24/7, 365 days a year, SOLID provides science-based cleaning and enhanced disinfection experience plus world-class specialty surface care.
---
We Restore, Preserve and Protect the Life of your Surfaces
Given the busy nature of a construction site and the length of time large projects take to complete, it's inevitable that there are mishaps. With workers constantly moving around the site, often carrying heavy equipment and materials, cosmetic surface damage is practically unavoidable in an active working area.
Whether it's a light scratch or a deep gouge in your stone, carpet, metal, or wood, SOLID's expert technicians make seamless repairs or complete restorations by balancing traditional techniques with industry-leading products and equipment. It takes years of training to develop the skill and artistry necessary to repair and restore damaged surfaces to their original luster. SOLID can save your business the cost and hassle of replacing such expensive architectural details, often with little or no disruption.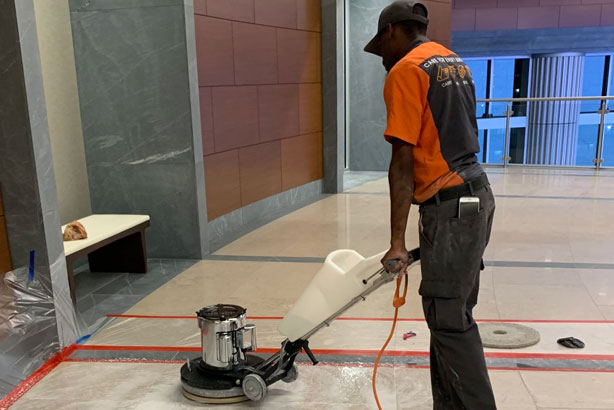 Industries We Serve
Airports & Transit Centers
Healthcare & Medical Offices
Venues & Stadiums
Educational Institutions
Multi-Family Communities
Retail
Hospitality
Surfaces We Repair & Restore
Paint Chips & Splatter
Metal Re-graining & Highlighting
Wood Dents, Scratches & Coating Repair
Tile Cracks & Missing pieces
Vinyl & Resilient Deep Cleaning, Restoration & High-performance Coatings
Marks & Discoloration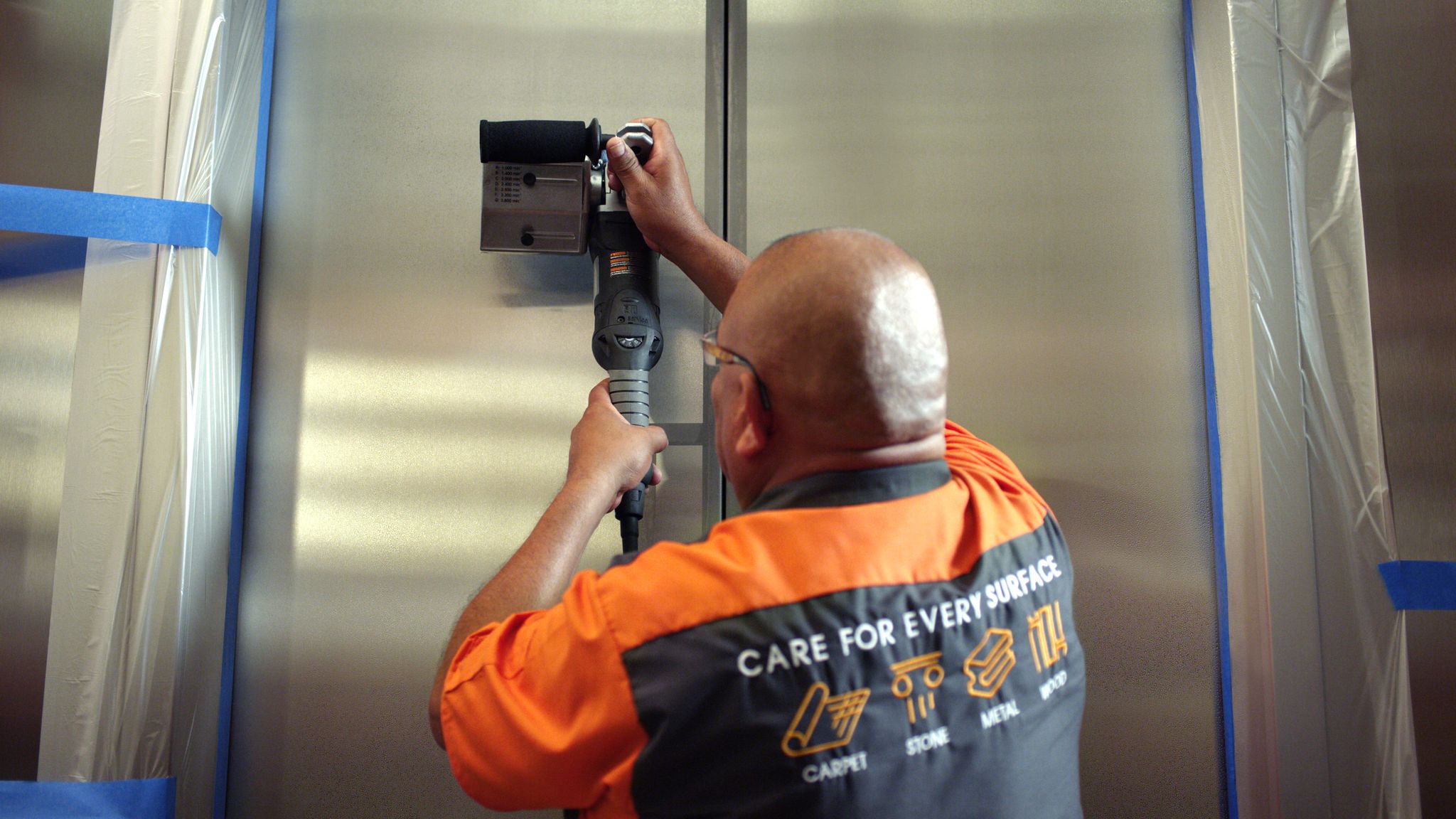 ---
Providing a Clean, Healthy Environment
A surface that "looks" clean doesn't mean it is clean. SOLID will assess a facility's needs and provide a customized surface care plan on a planned, periodic schedule that works best for the facility and eliminates downtime. We can help with:
What do you recommend for carpet care?
Daily vacuuming with a high-quality vacuum to remove debris from the surface and deep in the carpet will improve indoor air quality (IAQ) and will help to maintain the carpet's color and performance. We also suggest a quarterly deep extraction clean. Dry extraction is a great option because there is no downtime and no wet floors to cause potential hazards. Unlike hot water extraction that can leave dirty water behind, the dry polymer traps dirt and debris and then it is vacuumed away.
How do you care for Resilient flooring like LVT?
Additional care is needed to extend the life of  vinyl, preserve aesthetics, and protect your investment. Planned, periodic maintenance can include deep cleaning, applying wax and specialized sacrificial wear layers, and high-performance coatings. The frequency of this maintenance should be based on usage and foot traffic in the area.
What kind of high-performance coatings do you offer?
SOLID's expert craftsman can apply innovative, semi-permanent high-performance coatings to resilient flooring. This keeps floors cleaner and healthier, retains their appearance longer and reduces maintenance operating costs.
Can SOLID assist with tile and grout restoration?
Yes, if you're considering deep cleaning, polishing and restoration, stain removal, applying a topical and impregnating sealer, or a high-performance coating, SOLID can help. We can also assist with grout cleaning and coating, repairing chipped or cracked grout, and adding sealants and colorizations to restore and protect grout lines.
Can you repair or restore metals like elevators and stairwells?
Yes, whether architectural or ornamental, we can assist with routine maintenance or total restoration of stainless steel, bronze, nickel and silver plating. Scratch removal, re-graining and highlighting, field oxidation, finish changes, oiling or lacquering, restoration, and protective coatings and coverings are a few services that we offer.
What type of fabrics or textiles do you care for?
We offer best-in-class deep cleaning, disinfecting, maintenance, and restoration services to promote a clean and healthy environment for visitors and staff. With more than three decades of experience, SOLID's consultative and data-driven approach to developing custom surface care solutions will enhance every facility's existing daily janitorial protocols.
---