Hard Surface Care
Articles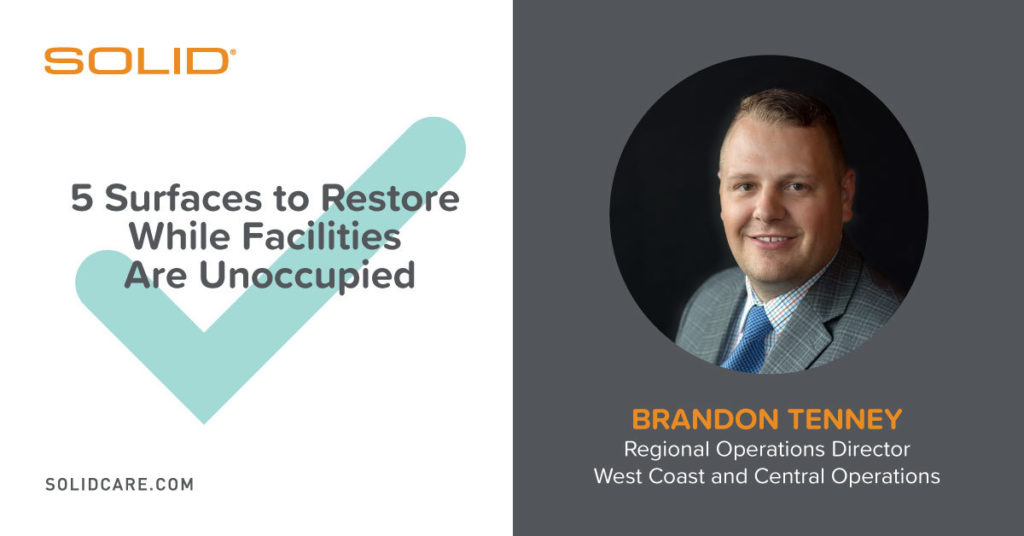 Many facilities that that have been partially or fully vacant due to COVID-19 will start welcoming employees back in the coming weeks. Before the reopening process begins, now might be an ideal time for surface restoration and repairs.
Reduced traffic in a facility presents opportunities for thorough surface care and maintenance that is usually difficult to accomplish when a space is in normal operation. Beyond taking advantage of the current downtime, consider the impression employees will have when they reenter the space.
Restore spaces. Restore confidence.
When a space looks and smells clean, it feels safe. Deep, restorative cleaning is great for health and great for optics. The CDC recommends deep cleaning before disinfection, but it does more than ensure the effective killing of germs. Clean, stain-free and restored surfaces are also an impactful signal to employees that their space has been cared for before they returned.
Consider the hard and soft surfaces throughout your facilities that would benefit from restorative cleanings, repair and maintenance while the spaces are unoccupied.
Top 5 Surfaces to Restore Before Reoccupation
1. Carpet
A restorative carpet clean will help remove dirt and debris, traffic/wear patterns, built up soil around desk seating areas, lingering spots and stains, and lift the pile to reveal like-new colors and patterns of the carpet fibers. An assessment of the space will determine the best care plan, but typically a restorative clean will start with a wall-to-wall vacuuming using a CRI certified commercial-grade dual-motor triple-filtration vacuum followed by deep extraction. Depending on the condition of the carpet and manufacturer's recommendations, dry polymer extraction or wet extraction, or a combination of both, may be used to make the carpet look and feel clean. Now more than ever, it is important to verify that the products and processes used will help protect indoor air quality (IAQ) and have low volatile organic compounds (VOC)s.
2. Textiles (Office Chairs & Cubicles)
Task seating and cubicle panels are often treated like napkins. It's not pleasant to think about, but that is the reality of eating, drinking and sitting at a desk for hours at a time. Add on the complications of a pandemic, and a restoration clean with proven methods and chemistries will improve the appearance of textiles and give employees confidence that they are coming back to a clean space.
3. Vinyl and Resilient Flooring
Often found in high-traffic areas, vinyl and resilient floors are easily restored before reoccupation by performing deep cleaning and applying specialized sacrificial wear layers so the floors look their best while ensuring longevity. Added high-performance coatings also preserve and protect resilient surfaces, make them easier to clean and can offer slip resistance once traffic increases in the facility.
4. Tile and Grout
Shutting down a facility's lobby or a restroom for restoration or repairs is rarely on a facility manager's wish list. If you have been waiting for the right time to schedule a lobby or restroom makeover, now is the perfect time while your facility is unoccupied. Consider forensic cleaning, polishing and restoration, stain removal, applying a topical and impregnating sealer, or a high-performance coating. For grout, options include grout cleaning and coating, repairing chipped or cracked grout, and adding sealants and colorizations to restore and protect grout lines.
5. Metal 
Security areas and elevators are two spaces that are ideal to care for while there is no or low foot traffic in a facility. Whether architectural or ornamental, your stainless steel, bronze, nickel and silver plating, and other metal surfaces may be in need of routine maintenance or total restoration. Scratch removal, re-graining and highlighting, field oxidation, finish changes, oiling or lacquering, restoration, and protective coatings and coverings are a few services that will beautify the appearance of metal surfaces and welcome back employees with confidence.
When planning to deep clean, restore and repair the valuable surfaces in your facilities, finding the right partner may be the most important step in the process. Choosing certified surface care experts and craftsmen that are equipped with world-class training, tools and materials will help ensure your spaces look and feel their best before the doors reopen and you can reoccupy reassured.
About the Author, Brandon Tenney
Brandon Tenney is the Regional Operations Director for SOLID Surface Care's West Coast and Central operations. Brandon owned a successful surface care company in Omaha, Nebraska for over 9 years prior to merging with SOLID Surface Care in 2018. The merger helped further SOLID's goal of becoming the largest self-performing surface care company in the nation. By continuously finding the right cleaning and disinfecting solutions for clients and their facilities, Brandon's expertise and creativity make him a leader in his field and the facilities industry.
About SOLID Surface Care, Inc.
SOLID Surface Care, Inc. is the largest national self-performing surface care company in the facilities industry with over two decades of deep cleaning and disinfecting experience. Our well-trained team of experts provide the highest level of restoration and maintenance for all hard and soft surfaces, and treat spaces with the appropriate level of disinfecting while providing a world-class client experience. What makes us solid is our diligence in going beyond the surface to grasp your brand, budget and culture, develop a customized Consolidated Care Plan, all with an advanced data management platform (ES4U) that assures immediate information and transparency. With SOLID, your surfaces are protected, your spaces are kept clean and healthy, and your expectations are exceeded.
Contact SOLID for a complimentary site assessment: Call 844.227.6543 ext. 3 or visit solidcare.com/contact.