Surface Care
Articles
Nylon and wool, cut pile and loop, tiles and rolls – when it comes to carpet, there are endless possibilities. Unlike stone, concrete and other hard surfaces, almost all facilities have carpet in at least one space, but unlike the other surfaces, carpet is rarely considered a long-term commitment. However, with proper care, a facility's carpet can stay on the floor, and out of landfills, well beyond the scheduled replacement date; the environment and your budget will thank you.
One way to help keep carpet on the floor for as long as possible, create healthier spaces and looking good is to vacuum daily, and especially after the use of encapsulation cleaning methodologies.
Think of carpet fibers as a clear plexiglass tube filled with dye sites and the soil found in carpet as sand paper. Once plexiglass has sand paper applied to it for a few passes, the finish is scratched and damaged, sometimes beyond repair, and has a cloudy or muted appearance preventing you from seeing the color within. The same happens to carpet when dirt, sand and other abrasive particulates are not evacuated properly after encapsulation or on a general routine schedule. Colors become muted and visible traffic patterns appear, possibly past the point of restoration, and costly replacement is necessary.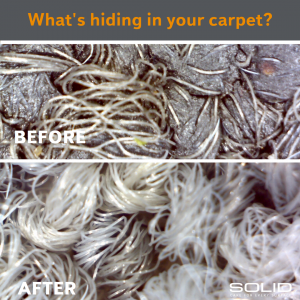 Vacuuming & Encapsulation
The result of the wholesale use of encapsulation is showing in recent years. Encapsulation has a place in the carpet cleaning matrix, but it is a value engineered process that mimics deep cleaning, but is not certified as a deep cleaning method. When used correctly, it is an acceptable option for interim cleaning between CRI certified deep wet or dry extraction methods. Used correctly is the key term. The last critical step when using encapsulation is thorough vacuuming. The fundamentals of proper vacuuming are slipping away in the industry, and some cleaning companies are even eliminating vacuuming all together for cost containment.
If a company's price per square foot to clean your facility's carpet seems too good to be true, your instincts are most likely correct. If a low-cost company vacuums at all, they may not able to perform the task at that rate of speed promised which means the soil will not be properly evacuated from those spaces. The result will be poor appearance and fiber damage over time.  When partnering with a carpet care provider, ask questions about chemistry, methodologies, production rates and request a carpet cleaning demonstration.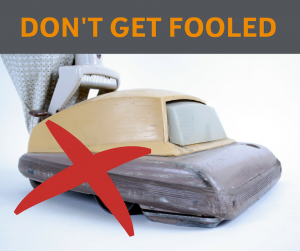 Commercial Facility Vacuuming Best Practices
Extract soil from carpet daily with a CRI certified commercial-grade dual-motor triple-filtration vacuum
Use vacuums with a dedicated motor to the beater bar or a machine that provides agitation of carpet fibers
Perform deep cleaning for all hard and soft floors on a routine basis, tailored to the surface's usage and traffic, to help reduce soil transferring from one are of the facility to another
Clean up spills of any kind as soon as possible so they do not set and attract more dirt that can be tracked onto other floor surfaces
Work with a specialized maintenance provider to create a clear and proactive care plan for all surfaces
About SOLID Surface Care, Inc.
SOLID is the largest national self-performing floor care company in the industry. As a unified team of surface care experts, SOLID delivers the highest level of care for all hard and soft surfaces while providing a world-class client experience. With SOLID, your surfaces are protected, your spaces are kept clean and healthy, and your expectations are exceeded. From carpet to stone to metal and wood, we care for the most precious surfaces in the world – Yours.
Contact SOLID for a complimentary site assessment: Call 844.227.6543 ext. 3 or visit https://www.solidcare.com/contact/.