Associate Spotlight Award
Articles
Congratulations to Jason Ruppel and Team Milwaukee
In September, SOLID recognized multiple recipients of our SOLID Associate Spotlight Award for the outstanding contributions they've made to our company. An individual, Jason Ruppel and a team, Team Milwaukee, were both nominated for their commitment to SOLID's core values and their superior job execution.
Jason Ruppel, Individual Associate Spotlight Award Winner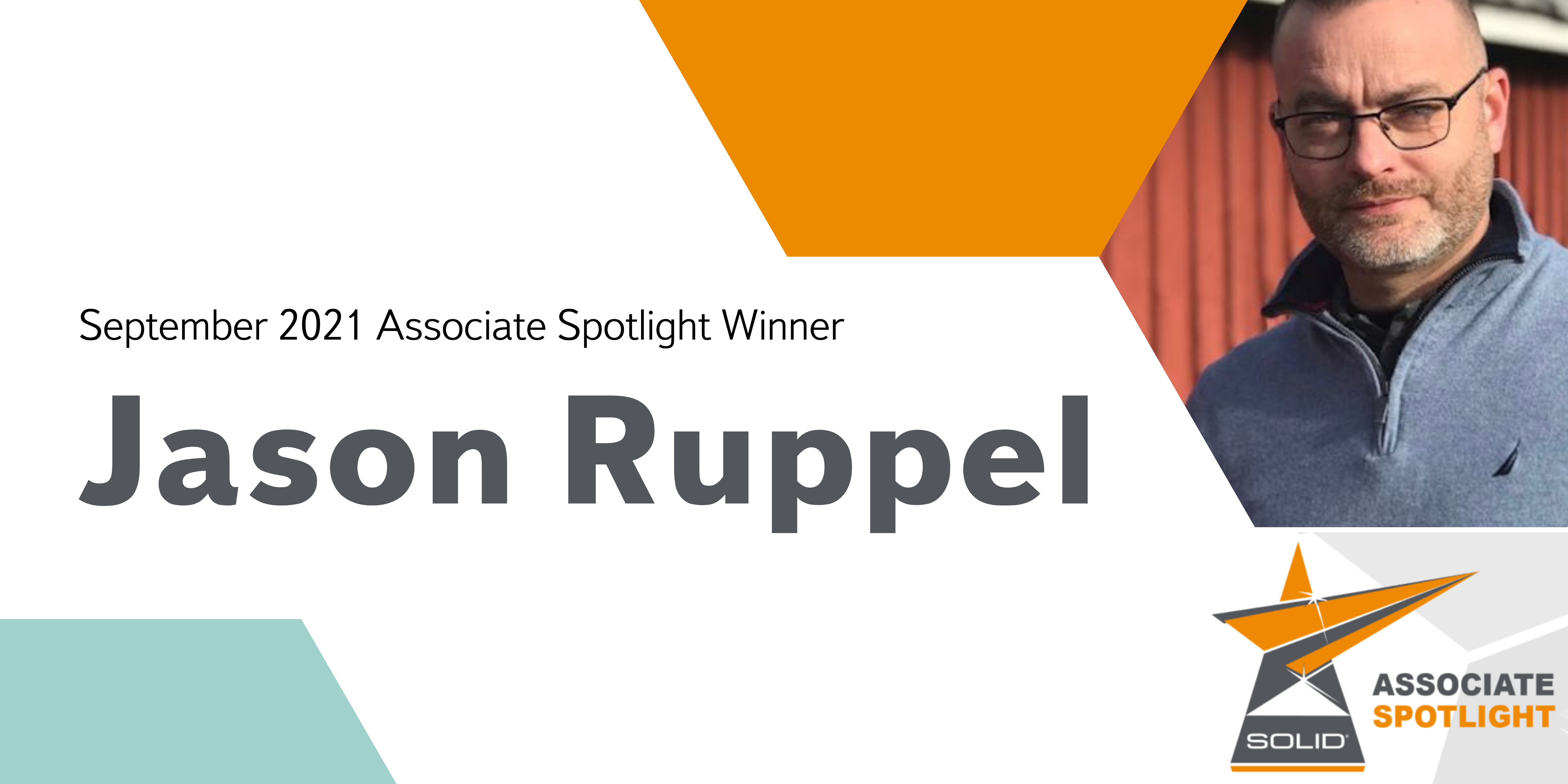 SOLID is pleased to congratulate Jason Ruppel, National Technical Manager, as our individual September Associate Spotlight Award winner. Jason was nominated by Tommy Hitchcock, Strategic Accounts Executive, and Don Maroney, Strategic Account Manager, Northwest, for his demonstration of SOLID's core values in action and his superior job execution for a new client, Chartwells, at Carnegie Mellon University. Jason has been with SOLID for almost nine years.
According to Tommy, Jason is the epitome of SOLID's core values of Be Great, Caring, Expert, Creative, and Honest.
"Our Core Values should have his picture posted with them," Tommy said. "From my first days with the company and his portion of our training in Charlotte, it was apparent to me that Jason would be a crucial team member for me to lean on, and I was right. His expertise and willingness to help (day or night, weekday or weekend) have been amazing. Whether by phone, Zoom or in person, he has been extraordinary in front of the client. He has supported every major pricing exercise I have needed help on and has leaned into the process to help find the right path to a successful sale."
Don Maroney also nominated Jason for his work with a specific client, Chartwells, the food service company at Carnegie Mellon University.
"Jason is a consummate pro and a huge asset to the SOLID team. His excellent customer-facing communication skills, attention to the scope of work detail, and clear direction to the internal operations team are inspirational and should be recognized," said Don. "He embodies the 'entrepreneurial spirit that has built SOLID. He has taken on a leadership role to develop a core competency within a huge vertical market (deep cleaning kitchen facilities in corporate and higher education markets). Jason has put us on a path to capture a potential Top 10 account for SOLID in coming years."
Jason was honored to be recognized.
"I am truly honored to have been nominated and selected for The Associate Spotlight Award," said Jason. "I am also very appreciative of those who recommended me, and for the time and effort you have put into this award process. It is rewarding to be recognized for my efforts and to know I am making an impact with our SOLID team."
---
Team Milwaukee, Team Spotlight Award Winners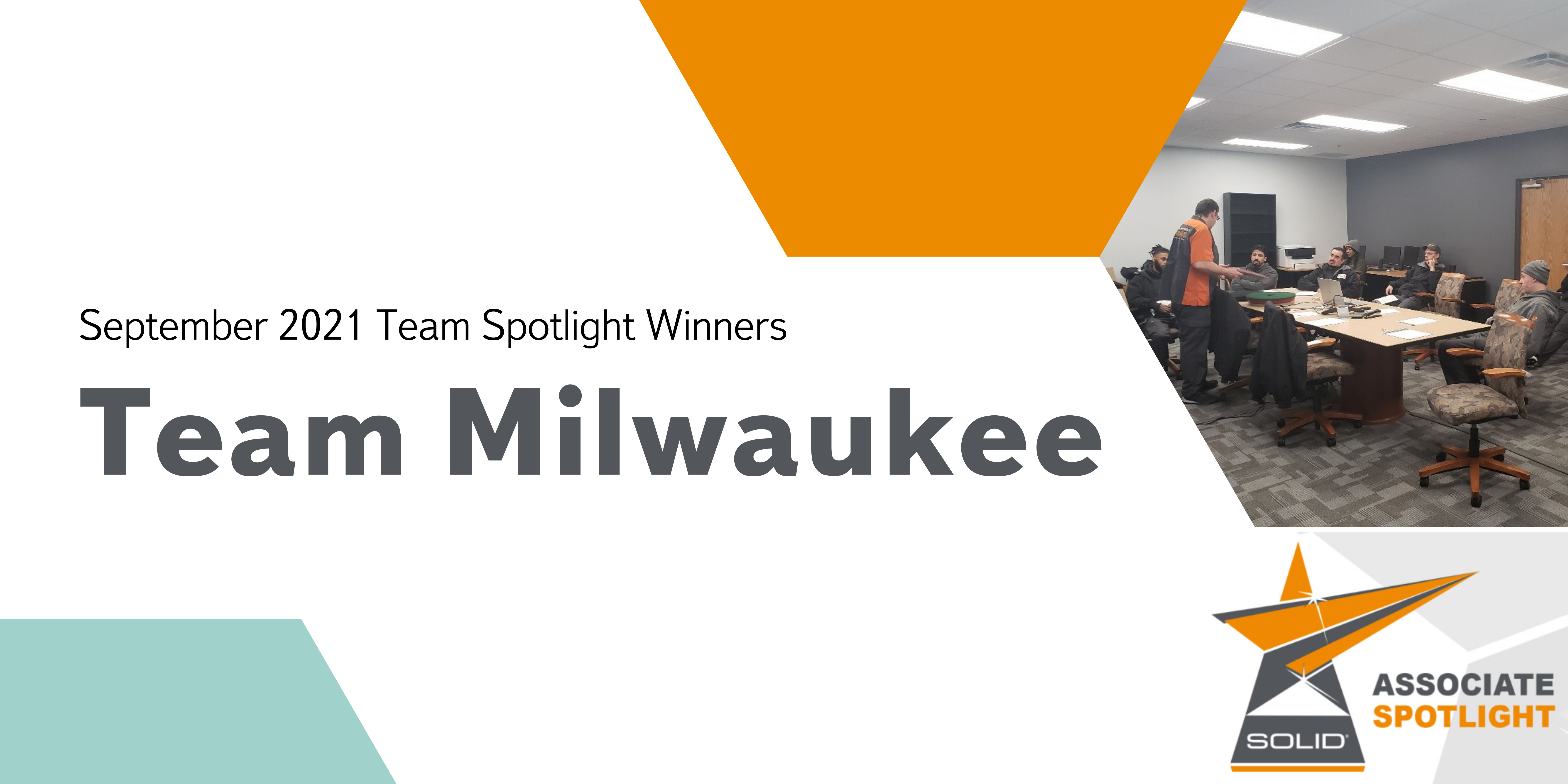 Dean Holmes, MIL Operations Manager, nominated the entire SOLID team in Milwaukee for the extraordinary service they demonstrate daily.
"This team has been putting in the extra hours to ensure that we are delivering the promises of our services," said Dean. "On average, the team is putting in 10 or more hours of overtime each week. They show up every day to work with very few complaints and ensure that they complete each job as best as possible. They welcome techs from other markets and show them how we get things done here in MIL. Team Milwaukee truly 'Owns The Farm.'"
Adrian Ayala, the Milwaukee field team manager, was thrilled the team was honored with the award.
"The technicians are the backbone of SOLID MIL," said Adrian. "They express SOLID's values by doing the right thing, even when no one is watching. The years of experience that some of the techs have and the trust that they have earned with our clients are part of the equation that brought us to where we are now."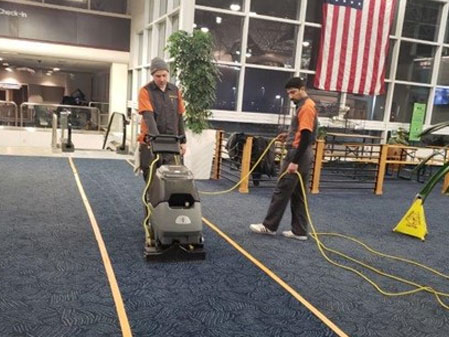 Shaun Scott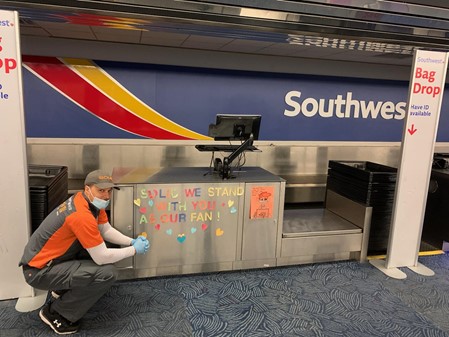 Nicholas Talley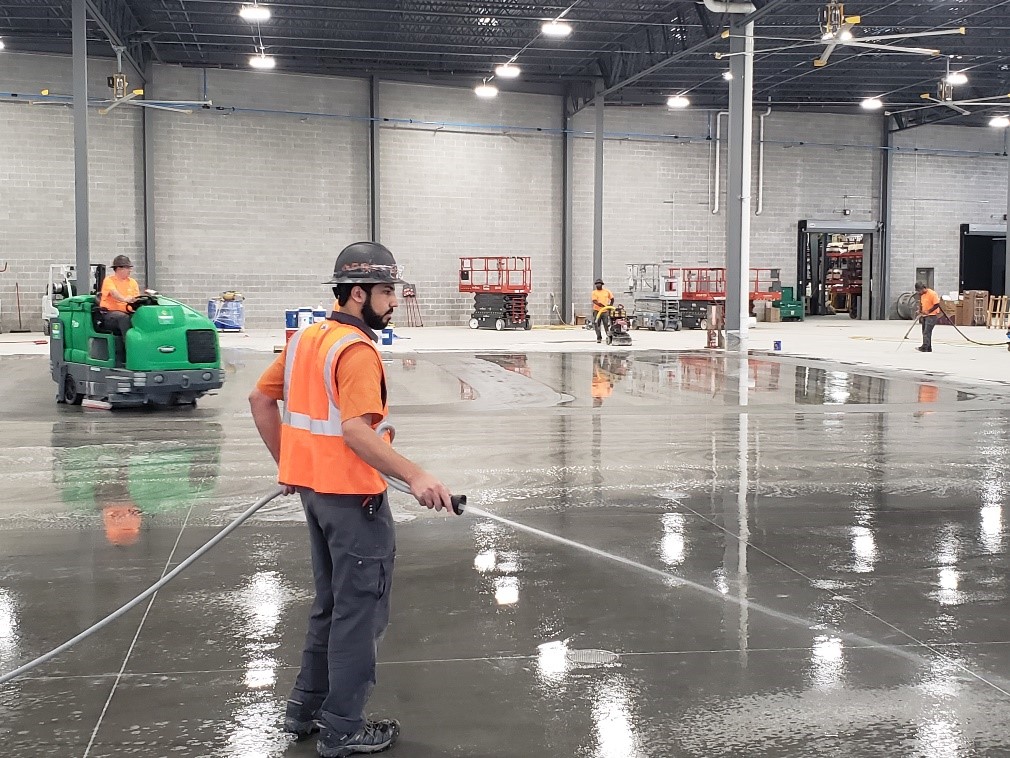 Ali Balasem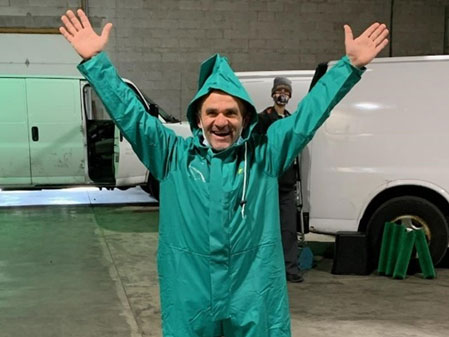 Mirandi Nuho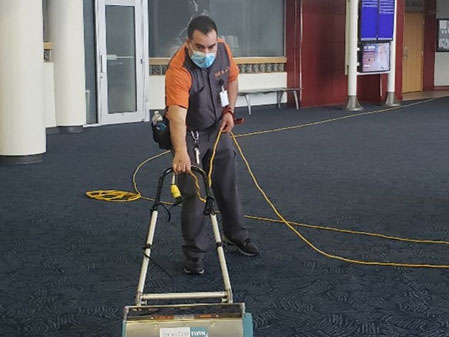 Ramon Alicea
The Milwaukee Team members are:
Adrian Ayala, Field Manager; Shaun Scott, Field Manager; Keenan Stokes, Crew Lead; Ramon Alicea Santiago, Crew Lead; Nicholas Talley, Crew Lead; Matthew Krueger, Crew Lead; Mirandi Nuho, Shift Lead; Micah Jackson, Shift Lead; Wagner Ruane Acosta, Technician; Sal Orona, Technician; Ed Collins, Technician; Dominique Jackson, Technician; Russell Kosiboski, Technician; Davis Harris, Technician, and Ali Balasem, Technician.
Learn more about the SOLID Associate Spotlight Award and view previous recipients
here
.