Uncategorized
Articles
In the bustling world of commercial spaces, maintaining a pristine appearance goes far beyond aesthetics. It's a strategic move that directly impacts the longevity of your assets and the success of your business. From carpets and tiles to wood and metal surfaces, each element plays a pivotal role in creating a positive impression and safeguarding your investments. Welcome to a world where surface care isn't just about looks—it's about protecting what you've built.
The Multi-Faceted Impact of Surface Maintenance
Picture a busy hotel lobby, a bustling office complex, or a vibrant retail store. The surfaces within these spaces are subject to a constant barrage of foot traffic, spills, scuffs, and general wear and tear. Without proper maintenance, these elements accumulate over time, resulting in an environment that looks tired, worn, and uninviting. But the impact goes beyond aesthetics.
First Impressions Matter: The appearance of your commercial space is often the first thing clients, customers, and partners notice. A well-maintained environment exudes professionalism, trustworthiness, and attention to detail. It sets the stage for positive interactions and successful business relationships.
Asset Longevity: Regular maintenance can significantly extend the lifespan of your surfaces. From carpets that withstand daily foot traffic to wooden floors that retain their beauty, investing in care now saves you from costly replacements later.
Hygiene and Health: Clean surfaces contribute to a healthier environment by minimizing the presence of allergens, germs, and contaminants. This is especially crucial in spaces like healthcare facilities, where maintaining a sanitized setting is paramount.
According to industry studies, well-maintained facilities experience up to 40% higher occupant satisfaction and productivity, underlining the direct correlation between effective facility care and overall business success.
Why SOLID Surface Care Stands Out
Enter SOLID Surface Care—a name synonymous with expertise, care, and exceptional client service. Our philosophy goes beyond cleaning; it's about protection and preservation. Here's why SOLID should be your go-to partner for all your commercial surface maintenance needs:
1. Expert Attention: We understand that every surface is unique, requiring specific care approaches. Our seasoned professionals possess the knowledge and skillset to identify the best methods and products for each material, ensuring optimal results without compromising integrity.
2. Comprehensive Care: From carpets to tiles, LVT, wood, metal, concrete, and more, we provide a full spectrum of surface care solutions. Our holistic approach saves you the hassle of dealing with multiple vendors and ensures consistency in quality.
3. Asset Protection: Our focus isn't just on appearances; it's on safeguarding your investments. Regular maintenance prevents the accumulation of damage that could lead to costly replacements down the line.
4. Time and Cost Savings: Facility and operational managers have their plates full. Our services relieve you of the burden of managing multiple maintenance tasks, allowing you to allocate your time and resources more effectively.
5. Excellent Client Care: We take pride in our commitment to exceptional client service. Your satisfaction is our driving force, and we tailor our services to your unique needs, ensuring your experience with us is seamless and enjoyable.
6. ONE partner, ONE contract, ONE invoice, and ONE point-of-contact: Dealing with multiple vendors can be a logistical nightmare. With SOLID, you have one point of contact and one simplified invoice for all your surface care needs. It's efficiency at its finest.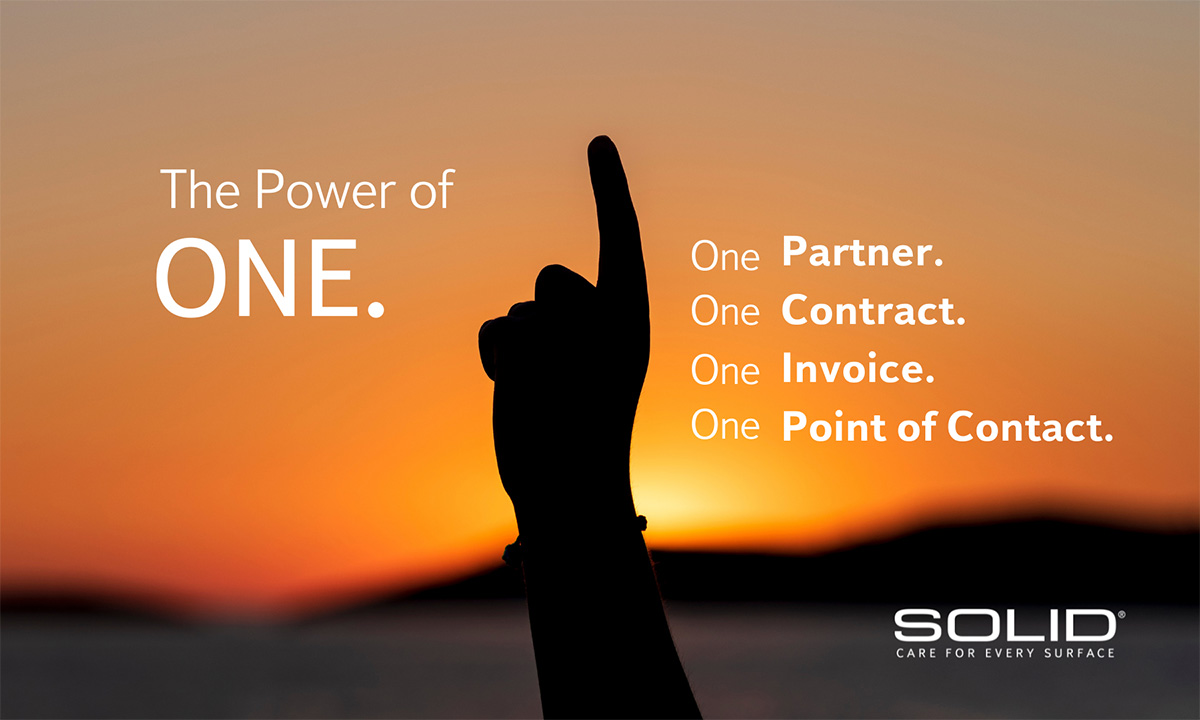 Experience the SOLID Difference
In a world where appearances and asset protection go hand in hand, SOLID Surface Care emerges as the ultimate solution. Our comprehensive services, expert approach, and client-centric focus position us as your partner in maintaining a polished, protected, and welcoming commercial space.
Ready to make a positive impact on your business and your bottom line? Contact SOLID Surface Care today for your free consultation. Let us handle the care while you reap the benefits—saving time, money, and headaches along the way. Experience the SOLID difference for yourself.
To experience the efficiency and expertise of SOLID's services, contact SOLID for a complimentary site assessment: Call 844.227.6543 ext. 3 or visit https://www.solidcare.com/contact/  and let us help you shine!
SOLID Surface Care, Inc. is a unified team of surface care experts. We deliver the highest level of care for all hard and soft surfaces while providing a world-class client experience. With SOLID, your surfaces are protected, your spaces are kept clean and healthy, and your expectations are exceeded. From carpet to stone to metal and wood, we care for the most precious surfaces in the world – Yours.