Associate Spotlight Award
Articles
At SOLID Surface Care, we take immense pride in our dedicated team members who embody our core values and contribute to our ongoing success. This September, for our Employee Spotlight, we are thrilled to shine the spotlight on Jon Hull, an individual whose exceptional contributions over the last two decades have left an indelible mark on our organization. As we celebrate our 27th anniversary, we cannot think of a more fitting moment to honor Jon's remarkable journey with us.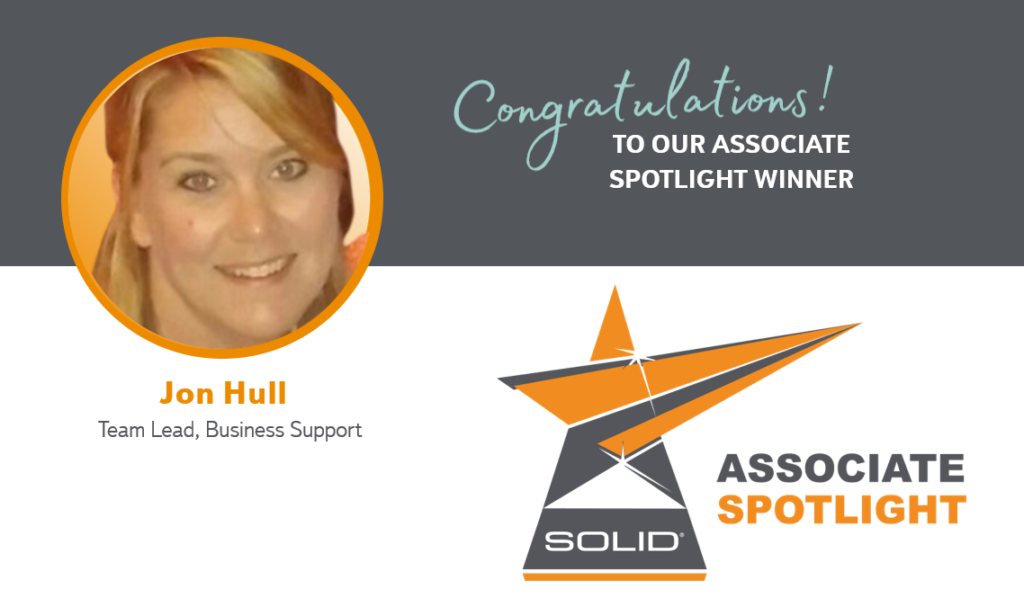 Mike Crippen on Jon Hull
"Jon Hull is more than just a teammate; she's the embodiment of SOLID's core values. With over 20 years of unwavering dedication, Jon has been the driving force behind our success. Her commitment to excellence, generosity, and genuine kindness make SOLID what it is today." Mike Crippen, Founder and CEO
Trish Irving's Perspective
"This person knows everything about SOLID and is always looking to help and share information with anyone who needs it. She has always been kind and patient with me, and I'm so grateful for their impact on me personally and professionally. Jon makes every situation better with her generous attitude and joyful energy. SOLID isn't SOLID without Jon." Trish Irving, Director of Client Services
Rob Neal's Insight
"It is simple, actually…the best and most accurate description, character trait, and personality attribute is that this person is REAL. Quoted definition: 'not imitation or artificial; genuine.' Over the years, this person has never changed. What you see, read, or hear is exactly that. Jon is who she is, and I am proud and honored to have worked with her and been Her friend for so many years." Rob Neal, Operations Manager
Sid Harriss' Appreciation
"Jon is always upbeat, always willing to jump in and help, and has a plethora of long-standing knowledge and relationships. She embodies what it means to be SOLID to our clients and our internal SOLID family. It's been a pleasure working with her over the years, and I enjoy hearing that distinct voice, laugh, and occasional outburst from the other side of the office." Sid Hariss, Vice President of Operations
Jon Hull is more than a colleague; she is vital to our SOLID family, which is why she deserves the Employee Spotlight. With over 20 years of service, Jon's unwavering dedication, expertise, and passion have consistently elevated our team and the services we provide. During their journey at SOLID, Jon has held six different job titles, showcasing incredible adaptability and versatility.
Jon embodies SOLID's core values, consistently showcasing what it means to 'BE GREAT.' Whether it's responding to myriad requests, offering sales support, addressing badge access issues, or providing guidance during complex situations, Jon responds with a positive attitude, often going above and beyond to assist and inspire others.
Beyond her professional role, Jon's caring nature has significantly impacted the entire SOLID team. Their dedication to 'BE CARING' is evident, ensuring that every member of our team feels supported and valued. It's no wonder that Jon Hull is the embodiment of the SOLID spirit.
As we celebrate our 27th year of business, it is incredibly fitting to highlight Jon Hull's incredible journey with SOLID Surface Care. Jon's impact on our team and clients is immeasurable. When clients speak about SOLID, Jon is often mentioned for the meaningful ways in which they've helped them.
If asked to define customer service at the highest level, we would point to Jon Hull. Their dedication to helping others succeed and their expertise across all levels of our business are truly remarkable. Jon Hull is the essence of what it means to 'BE GREAT.'
In Jon Hull, we have found a valuable team member and a trusted friend. We couldn't imagine a SOLID without Jon in the center of it all. Jon Hull, thank you for 20-plus years of dedication, excellence, and inspiration. You are the heart of SOLID Surface Care, and congratulations on this month's Employee Spotlight.
Stay tuned for more updates and spotlights as we continue to celebrate the outstanding individuals who make SOLID the exceptional organization it is.
Click here to learn more about SOLID's Associate Spotlight Awards and our past winners. 
---
About SOLID
SOLID Surface Care, Inc. is a unified team of surface care experts who deliver the highest level of care for all hard and soft surfaces while providing a world-class client experience. With SOLID, your surfaces are protected, your spaces are kept clean and healthy, and your expectations are exceeded. From carpet to stone to metal and wood, we care for the most precious surfaces in the world – Yours.
Contact SOLID for a complimentary site assessment: Call 844.227.6543 ext. 3 or visit https://www.solidcare.com/contact/.