News and Events
Articles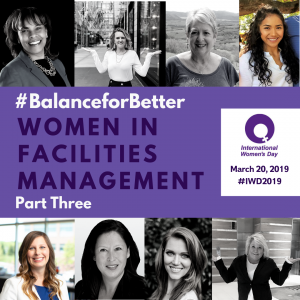 SOLID is continuing our four part series that spotlights the growing gender-balance and opportunities in the facilities management industry, and eight of the women who are driving #BalanceforBetter forward. Take a moment to read the stories of our first two featured women in Part One, which was launched on International Women's Day (IWD), and Part Two, which profiled two more women who are leaders in their respective roles in facilities management (FM), property management (PM) and commercial real estate (CRE).
The theme for this year's IWD is #BalanceforBetter.
"Balance is not a women's issue, it's a business issue. The race is on for the gender-balanced boardroom, a gender-balanced government, gender-balanced media coverage, a gender-balance of employees, more gender-balance in wealth, gender-balanced sports coverage…"*
In Part Three of our #BalanceforBetter series, you'll meet Nina Del Rosario and Kristin R. Ellenberger. We hope you enjoy their stories and find inspiration in their experience and words of wisdom.
The last installment of the series will be released Wednesday, March 27, 2019 at solidcare.com/articles.
Nina Del Rosario
San Francisco, California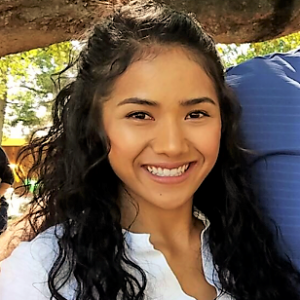 How/why did you choose a career in the Facility Management (FM)/Property Management (PM) /Commercial Real Estate industry (CRE)?
I chose a career in this industry because the female facility manager can be seen as an un-developed opportunity.  It is nice to show that women can perform at the same level, and exceed standards, as anyone else in the facilities field. Overall, I honestly do not see men vs. women in FM/PM/CRE – thanks to the equality I have experienced.
What contributions do you think women bring to FM/PM/CRE?
Women can definitely bring a fresh perspective with a warm touch. We also like to support each other. Working alongside other women can reminds us we are capable of anything!
What is the most rewarding part of FM/PM/CRE?
I always like to connect and find a similarity with clients and people I meet, all while providing a positive experience to the best of my ability. It is rewarding to exceed expectations by being professional, fair, relatable, and at appropriate times, humorous.
What advice would you give women who are working in FM/PM/CRE or interested in a FM/PM/Commercial Real Estate career?
I always tell people to do your best and don't compare yourself to others. As long as you always work to be a better person in life, work, and for yourself – it will show and everything will come after that.
What does the future hold for women in FM/PM/CRE?
I believe the future is very bright for women. Experiences and opportunities are more available than in year's past. I believe the line of what is possible is being blurred, and hopefully almost invisible, when comparing men and women in FM/PM/CRE. People of all ages and backgrounds, especially the up-and-coming generation, are seeing that anyone is capable of anything, no matter a person's gender or physical appearance.
Anything else you would like to add about gender-balance in the workplace?
Measuring people based on gender is becoming more outdated, especially when it comes to analyzing one's ability to achieve success. People aren't limited to what they can achieve, unless they make themselves that way. Anything is truly possible if we have the vision and the drive to make it happen.
#BalanceforBetter
Kristin R. Ellenberger
Omaha, Nebraska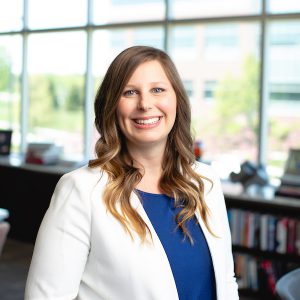 How/why did you choose a career in the Facility Management (FM)/Property Management (PM)/Commercial Real Estate (CRE) industry? 
I was introduced to property management at a fairly young age, as my uncle owned a small development firm. I began working in his office in high school and continued through college. I was intrigued by the deals that were done and the complexity of the entire process. From negotiating contracts, to land purchases and building construction, and then to lease up and management. It all revolves around solving problems. All aspects of the industry seemed to fascinate me. I excelled at an early age and handled the majority of the property management items by the time I graduated college. I enjoyed how every day was different and knew this was the industry for me.
What contributions do you think women bring to FM/PM/CRE?
Women bring enormous contributions to the industry. Women are natural problem solvers and multi-taskers. The research proves it too, overall, women in management achieve operational, organizational and performance benefits that include greater client and customer satisfaction, increased organic growth, enhanced brand image and employee engagement.
What is the most rewarding part of FM/PM/CRE?
People spend 40+ hours of their week in their offices or places of employment. Their office needs to be a place of joy for them. My team and I do anything we can to help with that, sometimes it's as simple as creating a more comfortable, pleasing environment. Sometimes, it is eliminating a negative. Either way, to see people happy, smile and thank us for our work so they can keep doing their gig joyfully, makes my day.
 What advice would you give women who are working in or interested in a FM/PM/CRE?
Just get started, get the ball rolling, take a seat at the table. Working in male dominated industries can be challenging at first. But get started. Break gender norms. Women cannot be quiet and submissive, especially in a commercial real estate role.  Women can and should be leaders in this industry. Get a seat at the table… you can't do the deals if you don't have a seat at the table.
 What does the future hold for women in FM/PM/CRE?
I predict we will see massive growth of women in our industry. I already see it. I'm heavily involved in my local CREW (Commercial Real Estate Women) chapter. At a local level, I work with our in-state university, meeting with female real estate students. At a national level, I see young women joining at conferences, educating themselves, furthering their skills. And I know we will continue to see women at the top helping those below to rise.
Anything else you would like to add about gender-balance in the workplace?
How can you help women succeed today?  Educate yourself- Simply talking to a woman about their specific challenges. Pay attention to double standards in language. Have a voice – Talk about gender equality. Share the workload at home. Women in your workplace? Make an initiative to help women succeed, something as easily as providing feedback about performance so they can be stronger tomorrow than they are today.
Celebrating International Women's Day: Additional Resources
IFMA  – International Facility Management Association
PRSM – Professional Retail Store Maintenance Association
BOMA – Building Owners and Managers Association International
CORENET GLOBAL – The Global Association for Corporate Real Estate
CREW NETWORK – Commercial Real Estate Executive Women
IREM – Institute of Real Estate Management
#IWD2019 – Gender Balance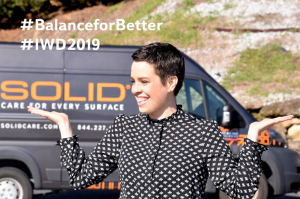 About the Author:
My career brought me into the FM industry over six years ago, and I immediately fell in love with the level of care and commitment to service the people of FM share. Part of my job responsibility is to lead the team when our company exhibits at industry conventions and expos. Over the years, it has been invigorating to see a noticeable and continual increase in gender balance of all ages in the commercial real estate, facilities and property management industries. A perfect example is, 13 of the 23 2019 IFMA Foundation Scholarship winners were women. It is a highlight each year to meet the next generation of FM superstars!
Outside of trade show season, I don't have to travel far to encounter positive examples of women in FM. From SOLID's CIO, Elizabeth Crippen, and CFO, Lynn Comstock, to Operations, Human Resources, Accounting, and field teams, SOLID represents #BalanceforBetter every day in each division of the company, coast to coast. And outside of the SOLID offices, our teams have the honor to work with incredible women who lead by example in their respective roles as our clients, vendor-partners and industry friends.
Working in a company that recognizes gender balance as a standard business practice should not be a privilege reserved for the few. To be respected as an equal, paid a competitive wage, and have the opportunity to earn a seat at the table should be the norm. Thank you to SOLID and each woman who participated in this four-part series for naturally embodying the #BalanceforBetter mission.
I hope you enjoyed the insights shared by our participants. We want to hear from you! Please share your story, what you learned, or feel free to ask questions about FM/PM/CRE on SOLID's social pages (Twitter, Facebook, LinkedIn, and Instagram). If you would like more information about the industry, please click on the links above to connect with industry organizations.