SOLID Surface Care's Behind-the-Scenes Campaign
Articles
At SOLID, we are proud of our team and the hard work they put in to provide exceptional service and care for our clients' surfaces. That's why we're excited to introduce our new behind-the-scenes campaign, designed to give you a glimpse into the daily routines, passions, and drive of our talented and dedicated team members.
Get to Know the SOLID Surface Care Team
At SOLID Surface Care, our team is the heart and soul of our business. They are the reason behind our success and are dedicated to providing exceptional service to our clients. We are proud to announce our brand new blog series, where we feature some of our outstanding team members and share with you their unique stories.
Through this series, we aim to give you an insight into what makes our team so special and how they contribute to our mission of providing top-notch service. You'll get a chance to meet a diverse range of roles, including our highly skilled technicians, dedicated operational teams, diligent HR personnel, detail-oriented accounting staff, and more. Each member of our team plays a crucial role in our commitment to maintaining our high standards of quality, and we can't wait for you to join the conversation by using the hashtag #SOLIDSurfaceCare.
Celebrating Our Team's Dedication and Hard Work
At SOLID, we know that exceptional service and care for our clients' surfaces wouldn't be possible without our team. Join us as we celebrate their dedication and hard work in this behind-the-scenes look at what makes SOLID Surface Care a leader in the industry.
Follow Our Journey on Social Media
Stay up to date with all the latest news and behind-the-scenes action from our new campaign by following us on social media. We can't wait to share this journey with you! Remember to follow #SOLIDSurfaceCare to learn more about our teams.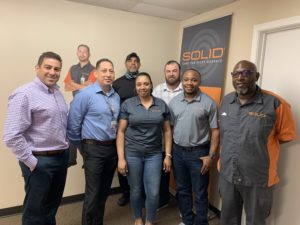 ---
ABOUT SOLID
SOLID Surface Care, Inc. is a unified team of surface care experts. We deliver the highest level of care for all hard and soft surfaces while providing a world-class client experience. With SOLID, your surfaces are protected, your spaces are kept clean and healthy, and your expectations are exceeded. From carpet to stone to metal and wood, we care for the most precious surfaces in the world – Yours.
To experience the efficiency and expertise of SOLID's services, contact SOLID for a complimentary site assessment: Call 844.227.6543 ext. 3 or visit https://www.solidcare.com/contact/