Featured
Articles
Building a multi-family housing complex is undoubtedly an ambitious and rewarding project. However, once the construction phase is complete, there's a significant hurdle to overcome before the grand opening – post-construction cleanup. The accumulation of dust, debris, and construction residue can be overwhelming, posing challenges for facility maintenance managers. Let's delve into the common challenges of post-construction cleanup in multi-family housing and how SOLID Surface Care offers an effective solution to streamline the process.
The Challenges of Post-Construction Cleanup
Post-construction cleanup in multi-family housing presents unique challenges that require careful planning and expertise. Some of the key obstacles include:
Extensive Cleaning Requirements: Multi-family housing projects involve numerous units, common areas, and shared amenities, making the cleaning process labor-intensive and time-consuming.
Delicate Surfaces: The diversity of surfaces in multi-family housing, from carpets and tiles to concrete and metal, demands careful handling to avoid damage during the cleanup process.
Time Sensitivity: Construction projects often operate on tight schedules, leaving little time for post-construction cleanup, which can lead to delays in the project's completion and opening.
Eco-Friendly Solutions: With environmental concerns on the rise, there is a growing demand for eco-friendly cleaning solutions that ensure a healthy living environment for future residents.
SOLID Surface Care – The Solution for Streamlined Cleanup
SOLID is the leading provider of commercial facility maintenance services in the US. We specialize in post-construction cleanup for multi-family housing projects. Here's why SOLID is the perfect partner to handle post-construction cleanup challenges:
Expertise and Equipment: SOLID's skilled team is equipped with the tools and knowledge to tackle post-construction cleanup efficiently. SOLID can assist in ensuring each surface is meticulously cleaned without causing any damage.
Comprehensive Service: From carpets to tiles, stone to wood, and everything in between, SOLID offers a comprehensive range of services.  This helps you, as a facility maintenance manager, safeguard your valuable building assets.
Time-Efficient Solutions: SOLID understands the importance of meeting deadlines. Their efficient processes ensure a quick turnaround, allowing you to welcome residents sooner.
Environmentally Conscious: SOLID Surface Care is committed to using eco-friendly cleaning solutions that align with sustainable practices, supporting a clean and healthy living environment for residents.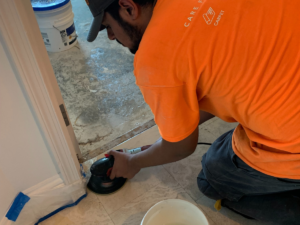 Contact SOLID for a FREE Demo:
Post-construction cleanup in multi-family housing can be a daunting task.  With the right partner like SOLID, it becomes a streamlined and efficient process. By entrusting the cleanup to experts, facility maintenance managers can focus on delivering a flawless living experience for future residents while meeting project timelines. Don't let post-construction cleanup delays hold your multi-family housing project back. Reach out to SOLID Surface Care and experience the difference between a professional and comprehensive solution.
To experience the efficiency and expertise of SOLID's services, contact SOLID for a complimentary site assessment: Call 844.227.6543 ext. 3 or visit https://www.solidcare.com/contact/  and let us help you make your multi-family housing project shine!
---
About SOLID
SOLID Surface Care, Inc. is a unified team of surface care experts. We deliver the highest level of care for all hard and soft surfaces while providing a world-class client experience. With SOLID, your surfaces are protected, your spaces are kept clean and healthy, and your expectations are exceeded. From carpet to stone to metal and wood, we care for the most precious surfaces in the world – Yours.