Featured
Articles
In today's rapidly evolving business landscape, maintaining a clean and sustainable environment is of paramount importance. Commercial spaces, with their high foot traffic, often face the challenge of keeping their carpets pristine while minimizing environmental impact. However, there is a game-changing solution: SOLID offers world-class commercial carpet cleaning services alongside a commitment to sustainability and solid surface care. In this blog post, we will explore how SOLID is revolutionizing the industry, providing exceptional service in every US market, and incorporating eco-friendly practices.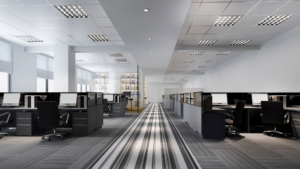 Sustainability: A Priority in Commercial Carpet CleaningAs environmental consciousness continues to grow, it is essential for businesses to adopt sustainable practices. Traditional carpet cleaning methods often rely on harsh chemicals that can have detrimental effects on the environment and human health. However, there are alternatives available that prioritize sustainability without compromising on cleanliness. Green carpet cleaning solutions utilize eco-friendly products and techniques, minimizing water usage and reducing the carbon footprint associated with cleaning processes. By opting for sustainable carpet cleaning, businesses can demonstrate their commitment to environmental stewardship and contribute to a healthier planet.World-Class Service: Going Beyond CleanlinessWhile cleanliness is of utmost importance in commercial carpet care, delivering world-class service goes beyond simply removing dirt and stains. It involves a comprehensive approach that includes personalized attention, meticulous attention to detail, and a commitment to customer satisfaction. Exceptional service means understanding the unique needs of each client, tailoring solutions to fit their requirements, and employing highly trained professionals who can deliver exceptional results. A company that prioritizes world-class service recognizes that the cleanliness of carpets directly impacts the overall impression of a business and thus strives to exceed expectations with every interaction.Available in Every US Market: Your Trusted Partner NationwideIn today's globalized world, businesses operate in diverse markets and locations. When it comes to commercial carpet care, it is crucial to partner with a company that can provide reliable services no matter where you are. Accessibility and consistency are key factors that contribute to the success of any business. Choosing a carpet cleaning company that has a widespread presence and can cater to clients in every market ensures that your business receives the same high-quality service across all locations. This minimizes disruptions, streamlines operations, and guarantees a consistently clean and professional environment throughout your organization.
Extending Expertise: Going Beyond CarpetsWhile carpets are a prominent feature in many commercial spaces, there are other surfaces that require attention and maintenance. A company that offers comprehensive care understands the importance of maintaining solid surfaces, such as hardwood, tile, concrete, metal, LVT, textiles, tile & grout as well as stone and terrazzo. By expanding their expertise beyond carpets, such a company can provide a holistic approach to facility maintenance, ensuring that all surfaces receive the specialized care they require. This comprehensive approach not only enhances the overall appearance of a workspace but also prolongs the lifespan of various surfaces, reducing the need for costly replacements.
Cleaning for Health: Unrivaled Experts in Deep Cleaning and Disinfecting for Optimal HealthSOLID stands out as the unrivaled leader in the space for deep cleaning and disinfecting for optimal health. With their unmatched expertise and commitment to excellence, they employ cutting-edge techniques and state-of-the-art equipment to ensure the highest standards of cleanliness. Their dedicated team of professionals diligently eliminates harmful pathogens, allergens, and contaminants from surfaces, creating a pristine environment that promotes well-being. SOLID's meticulous approach and attention to detail make them the go-to choice for comprehensive deep cleaning and disinfection services that prioritize health and safety.
The Company That Delivers: Setting the StandardAmong the numerous companies offering commercial carpet care services, one organization stands out as a leader in sustainability, world-class service, and comprehensive surface care. Their commitment to sustainable practices includes utilizing eco-friendly products, reducing water consumption, and implementing efficient cleaning techniques. With a focus on customer satisfaction, they prioritize personalized service, attention to detail, and consistent results. By providing services in every market, they ensure that businesses receive the same exceptional care no matter where they operate. Moreover, their expertise in solid surface care sets them apart as a comprehensive facility maintenance partner.
WHY WAIT? 
Every facility is different. SOLID offers a complimentary, professional consultation and site assessment to identify the best cleaning for health needs for your surfaces. Your traffic patterns and facility usage are just a few of the items we review. For example, as your partner, we will determine the best course of action, including frequency, the best commercial carpet cleaning care methodology, and more.
From carpet to stone to metal to wood to terrazzo, to resilient and concrete, SOLID offers a full suite of innovative solutions that can deep clean, restore, repair, and enhance your facility's surfaces. We know the performance and aesthetics of your architectural hard surfaces are important to your company's bottom line. That's why our pricing is comparable, but our service isn't.
With SOLID, you can rest assured that your surfaces are protected, your spaces are kept clean and healthy, and your expectations are exceeded. Contact us today to discuss your facility assessment from SOLID.