COVID-19
Articles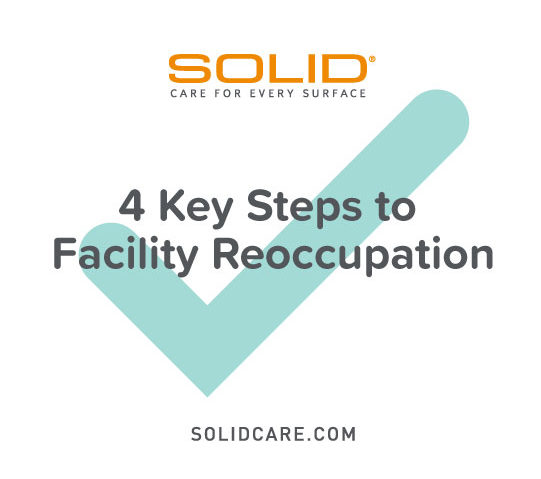 As the industry continues to navigate the challenges of COVID-19, forming a reoccupation strategy is at the top of the list for many facility and property managers. The ultimate goal is to ensure spaces are certifiably clean and healthy, and employees and visitors feel their well-being is a priority when they start to return to buildings.
SOLID has partnered with many facilities teams in recent months to plan and implement science-based reoccupation plans. While each facility is different, we've benchmarked 4 key steps on the path to reoccupation that should be included in every plan.
1. Protect your people.
First and foremost, facility managers should ensure employees and visitors are returning to a clean and healthy workplace. Occupied and unoccupied spaces require different strategies for optimal facility wellness.
In occupied spaces:
Maintain your facility's cleaning schedules.
Increase frequencies in high-touch areas.
Add proactive disinfecting services.
And in unoccupied spaces:
Deep clean and disinfect to ensure a safe and healthy environment upon return.
Disinfect daily where security and other essential personnel are located.
2. Put their minds at ease.
Most employees will feel some degree of fear and uncertainty as they come back into an office environment. Help give them peace of mind and show that their safety and comfort is top priority.
Combined with visible ongoing cleaning and disinfecting, reassure your people that proactive steps are being taken to protect their workplace. Place messaging and signage in lobbies, high-traffic areas and tent cards on desks to communicate that the building has been cleaned and disinfected to the highest standards. Share what protocols you are following, such as the recommendations from the CDC, EPA and OSHA. Let them know that service providers you have partnered with, their experience, and any testing and certification measures that have been taken.
3. Ensure their environment is safe.
Preparing for a clean and disinfected reoccupation is best completed through a step-by-step process with a specialty surface care provider.
Assess through discussions about your exposure levels, reoccupation plan, and cleaning and disinfection regimen.
Plan a customized strategy that includes frequencies and methods of care.
Deep clean, restore and disinfect all surfaces using skilled craftsmen that are highly-trained, equipped with world-class products and materials, and PPE-outfitted.
Test, certify and report through indoor air quality certification, ATP/UVC testing and service provider certification (such as SOLID Certified).
4. Ensure their environment stays safe.
As part of your reoccupation strategy, have an abatement plan in place for reactive cleaning and enhanced disinfecting should a confirmed or suspected case of COVID-19 occur at your facility.
Preventative ongoing deep cleaning and enhanced disinfection is not a one-time step, but a continuous process that should be checked, adjusted and implemented over the course of your facility's reoccupation and beyond.
—
SOLID's operations and account management teams are expert at creating cleaning and disinfecting solutions for facilities based on reoccupation timelines. For a complimentary facility assessment, please contact us at 844.227.6543 ext. 3 or visit solidcare.com/contact.
About the Author, Sid Harriss
Sid Harriss is the Senior Regional Director for SOLID Surface Care's East Coast Operations. Over more than 4 years at SOLID, he has led the East operations team in delivering best-in-class surface care and client service. Sid helps lead SOLID's evolving response to COVID-19, ensuring teams are trained and equipped with the most effective products and resources. He is expert at preparing facilities for clean and healthy reoccupation through science-based disinfecting strategies and caring communications.
About SOLID Surface Care, Inc.
With over two decades of experience, SOLID® Surface Care, Inc. is the nation's largest self-performing facility care company. SOLID is revered for its breadth of science-based cleaning/enhanced disinfection experience and world-class specialty surface care. We are passionate about being environmentally conscious with our methodologies, and extending the life of every surface. Our well-trained teams deliver the highest level of cleaning, disinfecting, restoration and maintenance for all hard and soft surfaces, while providing a best-in-class client experience.
The SOLID team is responsible for maintaining over 700 million square feet of commercial flooring annually. We always put the needs of clients first by going beyond the surface to grasp their brand, budget and culture to develop a Consolidated Care Plan, all with an advanced online data management platform that assures immediate information and transparency.
With SOLID, you can rest assured that your surfaces are protected, your spaces are kept clean and healthy, and your expectations are exceeded.