Hard Surface Care
Articles

QUALITY MATTERS
Material selection and cleaning methodologies for floor surfaces have experienced many different trends over the years, but one truth always remains: quality matters. Quality relationships, quality materials and quality maintenance contribute to a healthy bottom line and a healthy facility.
Stone is one of the most popular surfaces found in facilities. There are key maintenance fundamentals and best practices every facility manager should know when selecting and caring for these materials.
THE TECHNOLOGY & BEAUTY OF STONE
Stone will never go out of style, and if properly maintained, this surface will last the life of the facility. From marble and granite, to travertine and limestone, stone has been used for centuries for architectural finishes, on vertical and horizontal surfaces alike, due to its attractive appearance and durability. Quarries around the world extract these stunning materials from the earth using sophisticated technology and machinery to provide flawless cuts and expert polishing. The selection of stone available is impressive because of innovative quarry technology.
SELECTING THE RIGHT STONE
Different types of stone may look beautiful side by side or throughout contiguous areas, but stone selections should not be made by aesthetics alone. Stone surfaces, whether vertical or horizontal, interior or exterior, require different care based on material, traffic patterns and usage. For example, it is not a good idea to pair marble and granite or marble and terrazzo together for several reasons, including variations of density and hardness, and incompatible maintenance requirements that could cause harm to the neighboring stone. Choosing stone from the same family or stone with similar maintenance needs, such as marble and limestone, combined with a tailored routine surface care plan, will help ensure your stone floors last for centuries.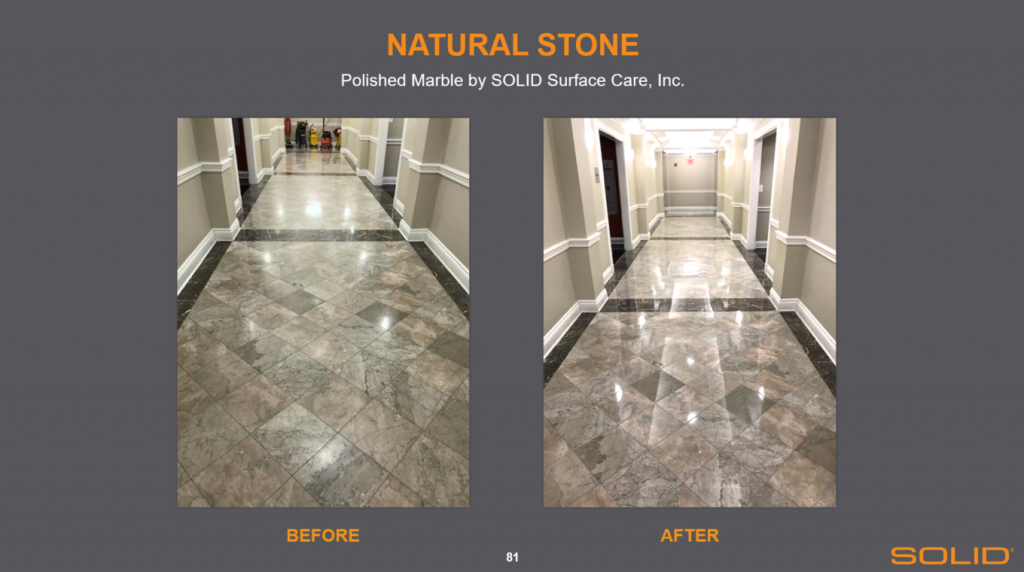 STONE CARE & MAINTENANCE
Selecting high-quality materials is only the first step in creating beautifully designed spaces. Having an expert surface care consultant provide a long-term maintenance strategy, cost analysis and surface recommendations before a flooring investment is made is a close second, if not as important as the first step. The same qualified consultant can provide a site assessment and offer recommendations for existing floors that may involve restoration as needed and an ongoing cleaning and maintenance plan.
Contact SOLID for Your Complimentary Site Assessment
SOLID Surface Care, Inc., is a national team of surface care experts who deliver the highest level of care for all hard and soft surfaces while providing a world-class client experience. With SOLID, your surfaces are protected, your spaces are kept clean and healthy, and your expectations are exceeded. From carpet to stone to metal and wood, we care for the most precious surfaces in the world – Yours.
Call 844.227.6543 ext. 3 or visit https://www.solidcare.com/contact/.