Soft Surface Care
Articles
Airport Facility Managers – Ready for summer travel season?
The 2019 summer travel season kicked off with nearly 3.25 million Americans flying to their destination of choice during Memorial Day weekend; that's 4.8% more than 2018, second only to 2005, according to AAA. On an average day, the Transportation Security Administration (TSA) screens approximately 2.2 million passengers and crew. The agency anticipates more than 4% traveler growth this summer and expects to break screening records throughout the summer travel period.
With new waves of passengers arriving every few minutes, airport activity takes off each time a plane lands. Airport facilities managers (FMs) are always in motion too with an uncompromising goal of providing a safe and world-class experience for passengers, employees and crew.
Airport FMs know discerning travelers have a choice when choosing their connecting and final destination airport. In fact, of the six factors used to measure overall traveler satisfaction, terminal facilities ranks the most important. Travelers notice unclean and worn areas in the terminal. Carpet with spots and stains, stone or terrazzo with dirt and scuffs, and dirty grout are just a few ways an airport does not want to get attention.
"Using the industry clean standards set by the International Sanitary Supply Association, custodial and maintenance staff at both airports work hard to ensure the facilities are maintained at or above those standard levels," said Bill Begley, Houston Airport System spokesman, in a USA Today article about airport germs.
With customer satisfaction and safety top-of-mind, Airport FMs are wise to a consult surface care specialists when making a decision about the frequency and type of surface care performed.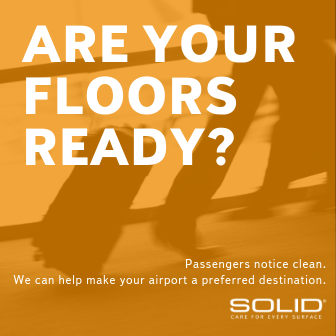 Carpet Maintenance
Airport facility managers often choose to follow manufacturer guidelines. Manufacturers' guidelines may include a periodic deep extraction. Consider using dry carpet care technology provided by a professional surface care expert for a certified deep extraction. The benefits of dry carpet care include:
Carpet dries as soon as the carpet care process is completed – less slip and fall risk and no need for wet floor signs
Reduced risk of resoiling
No wicking, which can occur after hot water extraction
Low environmental footprint – dry carpet care uses less water and energy
Less VOCs than other cleaning methods
Known to extend the life of carpet
Helps maintain a quality appearance
Protects Indoor Air Quality (IAQ)
Helps keep carpet out of landfills
Working with Surface Care Specialists
SOLID has over a decade of experience with the nuances and safety standards of airport facilities management and can be an asset to your surface care team. The busiest airport in the world trusts us to provide specialty care for millions of square feet of flooring annually – that's 7.2 million sqft/yr of carpet alone!
We start with a site assessment to audit the current condition of all your surfaces. We'll identify areas for improvement and areas that don't require care. We'll then build a Consolidated Care Plan that provides frequencies and methods of care for each surface type – all with one partner, one contract, one invoice and one point of contact.
In addition, SOLID is an IICRC-certified firm and all SOLID carpet care systems are CRI certified, giving you the assurance of sustainable methods. Our products and processes are selected to protect Indoor Air Quality (IAQ) while reducing carpet impact on landfills.
Contact SOLID for your complimentary site assessment. Call 844.227.6543 ext. 3 or visit https://www.solidcare.com/contact.