Property Management
Articles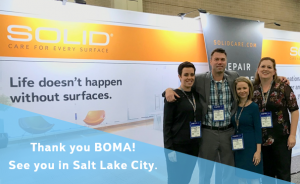 The commercial real estate industry is always in motion. Professionals need to know what's now and what's next to stay ahead, and this year's Building Owners and Managers Association (BOMA) International Conference & Expo offered thousands of attendees BIG opportunities to learn, connect, grow and shine.
Hosted in steamy San Antonio this week, BOMA 2018 boasted a full schedule of new educational content, the latest technology and innovative solutions, and prime networking time. Inspiring keynotes and spotlight sessions offered fresh approaches, practical direction and tactical strategies for optimizing asset values, embedding sustainability initiatives into operational practices, honing leadership skills and cultivating next-generation talent.
BOMA continued the annual tradition of presenting The Outstanding Building of the Year (TOBY) Awards at the convention. The TOBY Awards are most prestigious and comprehensive recognition of their kind in the commercial real estate industry, recognizing quality in commercial buildings and rewarding excellence in building management in hundreds of communities around the country. Congratulations to this year's award recipients!
Our BIG Moment at BOMA 2018
BOMA 2018 is the one event that gives industry professionals the advanced strategies and specific tactics to benefit buildings of any size and type. All it takes is one key idea to reduce costs, one new solution for operational performance or one new contact with an opportunity.
The convention offered SOLID the opportunity to showcase our own approach to "one" during the show's expo. We introduced attendees to our one team of surface care experts who provide the highest level of care for all hard and soft surfaces while providing a world-class client experience.
A BIG thank-you is due to BOMA International and #BOMA2018 attendees for a great convention!
About SOLID:
SOLID Surface Care, Inc., is a unified team of surface care experts who deliver the highest level of care for all hard and soft surfaces while providing a world-class client experience. With SOLID, your surfaces are protected, your spaces are kept clean and healthy, and your expectations are exceeded. From carpet to concrete to metal and wood, we care for the most precious surfaces in the world – Yours.
Please contact SOLID for more information 844.227.6543 ext. 3 or fill out our online contact form.