Construction
Articles
Whether your facility has undergone major renovations, minor tweaks, or you've constructed a whole new building, SOLID can help with the all-important phase of post-construction cleaning.
It's a relief to know the construction is finished – but it's not over 'til it's over. Contractors may perform a cursory clean-up, removing large debris and maybe sweeping the floors or vacuuming visible dirt. However, thorough post-construction cleaning is critically important in order to turn the building over to a delighted client.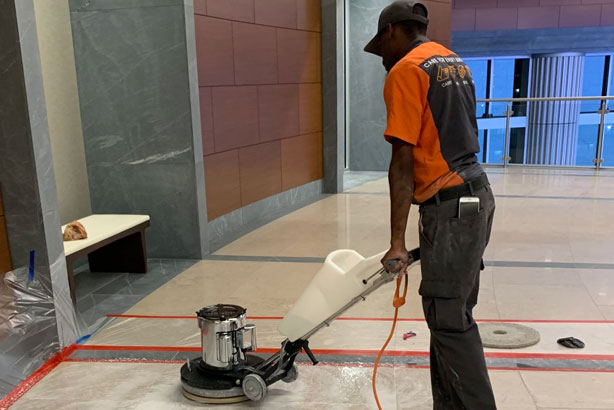 That's where the surface care experts at SOLID come in. Not only can we repair and restore the unintended surface damage that often occurs during these projects, but we can also deep clean the entire site. Whether it's a light scratch or a deep gouge in your stone, metal, or wood, SOLID's master craftsmen make seamless repairs or complete restorations by delicately balancing traditional techniques with industry-leading products and equipment. It takes years of training to develop the skills and artistry necessary to invisibly repair and restore damaged surfaces to their original luster. SOLID can save your business the cost and hassle of replacing such expensive architectural details, and often with little or no disruption.
Two Phases of Post-Construction Surface Care
#1 Restoration of Damaged Surfaces
Given the busy nature of a construction site, cosmetic surface damage is practically inevitable. Whether it's a light scratch or a deep gouge in your stone, metal, concrete, or wood surfaces, SOLID's expert technicians make seamless repairs or complete restorations by balancing traditional techniques with industry-leading products and equipment.
Carpet Care
Carpet can be easily stained and damaged during construction. Our approach is first to understand all the variables associated with your carpet surfaces and identify specific needs based on those details. We use EPA-approved chemical treatment systems and CRI-certified high-quality vacuums to remove stains and debris from the surface and deep within the carpet. Our ultimate goal is to protect Indoor Air Quality (IAQ) while also reducing carpet impact on landfills.
Resilient Flooring & Metal Surface Care
Any damage to resilient flooring is resolved with deep cleaning, applying wax and specialized sacrificial wear layers, and high-performance coatings. We also can repair and restore damage to metal surfaces like elevators, doors, and stairwells. Scratch removal, re-graining and highlighting, restoration, and protective coatings and coverings are a few services that we offer.
Stone Care
SOLID's craftsmen combine traditional techniques with modern equipment, training, and materials. Our experts can undo years of negligence through state-of-the-art restoration methods, and then create a Consolidated Care Plan to prevent you from ever having to go through that experience and cost again.
#2 Overall Deep Cleaning and Disinfecting Services
After cosmetic damage is repaired and major surfaces are attended to, SOLID's technicians can deep clean and disinfect all the nooks and crannies where dirt and dust may have settled. Office furniture, desk computers, restrooms, and kitchens – the entire area will be thoroughly cleaned so that it is move-in ready. Occupants will be reassured and confident that their surroundings not only look clean, but they are clean and healthy.
---

---
SOLID is Resourced & Ready
At SOLID, we're passionate about preserving the appearance and extending the life of your assets. And, SOLID is ready whenever you need us. We currently have 40+ office locations with a team of 500+ surface care experts caring for over 700 million square feet of commercial flooring annually across all 50 states and Puerto Rico – and growing!
Learn more about how SOLID can help with post-construction damage here.
Contact us today to discuss your post-construction cleaning needs.