Dan Abitol
Articles

It is with a heavy heart that I am sharing the news that Dan Abitol, Senior Vice President of Operations, passed away unexpectedly on May 10, 2020. Dan passed quickly from a heart attack, and he did not suffer. I, along with the entire SOLID family, mourn his loss and send his family, our clients and friends our sincere sympathies.
Dan was larger than life, a dear friend and industry leader who made a significant impact on everyone around him personally and professionally. He was a mentor to many and a shining light to anyone who met him. Dan's passion for delighting clients and his ability to coach team members to achieve greatness has helped build a resilient operations and leadership team at SOLID that will carry on his legacy.
Please join us in celebrating Dan's life by remembering the many things we loved in him, and by continuing his life's work: caring for each other and being the best we can be in all we do. Dan's caring spirit and his love for people, of all abilities, was great. In lieu of flowers, the family asks that memorial contributions be made to the Dan Abitol Memorial Fund  (https://zabsplace.org/dan/) for Friendship Circle or ZABS Place, two organizations that were dear to Dan.
Take Care,
Michael S. Crippen
Founder and CEO, SOLID Surface Care, Inc.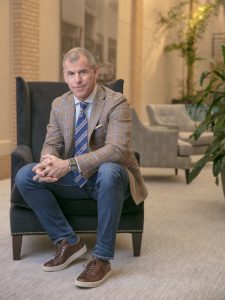 Mike Crippen is the founder and CEO of SOLID Surface Care. For over two decades, Mike has assembled a team of specialists that make SOLID the nation's premier solution for comprehensive commercial floor maintenance. Under his leadership, SOLID has become the client-centric organization it is today: the largest self-performing floor care company in the facilities industry. 
About SOLID:
SOLID Surface Care, Inc. is the largest national self-performing surface care company in the facilities industry with over two decades of deep cleaning and disinfecting experience. Our well-trained team of experts provide the highest level of restoration and maintenance for all hard and soft surfaces, and treat spaces with the appropriate level of disinfecting while providing a world-class client experience. What makes us solid is our diligence in going beyond the surface to grasp our client's brand, budget and culture, develop a customized Consolidated Care Plan, all with an advanced data management platform (ES4U) that assures immediate information and transparency. With SOLID, surfaces are protected, spaces are kept clean and healthy, and expectations are exceeded.