News and Events
Articles
SOLID's Omaha team is demonstrating our core value of Be Caring by donating services to disinfect local police and fire department vehicles against COVID-19. Using the electrostatic spraying method of disinfection, SOLID technicians wore the appropriate personal protective equipment and treated more than 50 police cars, fire trucks and emergency vehicles in one afternoon.
The disinfecting service starts with a pre-cleaning of high-touch points as recommended by the CDC, followed by trained application of EPA-registered List N disinfectants that have been designated specifically for COVID-19.
The Omaha team is offering daily drive-through disinfecting to show gratitude for the police and fire departments' service to the community during the COVID-19 pandemic. After disinfection, the vehicles are clean and healthy, and officers and firefighters can feel safe knowing their vehicles are free of the virus.
The Omaha team's donation is part of SOLID's Caring for Essential Services program. We appreciate the organizations that must continue operations throughout the COVID-19 pandemic while helping employees and visitors feel safe when inside their spaces. To show our gratitude, SOLID offices across the country* are donating disinfecting services to help protect facilities and the people they serve.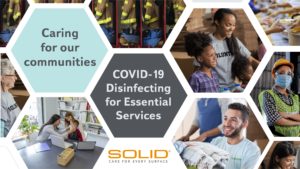 *Availability varies by location. We are unable to support medical care facilities through our charity program at this time. 
About SOLID Surface Care, Inc.
SOLID is the largest national self-performing floor care company in the industry. As a unified team of surface care experts, SOLID delivers the highest level of care for all hard and soft surfaces while providing a world-class client experience. With SOLID, your surfaces are protected, your spaces are kept clean and healthy, and your expectations are exceeded. From disinfecting to caring for carpet, stone, metal and wood, we care for the most precious surfaces in the world – Yours.
Contact SOLID for a complimentary site assessment: Call 844.227.6543 ext. 3 or visit https://www.solidcare.com/contact/.