Associate Spotlight Award
Articles
SOLID is excited to announce its Associate Spotlight Award Winners for August. Each month, SOLID employees nominate peers who go above and beyond and deserve a "spotlight" for their exceptional performance. This month we honor Huey Shellman and Tara Walker.
SHINING AN ASSOCIATE SPOTLIGHT ON EXCEPTIONAL PEOPLE
Huey Shellman, Field Manager | Greer, SC
Mike Elrod, a SOLID crew leader in Birmingham, nominated SOLID's field manager, Huey Shellman, for this month's Associate Spotlight Award. He shared that Huey has been servicing the southeast while still completing his duties as a field manager. Elrod said, "Huey is so diligent, and he's doing some serious work for the brand." Huey's wife and daughter are also employed by SOLID and join Huey in the Greer, SC office. Everyone who knows Huey agrees that he has made a measurable impact in his role as field manager and is going above and beyond to support our teams, clients, and mission.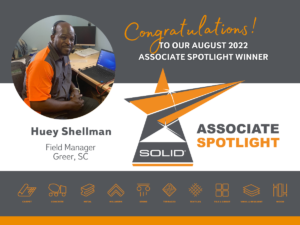 Tara Walker, Operations Manager, | Raleigh, NC
Nominated by several of her peers, Tara Walker stands out as someone who has shown ongoing initiative, leadership, and dedication. Christina Rowand, an operations assistant in Raleigh, shared how much clients and teammates enjoy her contributions and commitment. "Tara is willing to go above and beyond – working all day and night hours to ensure everything is complete." Christie Bumbarner, a planning and scheduling manager in Raleigh, shared that Tara has taken on the SC market in addition to the NC market and is doing an incredible job. Tony Perez, SOLID's Chief Operating Office, complimented Tara on visiting a recent potential client's site, where she quickly accessed what issues needed addressing for a successful outcome.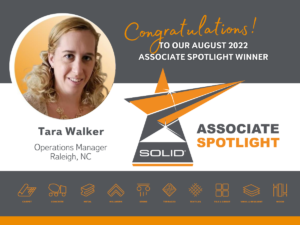 Congratulations, Huey and Tara. You both have earned the respect of your peers and are real role models within the SOLID organization. Learn more about SOLID's past Associate Spotlight Award Winners by visiting this link.
New to SOLID? We care for the most precious surfaces in the world. We service healthcare, airports, corporate facilities, educational institutions, multi-family, banking, and many more industries. No matter the size of your facility or space, we can create a customized surface care plan to meet your needs and budget. Ready to protect your hard and soft surface assets? Let's discuss how SOLID can help.