Featured
Articles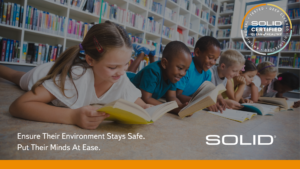 Ensure Their Environment Stays Safe
When school is in session, it brings with it unprecedented challenges, such as clean and healthy classrooms. Education leaders across the country must focus on ways to deep clean for health to keep students and staff healthy. It's a critical priority to take care of students of all ages as well as faculty, nurses, parents, and guardians.  You want them to feel supported and confident in their surroundings and cleaning for health and safety is of the utmost concern.
While most judge their surroundings by sight and smell, it goes much deeper when entering a building. There are four key components all facility managers, cleaning professionals, and industry leaders should embrace: transparency, accountability, visibility, and partnerships, as defined by Brant Insero, senior director of education, training, certification, and standards with ISSA in a recent episode of ISSA Straight Talk!
Clean and Healthy Classrooms are Essential
SOLID is here to help! We are resourced and ready with self-performing teams nationwide. Our clean for health program leverages proven methods, scientific evidence, training, certification, and the latest technology. Best of all, our teams work in the evening, so there's little to no disruption to your staff. As a result, your campus will not only LOOK clean, but it will BE clean and healthy.
Improving the Health in School Facilities
A surface that "looks" clean doesn't mean it is clean. SOLID can assess a facility's needs and provide a customized surface care plan on a planned, periodic schedule that works best for the facility and eliminates downtime.
"Unfortunately, the new reality is that these increased clean for health measures take a toll on existing janitorial teams and budgets," said Eugene Vaughn, Strategic Account Manager, Southeast.  "Even though you may think your staff can handle it, they probably don't have the training and qualification to ensure a clean and healthy campus. And that's where we can help keep your assets protected and your investments lasting longer."
According to a publication in the Association of School Business Officials Internation, researchers at the University of Arizona conducted a number of studies that examined where germs were most concentrated in schools and demonstrated the importance of effective cleaning in controlling the spread of infections among schoolchildren. The report shared that "…schoolteachers have 20 times more bacteria on their desks and work areas than any other profession we studied (doctors, lawyers, accountants, news reporters, bankers). This is probably because they work with children who experience more infections than adults and because a large amount of material crosses their desks every day."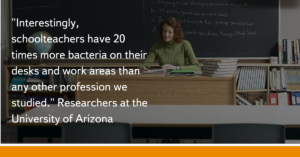 SOLID provides expert solutions for maintaining, revitalizing, and restoring all surfaces in educational facilities: classrooms, hallways, cafeterias, sports flooring, and other surfaces. We use EPA List-N disinfectants to deep clean, sanitize, and disinfect carpet and flooring surfaces throughout the facility. We can help with all types of hard and soft surfaces, such as:
Carpet
Concrete
Metal
Stone
Textiles
Terrazzo
Tile & Grout
Vinyl & Resilient
Wood
In addition, SOLID can help with:
post-COVID facility issues like removing sticker residue.
restoring damaged floors from hand sanitizer drips.
abatement services.
eliminate odors caused by smoking, food service, and pets.
repair and restore surfaces damaged by vandalism or graffiti.
5 Ways SOLID Improves Your School's Interior
Here are five reasons to choose an agile, experienced partner like SOLID.
We're EXPERT. Our technicians are trained and certified in the latest technology and methods. We achieve a higher level of cleanliness, above and beyond the regular daily cleaning performed by your janitorial staff.
We're EFFECTIVE. We use professional-grade equipment like electrostatic spraying and HEPA vacuums, proprietary cleaning processes, and EPA-approved chemicals to create a hygienically clean environment.
We're PROACTIVE. We do the job right. With our process, our operation leaders check in, adjust where necessary, and implement the clean for health program that's right for your campus.
We're TIMELY. We work around your school's schedule. Evenings, weekends, school vacation times: SOLID is resourced and ready with local, self-performing experts when it's convenient for you.
We save you MONEY. Hiring an outside surface care team provides cost savings in payroll and benefits. And SOLID is a

MISBO Consortium Partner.

We offer savings for MISBO member schools.
---
We Know Student Health Is Your Top Priority
You can trust SOLID to clean for health. We know that a clean and healthy environment plays a crucial role in students' education. We can show you how to restore confidence and reassure students, parents, and staff that your school is prepared.
Contact us today for a free site assessment for your educational facility.