Associate Spotlight Award
Articles
Each month SOLID recognizes an associate or team who goes above and beyond the everyday scope of their responsibilities or who has excelled in executing a job duty. This month we honor Kimberly Lundy as our July Associate Spotlight Award Winner. Kimberly has been with SOLID for eight years and serves as a Project Accountant located in Charlotte, NC.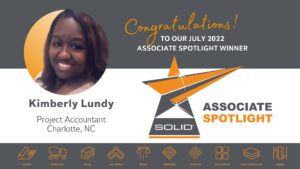 EMBRACING SOLID'S CORE VALUES
"I am so grateful for Kimberly's support," said Trish Irving, Director of Client Services. "Recently, she helped identify a financial problem we were experiencing. She made a plan and spent several late nights resolving it. Her contribution was impressive, but she did it while training newly hired accounting associates and taking on extra tasks until the new members could get up to speed. I'm very grateful for her persistence and consistency. She just keeps making it happen!"
When we asked Kimberly how she has grown professionally at SOLID, she said, "I have learned a lot while working at SOLID. I have grown on a professional level and a personal level. I have developed skill sets that will take me far, and I'm not too bad at pivot tables either."
Congratulations, Kimberly, on the recognition of embracing our core values of being great, caring, and above all, EXPERT!