Featured
Articles
Facility Managers: it's time to be proactive about your 2023 budget. Planning a budget is challenging yet crucial to ensuring departments operate efficiently and protect assets for the long haul. A simple way to control costs, resources, and time is by bundling FM services in an annual plan.
"Cutting costs is always top of mind for facility managers," said Eric Wroldsen, SOLID's Chief Sales Officer. "Bundling specialty maintenance and restoration FM services into a plan provided by a single vendor improves service performance, quality, and consistency. In addition, it reduces operating costs and allows FMs to spend time meeting other business goals."
With a budget that includes bundled services, facilities managers and a surface care vendor work together to achieve results based on the facility's needs and the type of services an agile, professionally trained company like SOLID can provide.
What Does Bundling FM Services Mean?
Bundling FM services works by combining two or more services into a consolidated care plan at a lower cost than purchasing each service separately. It also increases the number of specialty care services the vendor can provide while they are at your facility.
Some common FM services that can be bundled into one surface care plan include:
Outsourcing And Bundling FM Services Makes Good Business Sense
SOLD's specialists provide the services your facility needs and performs them on your schedule and budget. SOLID is resourced and ready with a national team of more than 35 office locations and 500+ self-performing surface care experts across all 50 states and Puerto Rico.
We clean, disinfect, maintain and restore surfaces with highly trained and certified experts. We use state-of-the-art equipment, the latest science and technology, and EPA-approved products. For more than 30 years, SOLID has partnered with various organizations and companies to advance the specialty surface care industry.
In addition, outsourcing with SOLID can bring these benefits to your business, such as:
increased value for your budget,
staffed, expertly trained, and ready to work – 24/7/365,
address problem areas in a more targeted way,
one team approach, and
collaboration and sharing of ideas.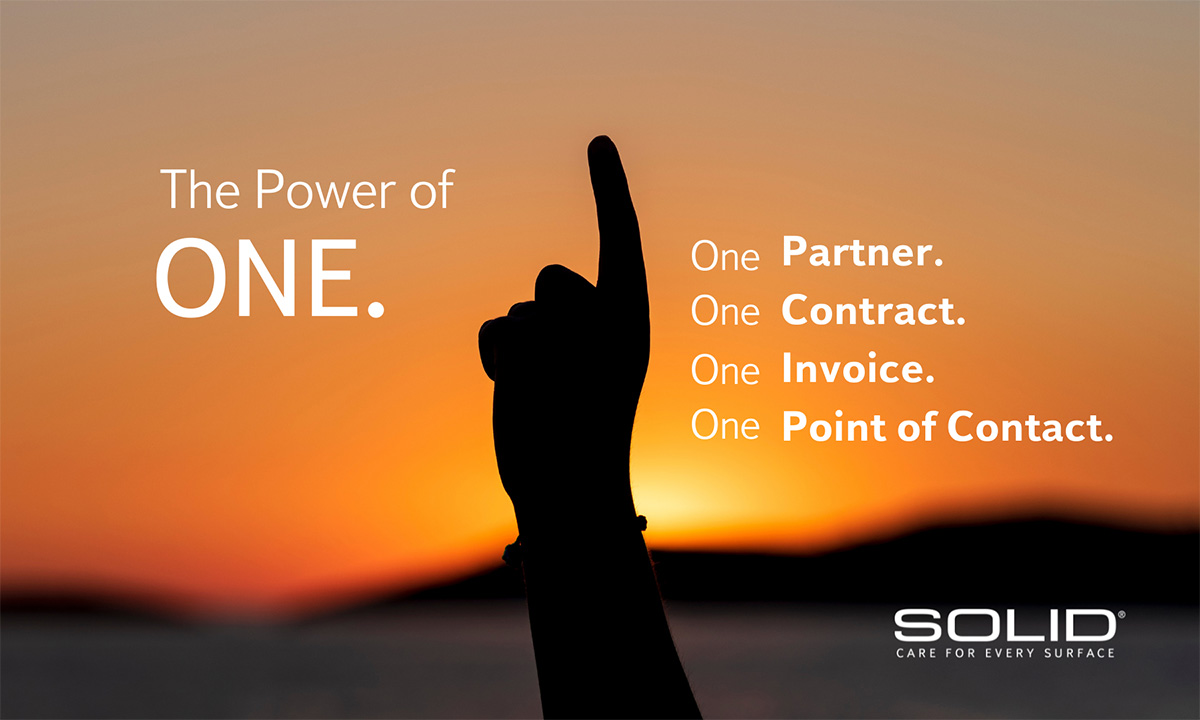 Our promise is to work hard to develop solutions that extend the life and beauty of your surfaces every time we clean.
Quality Assurance and Reporting with Enterprise Solutions (ES4U) Total Data Management
Our business goes beyond just surface care. We created a platform that provides a comprehensive, real-time data management system allowing you to efficiently review all your account information and provide feedback on any task we've undertaken. Here are just a few of the capabilities of this unique and effective tool:
View notes and photos from past services
Monitor work order and invoice status
Request special or ad-hoc services
Manage schedules, budgets, review performance reports
Search and sort locations
Make notations directly to floor plans
Create and print custom reports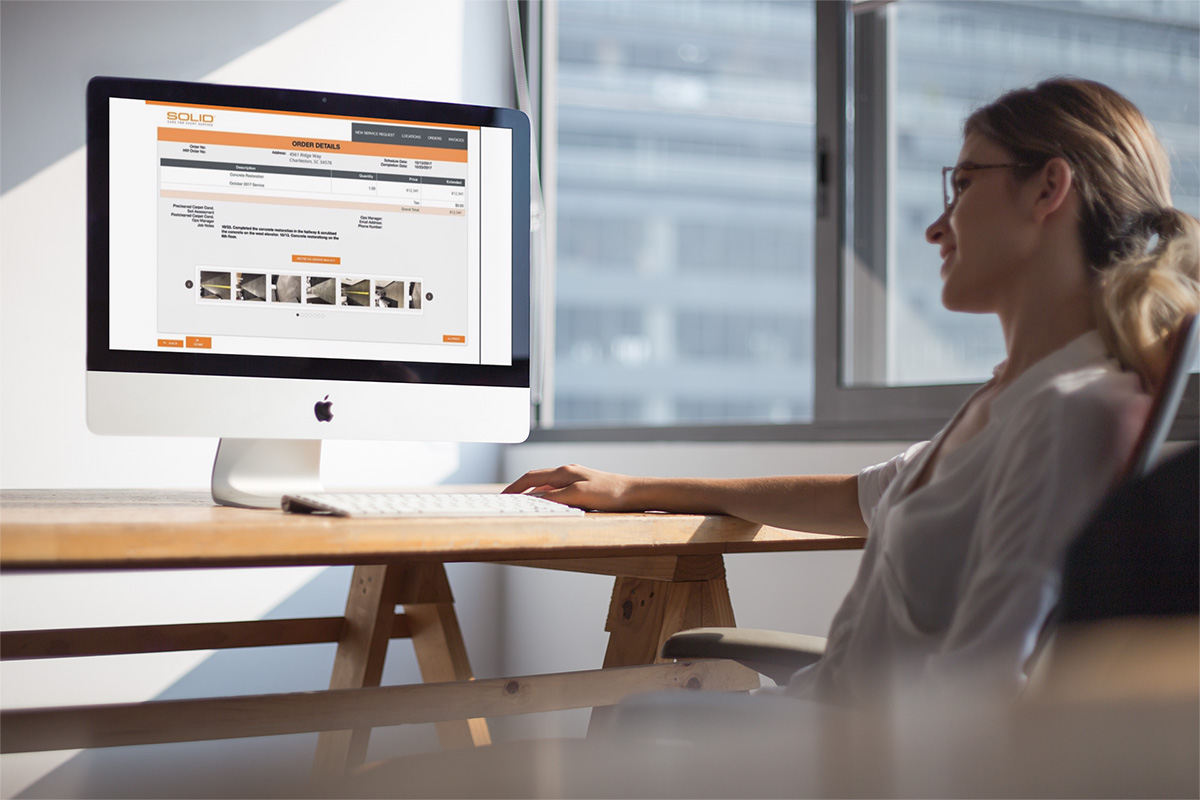 Firsthand, real-time viewing on our ES4U platform provides all of your information, from previous invoices to new service requests. Additionally, you can easily check the status of your current projects and monitor our progress.
A SOLID Foundation Focused On You. Our Client.
Make sure your surfaces receive the best care in the industry!
SOLID will work with you and your teams to create a proactive, frequency-driven maintenance plan that considers your property's needs, the age of the surface, and the amount of use and wear each area is subjected to.
Our client-focused process and methods include a five-step process:
Discovery: we ask specific questions to understand your needs and the space's requirements
Site Assessment: we conduct an audit of the current condition of all surfaces and identify areas that need improvement
Collaborative Solutions: we recommend maintenance strategies using information from the discovery session, site observations, manufacturers' recommendations, and years of expert experience.
Consolidated Care Plan: we provide a plan that recommends frequencies and methods of care for each surface type – all with one partner, one contract, one invoice, and one point of contact.
Implement, Check-In, Adjust, and Document: We implement regular follow-ups, post-service inspections, and Quality Assurance Surveys – all while keeping you informed online through easily accessible data.
Our competitive pricing gives you the very best value for your maintenance dollar. And because our skilled teams manage themselves, you'll be able to focus on your business. As a trusted service partner, SOLID can assist with budgeting by providing a complimentary site assessment and pricing plan that bundles FM services and includes the highest level of care for your common area surfaces.
From carpet to stone to metal and wood, we care for the most precious surfaces in the world – Yours.
Request your complimentary site assessment here.