Soft Surface Care
Articles
It's a new year!  Is it one of your New Year's resolutions to ensure you're providing a clean and healthy space for your guests and teammates? If yes, have you asked yourself if your carpets are really clean? Not just visually clean, but cleaned with health in mind?  There's definitely a difference between cleaning and cleaning for health and in this blog, we're going to talk about how you can clean your carpets to assist in preventing infection.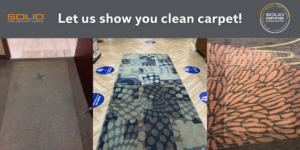 In the commercial workspace, there are endless types of carpets in an office space – nylon and wool, Type 6 and 6,6, solution-dyed, yarn-dyed, cut pile and loop, tiles and rolls. One thing they all have in common is their need to be cleaned – properly. Now, more than ever, facility managers have had to adjust how and how often they clean their spaces to ensure their facilities are clean and healthy to reduce risk and keep their clients safe. Some might say, they have become surface care experts. For those who have not mastered this equation, SOLID is here to help. We believe the cleanest, safest, healthiest facilities are those that have a surface care specialty partner, like SOLID, to support the efforts of their daily building services.

There are 3 primary ways to clean carpets professionally: low moisture, hot water extraction, and dry cleaning.
Low moisture – For interim cleaning between deeper wet or dry cleaning extractions.
Wet extraction – A great solution for annual deep cleaning or restorative maintenance. It balances effectiveness and sustainability. Wet extraction relies on safe ingredients for low environmental impact, but uses the most water.
Dry extraction – The best long-term solution for new carpet in the industry, and our most effective and sustainable solution overall. Dry extraction keeps your environmental footprint low while reducing workplace VOCs.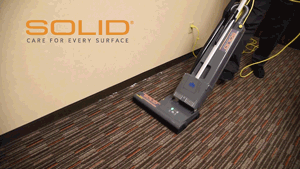 The Most Important Step to Clean Carpet
Carpet has a porous surface, collecting dirt and germs that become trapped in the surface. Vacuuming is the most important step to caring for your soft surfaces. A dual motor, multiple filters, upright vacuum is your best choice. It's essential to follow best practices to ensure carpets not only look clean but are clean. Follow these Carpet and Rug Institute (CRI) cleaning essential recommendations:
Extract soil and pathogens from carpet daily with a CRI certified commercial-grade dual-motor triple-filtration vacuum.
Use vacuums with a dedicated motor to the beater bar or a machine that provides agitation of carpet fibers.
Perform deep cleaning for all hard and soft floors on a routine basis, tailored to the surface's usage and traffic, to help reduce soil, viruses, and other pathogens transferring from one area of the facility to another.
Clean up spills of any kind as soon as possible so they don't set up and attract more dirt that occupants can track onto other floor surfaces.
Work with a specialized maintenance provider to create a clear and proactive care plan for all surfaces.
How Often Should You Vacuum?
As a rule of thumb, the CRI also recommends, you should vacuum at least once a week with a quality vacuum cleaner. However, the more foot traffic over your carpet, the more you need to vacuum. The general formula is:
Vacuum daily in high-traffic areas.
Vacuum twice weekly in medium-traffic areas.
Vacuum weekly in light-traffic areas, using attachments at carpet edges.
"The beauty and life of your carpet depend on the care it receives. Proper cleaning will keep your carpet looking great for its full lifetime, help improve your indoor air quality, and keep your carpet warranties intact." Carpet and Rug Institute.  
How to Reduce Germs and Bacteria
After vacuuming, regular deep cleaning keeps carpets clean and healthy. But according to the EPA, only hard surfaces can be disinfected. There are, however, EPA-List N disinfectants available to sanitize carpets and other soft surfaces. These can be applied using hot water extraction after the carpet has been pre-sprayed. To adequately sanitize, we follow the chemical manufacturer's guidelines on the labels for application, dwell times, and dilution rates.
The good news is porous surfaces are less hospitable to viruses. Once carpets are sanitized, viruses are less likely to transfer to other surfaces.
Carpet can contain about 200,000 bacteria per square inch, making it 4,000 times dirtier than a toilet seat according to microbiologist Dr. Philip Tierno of NYU Langone Medical Center. That is about 4,000 times more than a toilet. 
What Does a Consolidated Care Plan Include?
Our approach is first to understand all the variables associated with your carpet surfaces and identify specific needs based on those details. Next, we develop an annual Consolidated Care Plan tailored to the specific type of care your facilities need. Then, we use the most highly-skilled and knowledgeable project managers and technicians in the industry to execute your plan. We use best practices while complying with the specifications and recommendations of each carpet manufacturer to guarantee the best results. For example, Interface recommends the utilization of these five key elements as a comprehensive maintenance plan:
1. Preventative Maintenance: Containing the soil entering the building using walk-off mats at entrances. This includes outside matting, inside matting and mats at certain other high traffic interior areas.
2. Vacuuming: Regular vacuuming is the single most important part of a maintenance program. Vacuuming is designed to remove dry soil matter.
3. Spot and Spill Removal: Quick response to spills is the key. The faster spills are dealt with the less chance they will leave a stain.
4. Interim Cleaning: Several different methods can be used. Regularly scheduled interim cleaning can prolong the need for restorative cleaning.
5. Restorative Cleaning: Deep cleaning designed to remove trapped soils. Hot water extraction is the most effective method and the only restorative method recommended by Interface.
Why SOLID for your Commercial Carpet Care
Cleaning for health is equally as important as cleaning for appearance. Carpet that looks, feels, and smells clean brings peace of mind to building occupants, allowing them to Reoccupy Reassured™.
SOLID's professional craftsmen can deep clean, sanitize, and disinfect all the hard and soft surfaces in your facility. We ensure your spaces are clean and healthy through testing, certification, and the exacting standards our technicians bring to these processes. SOLID is an IICRC-certified firm and all SOLID carpet care systems are CRI certified, giving you the assurance of sustainable methods. Our products and processes are selected to protect Indoor Air Quality (IAQ) while reducing carpet impact on landfills.
Get your free site assessment and customized consolidated care plan now.