Associate Spotlight Award
Articles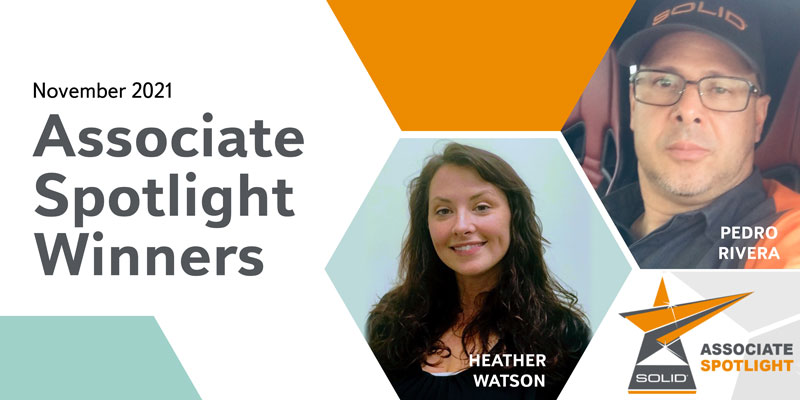 Across the nation, SOLID associates work behind the scenes to ensure our operations run smoothly and successfully. Our monthly Spotlight Associate Award honors some of these associates who make a difference in daily business operations.
Heather Watson
Heather Watson, an Administrative Assistant in our Charlotte location, was commended for the exceptional customer experience. Nominated by Tom Haslach, Chief Development Officer, and Brianna Russ, HR Project Manager, Heather continually exceeds expectations in task executions.
"Heather is a rock star! She is always ready and willing to lend a helping hand," said Brianna. "She exudes SOLID's core values of being great, caring, expert, creative, and honest."
"Everyone needs a Heather on their team," said Tom Haslach in his nomination. "Heather keeps everything moving smoothly and does it with a smile. She embodies teamwork, enthusiasm – with a can-do attitude, takes direction well – ensuring she understands the task at hand before moving forward, and she always goes the extra mile. She's a winner."
Heather started her role at SOLID in June of 2019. She says she is extraordinarily grateful for the opportunities SOLID has given her. "I have learned a wealth of new skills from so many expert creative minds here," said Heather. "There is not a person at SOLID who does not in some way inspire others towards their greater selves. Thank you for showing the greatest of our core values, which is Be Caring, and giving us a chance to shine."
Pedro Rivera
Pedro Rivera, Northeast Field Manager in the Northeast, is also a November Spotlight Award winner. Several colleagues nominated him for his efforts in keeping operations running smoothly.
"The way Pedro cares for everyone on his team, not just in his market, is impressive and very admirable," said Jason Killian, Operations Manager. "The pride he takes in his craft is tangible. He leads by example, and his example motivates and encourages."
"Pedro's capabilities as a leader have won over our technicians. They trust him, listen to him, and he has successfully helped them grow," said Samantha Gildea, Operations Manager. "We would not have made it through everything in the last few years without him. He is someone I am very grateful for, and I would be lost without him."
"Pedro is the heart of our team," said Erin DeVoe, Regional Operations Manager. "He goes above and beyond to keep operations running smoothly. He willingly works through the weekends on calls and emergency services with a smile on his face and a kind word to our technicians."
"Pedro takes the initiative and handles situations quickly and efficiently," said Samantha Christopher, Operations Assistant. "When talking with Pedro about a situation, he never hesitates to say, 'I'll call them,' or 'I'll take care of it,' making everyone else's lives much easier. In addition, he is an excellent example for all our technicians on how to grow within the organization; he knows our products and processes and truly cares that the job gets done properly. We would not be where we are today in multiple markets if it were not for Pedro."
Upon learning of his Spotlight Award recognition, Pedro said, "It's been an honor and a privilege to work for this company over the past four years. Thank you to the Northeast team. I am very pleased, and I'm blessed to have an amazing team."
Learn more about the SOLID Associate Spotlight program here.