Property Management
Articles
Hospitals can be scary places for many people. Those waiting in hospitals tend to look down, either at their phones while waiting or to avoid eye contact. This means when they are sitting in the waiting room, or walking through the hallways, the floor will be what they see. Is the carpet free of spots and debris? Is the LVT clean?
From the time patients exit their vehicle through receiving treatment, they are observing the condition of the hospital, including the flooring. And depending on the news they hear while looking at the floor, it may stay with them forever. Don't let the absence of clean become what people remember about their experience.
Hospitals are busy places! There were more than 130 million ER visits in the U.S. in 2016. And that doesn't even count scheduled procedures, family members, and employees that enter a hospital daily. Never-ending foot traffic and always-open hours mean the flooring is going to take a beating. Good looking, quality flooring that meets health code requirements that stands up to heavy traffic is needed—along with proper installation and maintenance.
Staff, patients and their families appreciate when hospitals have spent time incorporating evidence-based design and health-inspired spaces. What they see influences how they perceive the quality of service and safety standards. Clean, well-designed spaces reflect and encourage wellness and a positive patient experience.
Here are some helpful floor maintenance recommendations for two surfaces commonly found in hospitals:
Carpet Maintenance 
Warm, welcoming, and reassuring are feelings visitors want to have when waiting for news on their loved ones. Carpet is a great way to achieve that feeling, and carpet tiles are highly recommended in hospital settings. These tiles can be individually replaced, making the process quicker and easier if they become damaged.
Daily maintenance is required to keep your carpet looking fresh and clean. Vacuum every day—even multiple times a day where possible—with a hospital-grade vacuum. Removing debris from the surface and deep in the carpet improves indoor air quality (IAQ) and helps the carpet maintain its color and performance.
Vacuuming daily is not enough to keep your carpets in top-shape, however. You'll need to institute some periodic and routine maintenance procedures. Vacuuming should also be done after using interim encapsulation or low moisture products.
Routine maintenance may include quarterly deep extraction cleans. These cleans are critical for the health of the carpet and in turn, the health of the staff and patients. Dry extraction is a great option in a hospital setting because there is no downtime, and no wet floors to cause potential hazards. Unlike hot water extraction that can leave dirty water behind, the dry polymer traps dirt and debris and then it is vacuumed away.
Luxury Vinyl Tile (LVT) Maintenance 
Of course, an entire hospital isn't made up of carpet tiles, which means there are some other surfaces which will need maintenance and attention. Almost all hospitals have luxury vinyl tile (LVT) and other vinyl and resilient flooring (VCT, rubber, etc.) in common areas like corridors and cafeteria. LVT helps reduce noise levels—which make patients who are trying to sleep happier—and it is easier to maintain than other surfaces like stone, for example.
Again, daily maintenance is required on these high-traffic areas. There are care options such as dry mopping, to remove dry soil and debris. But additional care is needed to truly extend the life of the vinyl and preserve aesthetics. Both of which are important to the overall presentation and reputation of your hospital.
In addition to daily care to prevent costly replacement or restorative cleans, scheduling periodic maintenance to include deep cleaning, applying wax and specialized sacrificial wear layers, and high-performance coatings should be included in the routine care plan. The frequency of this maintenance should be based on usage and foot traffic in the area.
Take a closer look at your flooring, is it sending the right message? Partner with a specialty maintenance company that has experience working with environmental services, designers, facility teams and architectural firms to achieve the best look and perception of your hospital.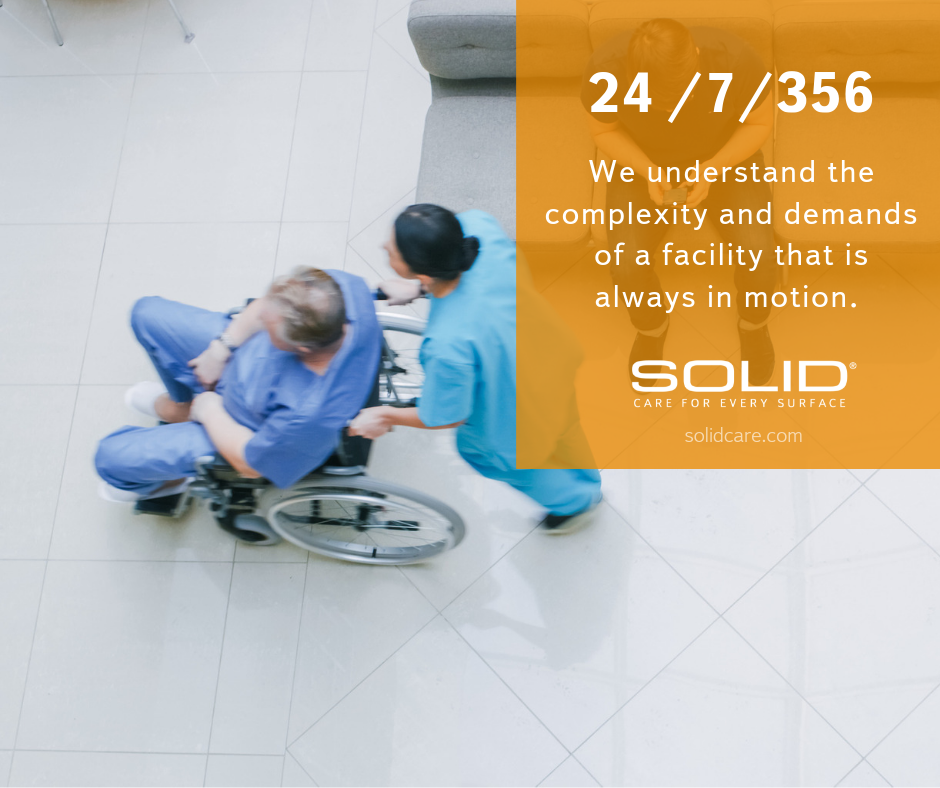 About SOLID
SOLID Surface Care, Inc. is a unified team of surface care experts who deliver the highest level of care for all hard and soft surfaces while providing a world-class client experience. With SOLID, your surfaces are protected, your spaces are kept clean and healthy, and your expectations are exceeded. From carpet to stone to metal and wood, we care for the most precious surfaces in the world – Yours.
Contact SOLID for a complimentary site assessment: Call 844.227.6543 ext. 3 or visit https://www.solidcare.com/contact/.