News and Events
Articles
The times may be changing for retail facilities, but the Professional Retail Store Maintenance Association (PRSM) is powering the industry's strength and progress. The SOLID team learned firsthand at the PRSM2018 National Conference, themed "The Power of Facilities," at the Gaylord Opryland in Nashville this month.
Attendance at the event was a sign of retail's hustle and bustle, with a record-breaking crowd of more than 2,000 attendees and over 350 exhibitors on the show floor. Innovation was in the air, and PRSM2018's award recipients were recognized for leading the charge. Congrats to all of the winners!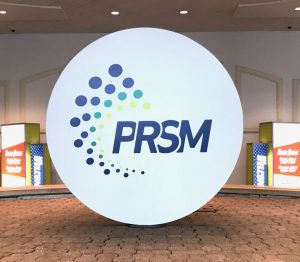 Monica Ferrer, Senior Manager, Energy & Utilities, for Walgreens was presented PRSM's first Young Professional of the Year Award for her significant contributions to PRSM Association goals, strategic direction and contributions to the retail facilities management industry.
The Department of Energy presented its Advanced Roof Top Unit (RTU) Campaign Awards to Walgreens, DaVita, Sheetz, Life Time Fitness, Mass Save with Energy Solutions, Tri Pacific Heating & A/C and Transformative Wave Technologies. Each year, the Advanced Rooftop Unit (RTU) Campaign recognizes organizations for leadership and excellence in commercial building RTU efficiency.
Empowering Retail Facility Managers
We were proud to be a silver sponsor of PRSM2018 and present the "Game Changers" educational track, a series of courses challenging attendees to expand their thinking and gain new approaches to business challenges.
Five of the industry's most influential leaders shared their unique perspectives on career advancement, developing and leading teams, personal branding, preparing for the evolution of an aging workforce, and how to create opportunity in the face of uncertainty.
Sponsoring the Game Changers track was a perfect fit. At SOLID, we think our service is game-changing: one provider, one invoice, one contract, one source for all surface care.
Talking Shop & Retail Operations on the Show Floor
We celebrated the power of facilities by talking up the power of clean facilities with PRSM2018 attendees. We know retail and restaurant facilities managers have seen the good, the bad and the ugly when it comes to cleaning and care. A well-maintained space creates a positive experience for customers and can be a key differentiator for sales, loyalty and overall success.
SOLID is your one source to care for all surfaces – carpet, stone, metal, wood and beyond. And with local, regional and national coverage, SOLID is there whenever and wherever you need us.
From all of us at SOLID, thank you to the PRSM team and #PRSM2018 attendees for a powerful conference and the chance to sponsor the event. We'll see you again at PRSM2019!
About SOLID:
SOLID Surface Care, Inc., is a unified team of surface care experts who deliver the highest level of care for all hard and soft surfaces while providing a world-class client experience. With SOLID, your surfaces are protected, your spaces are kept clean and healthy, and your expectations are exceeded. From carpet to concrete to metal and wood, we care for the most precious surfaces in the world – Yours.
Please contact SOLID for more information 844.227.6543 ext. 3 or fill out our online contact form.