Associate Spotlight Award
Articles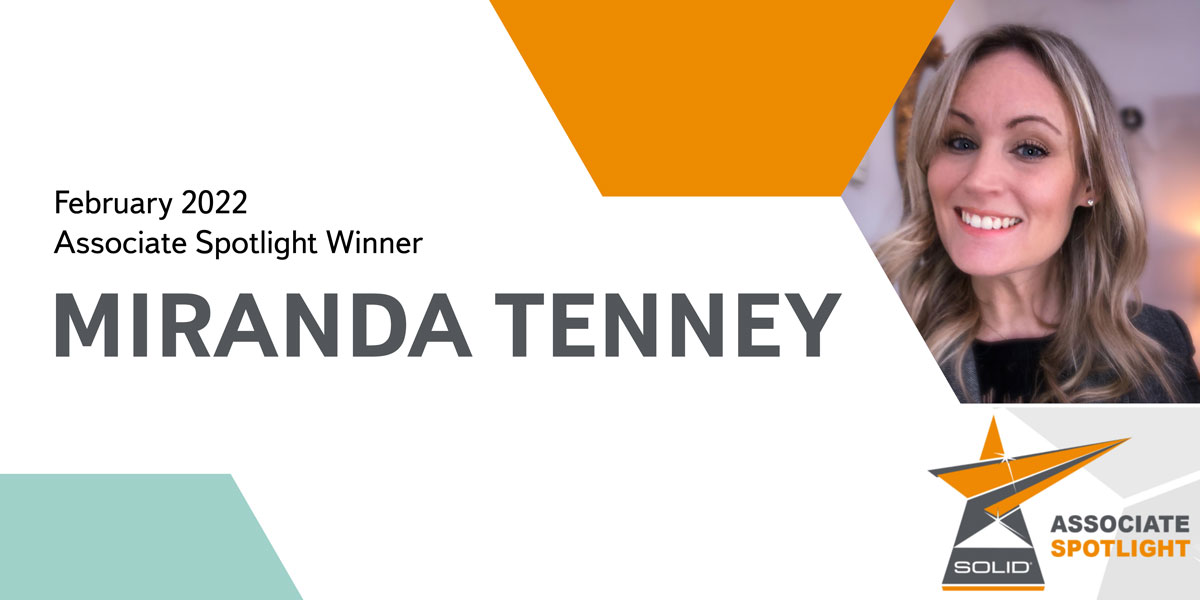 Continuing the successful associate recognition program we started last year, SOLID congratulates Miranda Tenney as our February Associate Spotlight Award winner. At SOLID, it's all about our people: they are what makes us leaders in the surface care industry. The Associate Spotlight Award recognizes the outstanding contributions they make to our company. Each month, we honor an associate or team who goes above and beyond their responsibilities' everyday scope or who has particularly excelled in executing a job duty.
Congratulations to Miranda Tenney
Miranda is a Sales Support Specialist at SOLID. She was nominated for the associate recognition program by Tom Haslach, SOLID Chief Development Officer and Chris Taylor, SOLID Division Vice President‑ East Region.
"Miranda works tirelessly, nights and weekends, delivering world-class service and support to SOLID's internal client, the sales team," said Chris in his nomination. "Additionally, Miranda assures the external client's needs are satisfied as well. As soon as I saw the request for nominations, I knew right away to nominate Miranda."
More About Miranda
Here are some fun facts about Miranda:
Her recent favorite book is "The Unicorn Project" by Gene Kim.
"You'll never do a whole lot unless you are brave enough to try" is her favorite quote (Dolly Parton).
And the picture illustrates Miranda's favorite thing to do: "I love to go hiking in Arkansas with my family."
Thank you, Miranda, for a job well done!
Learn more about the SOLID Associate Spotlight program here.