Featured
Articles
ISSA's National Cleaning Week is back! We are excited about the opportunity to celebrate the value of clean, raise public awareness, and honor our nationwide team of industry professionals.   
"At SOLID, we clean for health every day. National Cleaning Week allows us to celebrate our team members who play an essential role in keeping facilities across the nation clean and healthy," said Mike Crippen, SOLID founder, and CEO. "Maintaining clean spaces is vital in keeping our teammates, clients, and the public in good health. Our technicians take pride in a well-performed outcome that keeps infection risk low so that occupants are reassured that they live and work in clean environments."  

The Value of Clean
Did you know that about 40% of employees globally often worry about becoming ill due to poor facility hygiene? Cleanliness is more important than ever, and it's not just cleaning for appearances. Yes, visuals are important: everyone wants to see that their environment looks clean. Employees and visitors value cleanliness and the image that a clean facility creates enhances their impression of your business.    
At SOLID, we believe in cleaning for health. Our Clean for Health protocols provides the customized outcome that is right for your facility. Our highly trained technicians take pride in complementing your daily janitorial cleaning services with proactive deep cleaning, restoration, maintenance, and disinfection services. They use the right processes, products, and technology to preserve your assets and keep your facility clean and healthy – and we prove the outcome with testing and certification. An investment in cleaning for health produces substantial returns. Occupant satisfaction increases, operating costs like absenteeism from illness are reduced, and your company image is enhanced. Your bottom line will benefit, and that's the real value of clean.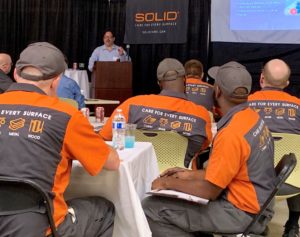 Honoring Surface Care Professionals
Cleaning professionals often work behind the scenes, nights and weekends, 24/7/365 to keep facilities clean and healthy. National Cleaning Week is a way to recognize the importance of the roles our associates and other cleaning industry workers play.    
"Over the past two years, cleaning professionals were the essential workers who ensured workplaces and businesses can reoccupy with confidence," said Mike Crippen. "On behalf of SOLID, we'd like to recognize, honor, and congratulate surface care professionals for a job well done. Thank you for all you've done and continue to do to keep building occupants healthy."  
At SOLID, we recognize our people are what makes us great. We're always proud of our SOLID associates, and to demonstrate this, we implemented a new recognition program, the SOLID Associate Spotlight Award. Each month, we honor an associate or team who goes above and beyond their responsibilities' everyday scope or who has particularly excelled in executing a job duty. Read more about our Spotlight winners here.  
How are you celebrating @ISSA National Cleaning Week? Visit the ISSA website to learn ways to spread awareness and honor your organization's cleaning professionals.