Featured
Articles
Clean workspaces are important and good for our mental health.  Studies show the mindset to work in spaces that feel clean and healthy will promote positive mental health and helps increase productivity and efficiency. Even though your textiles may appear clean, over time dirt, germs, allergens, and pollutants work their way deep into the fibers where conventional cleaning methods cannot remove them. Textiles need regular, periodic professional cleaning to keep them at their best.
Did you know that according to research by the University of Arizona, the average desk can contain 400 times more germs than a toilet seat, with the average workspace having tens of thousands of bacteria? That's right. Regular maintenance of office chairs will not only keep them looking fresher and germ-free they will also keep them in good shape.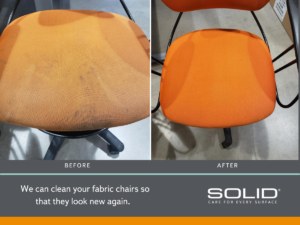 Clean Workspaces Revived
In giving fabrics new life, you make the workplace feel fresh and clean, in addition to helping the environment. When chairs and cubicle panels are discarded, they find their way to already crowded landfills. A soiled chair or stale panel fabric can create a less-than-fresh cubicle space. Workspace panels and fabric chairs can act as office air filters, often trapping dust and other particles. Allergens in the workplace contribute to dry, watery or itchy eyes, coughing, and headaches. This can lead to poor concentration and lower productivity.
SOLID Surface Care, Inc. can restore textiles to like new appearance with our method of cleaning panels, fabric, and upholstery.
Why Is It Important to Clean Surfaces?
Cleaning for health is so important today – now more than ever. Over the last two years, businesses from every industry have been fine-tuning their cleaning procedures.  While many have chosen to clean for health, some are still cleaning for visual appearance, which is not healthy for their brand, workers or guests. As a facility or operations manager, it's not just about managing costs in a space; it's also about providing higher-performance cleaning.
But what if your in-house crews are not trained to adequately deep-clean and disinfect? Or better yet, what if staff shortages have caused your janitorial firm to be inconsistent with the level of service they are able to provide? That's where we can help. SOLID is a national team of self-performing surface care experts. We currently have 35+ office locations with a team of 500+ surface care experts caring for over 700 million square feet of commercial flooring annually across all 50 states and Puerto Rico – and growing!
Now that we've talked about the importance of clean workspaces, it's important to note that germs can linger not only on chairs but on other surfaces as well.   Here's why it's important to have a clean and healthy space everywhere.
Healthcare Industry: "Multiple studies suggest that environmental contamination plays a key role in the transmission of many dangerous pathogens, such as methicillin-resistant Staphylococcus aureus (MRSA), vancomycin-resistant Enterococcus spp. (VRE) and Clostridium difficile (C.diff). All three of these pathogens survive for prolonged periods of time in the environment, and infections have been associated with surface contamination in hospital rooms and of healthcare personnel's hands. Effectively cleaning and disinfecting of surfaces in health care settings is essential to the prevention of infections." [ASHE, p.89]
Still not convinced surfaces need to be cleaned for health and not the visual appearance? Here are a few common bacterias that can be found in public spaces:
Pseudomonas aeruginosa – Commonly found in man-made environments like the office. It causes illnesses in those with weak immune systems.
Staphylococcus aureus – Found in the office where there is contact with the skin on items such as keyboards, chairs, and door handles.
Actinomycetales – Found in water and can be transferred from one surface to another.
Norovirus – Not a bacteria, but a virus commonly found in the office. Transferred by food and water.
Commercial Textile Surfaces Needing Regular Maintenance
Knowing where germs are is one thing, but having a clean workspace should be a top priority.  SOLID's professional craftsmen can deep clean, sanitize, and disinfect all your facility's hard and soft surfaces. SOLID is an IICRC-certified firm, and all SOLID carpet care systems are CRI-certified, giving you the assurance of sustainable methods. We select our products and processes to protect Indoor Air Quality (IAQ) while reducing carpet and textile impact on landfills.  Here are a few commercial textile surfaces that we suggest require regular, periodic professional cleaning.
Task and general seating
Pull-up chairs
Lounge, theater, and airport and healthcare seating
Lobby, reception area, and waiting room furniture
Conference room furniture
Panel fabrics
Wall coverings
Draperies
About SOLID:
SOLID Surface Care, Inc. is a unified team of surface care experts who deliver the highest level of care for all hard and soft surfaces while providing a world-class client experience. With SOLID, we can protect for surfaces, assist in getting your spaces clean and healthy, and exceed your expectations. From carpet to concrete to metal and wood, we care for the most precious surfaces in the world – Yours.
Contact us today for a free textile demonstration.