News and Events
Articles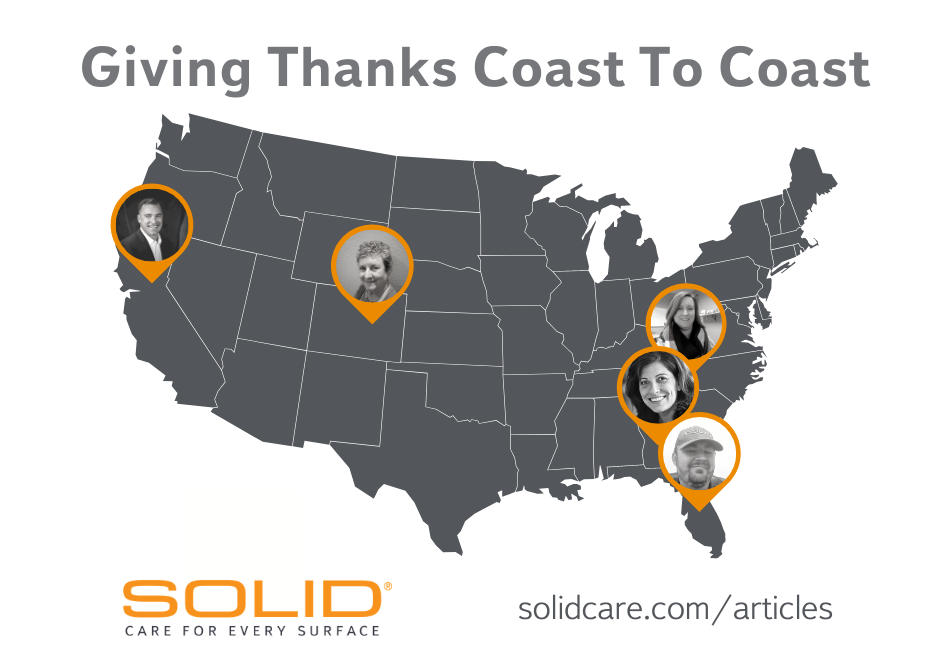 The month of November brings thankfulness top-of-mind and as the topic of many conversations. At SOLID, we are thankful for our clients, vendor-partners, industry-partners and talented group of caring employees, some of whom have shared their thoughts about what they are thankful for this year.
Nicole Chowning, Director, Data and Systems Management, Charlotte, North Carolina
I am thankful for the opportunity to be creative and make an impact here at SOLID. I feel that all of my prior jobs and experiences have prepared me for my current role and I'm doing what I've said that I want to do "when I grow up." Along with that, I'm able to work with an absolutely incredible team. Over the past few months the SOLID Solutions department has come together as a great, cohesive unit and I'm enjoying each day with these really awesome people. We are lucky enough to work with multiple teams across the organization and that is just the icing on the cake.
Mollie Spaugh, Account Manager, Atlanta, Georgia
I am thankful for SOLID for giving me the opportunity to learn something new every day. I love learning about the different surfaces we restore, revitalize and maintain. I'm also thankful for the chance to #BEEXPERT and work with such amazing, talented, and fun teammates!
Daniel McNamara, Operations Assistant, Orlando, Florida
I am thankful for Craftsmen and Craftswomen that truly care about the service they provide. Across the country our clients know when they see a member of our SOLID family, they know that individual cares about their facility.
Nora Mulholland, Account Manager, Denver, Colorado
I am truly grateful for the outstanding office mates I have in Denver. Donna Ott, client communicator/scheduler extraordinaire; Ryan Vanderlinden, operations manager and surface expert guru; Greg Lotspeich, onboarder and technician ambassador supreme; and Bruno Jaeggi, sales support wizard who creates world class client drawings and spreadsheets.
For over 8 years, they have made it happen for me and the Denver Branch and I'm thankful for their unending help!
Michael Dwinell, Account Manager, Sacramento, California
I am grateful for the opportunity to be a part of an organization that daily strives to uphold and display the core values of being Honest, Creative, Caring, Expert, and Great! It's truly an honor and privilege to work alongside the many fun, talented, and dedicated SOLID associates across the nation who embody a family, collectively committed to serving not only each another, but ultimately our family of clients.
What are you thankful for this year? We'd love to know! Tag us or use the hashtag #SOLIDThanks and let us know why you're thankful.
About SOLID
SOLID Surface Care, Inc. is a unified team of surface care experts who deliver the highest level of care for all hard and soft surfaces while providing a world-class client experience. With SOLID, your surfaces are protected, your spaces are kept clean and healthy, and your expectations are exceeded. From carpet to stone to metal and wood, we care for the most precious surfaces in the world – Yours.
Contact SOLID for a complimentary site assessment: Call 844.227.6543 ext. 3 or visit https://www.solidcare.com/contact/.