Featured
Articles
In 2023, as we navigate the post-pandemic world, the concept of total building health has gained significant attention. It goes beyond surface-level cleaning and emphasizes the importance of regularly scheduled, proactive maintenance and deep cleaning. In this blog, we will explore why these practices are essential in achieving true cleanliness and ensuring the well-being of occupants. We will also shed light on the distinction between cleaning for health and merely appearing to clean for health.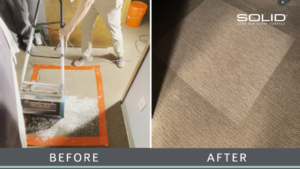 1. The Shift towards Total Building Health:The concept of total building health has evolved from the realization that a clean appearance is not synonymous with a healthy environment. It encompasses a holistic approach that takes into account various factors, including air quality, surface cleanliness, maintenance practices, and occupant well-being. While aesthetics are important, the focus should primarily be on the well-being of occupants.2. Regularly Scheduled, Proactive Maintenance:Regular maintenance is the foundation of a healthy building. Proactive maintenance involves establishing a well-defined schedule to address potential issues before they become significant problems. This approach allows for early detection and correction of potential hazards, ensuring the long-term health and functionality of the building.Proactive maintenance should include the following:– Inspecting and repairing surfaces regularly to prevent the accumulation of dirt, mold, or other contaminants. – Checking and maintaining ventilation systems to ensure proper airflow and minimize the spread of airborne pollutants. – Conducting routine inspections of plumbing systems to prevent leaks and minimize water damage and mold growth.3. The Importance of Deep Cleaning and Disinfection:While regular maintenance is essential, deep cleaning and disinfection play a vital role in maintaining a healthy environment. Deep cleaning involves thorough and comprehensive cleaning methods that go beyond routine surface cleaning. It targets hard-to-reach areas, removes built-up dirt and grime, and eliminates hidden pathogens. Disinfection, on the other hand, focuses on killing or inactivating disease-causing microorganisms. This step is crucial in reducing the risk of cross-contamination and the spread of infections within the building.4. Cleaning for Health vs. Cleaning for Appearance:It is imperative to distinguish between cleaning for health and cleaning solely for appearance. Many cleaning practices prioritize the visual aspect, making surfaces look clean without actually addressing the underlying health concerns.Cleaning for health involves:– Using effective cleaning products and techniques to remove pathogens and allergens. – Prioritizing high-touch surfaces, such as doorknobs, handrails, and elevator buttons, which are more prone to contamination. – Following proper cleaning protocols and adhering to industry standards to ensure optimal results. By cleaning for health, buildings can create a safer environment for occupants, minimize the risk of illness, and improve overall well-being. In 2023, achieving total building health is paramount for creating safe and healthy environments. Regularly scheduled, proactive maintenance helps prevent potential issues from escalating, ensuring the longevity of the building and the well-being of its occupants. Deep cleaning and disinfection go beyond surface appearances, targeting hidden contaminants and pathogens. By distinguishing between cleaning for health and cleaning for appearance, we can prioritize the true health and safety of our buildings. Embracing these practices will contribute to a healthier future, where buildings actively promote the well-being of everyone within them.
To learn more about SOLID Surface Care and how we can help you achieve total building health, schedule a consultive visit with our experts. Contact us today to take the next step towards a healthier environment.