Facility Management
Articles
Deep Cleaning and Disinfection Reduces Risk of Infection, Says CDC
Are you certain your surfaces are clean, healthy, and safe? According to new guidance from the CDC released last week, "The virus that causes COVID-19 can land on surfaces. It's possible for people to become infected if they touch those surfaces and then touch their nose, mouth, or eyes." 

SOLID can clean and disinfect your facility for health so that your employees can Reoccupy Reassured™. Using SOLID's professional services ensures that your employees have the confidence that their post-COVID workspace is clean, healthy, and disinfected.
The new CDC guidelines are clear: deep cleaning and disinfecting surfaces reduce the risk of infection from touching a surface. "Cleaning and disinfecting surfaces can also reduce the risk of infection. Always follow standard practices and appropriate regulations specific to your type of facility for minimum standards for cleaning and disinfection."  
The CDC is not recommending discontinuing disinfection programs in favor of cleaning-only programs. Instead, as the economy re-opens, the CDC advises a proper balance of cleaning for health and disinfecting protocols under certain conditions for most public spaces. 
Clean 
For
 Health in Indoor Spaces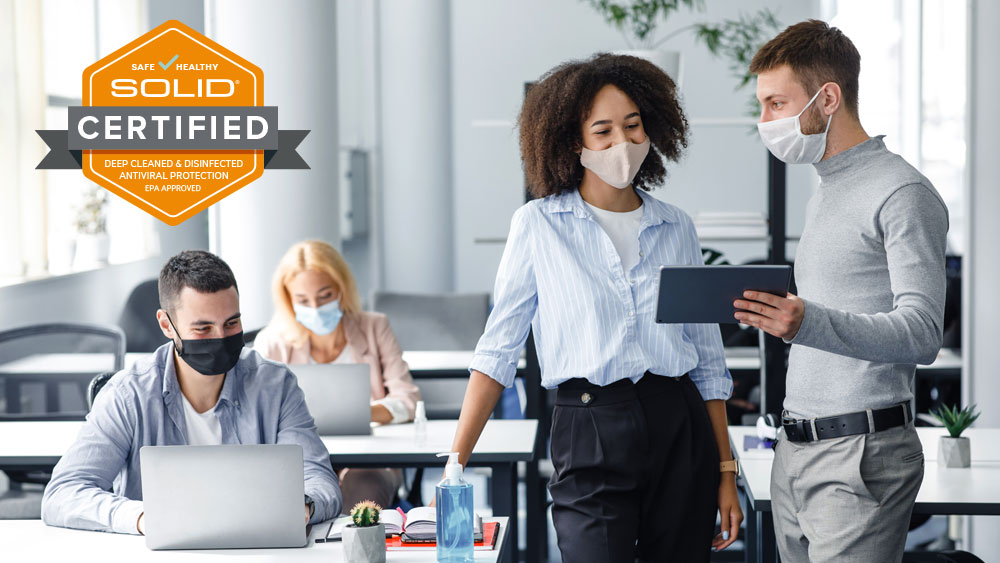 "The idea of clean for health is to help indoor spaces become cleaner, safer, and healthier," says Tom Haslach, Chief Development Officer at SOLID. "These spaces look, feel, smell, clean, as well as are safe and healthy." 
When SOLID's craftsmen clean and disinfect your facility, we ensure your spaces are clean, healthy, and safe through testing, certification, and the high standards our technicians bring to these processes. When you partner with SOLID:  
Your spaces are proven to be safe, healthy, and clean by properly testing the air and surfaces.

 

Your spaces are certified safe, healthy, and clean by third-party enterprises, where available.

 

Your spaces have the right frequency of specialty services to ensure a higher quality of clean when delivered by craftsmen.

 
CDC: When to Clean and When to Disinfect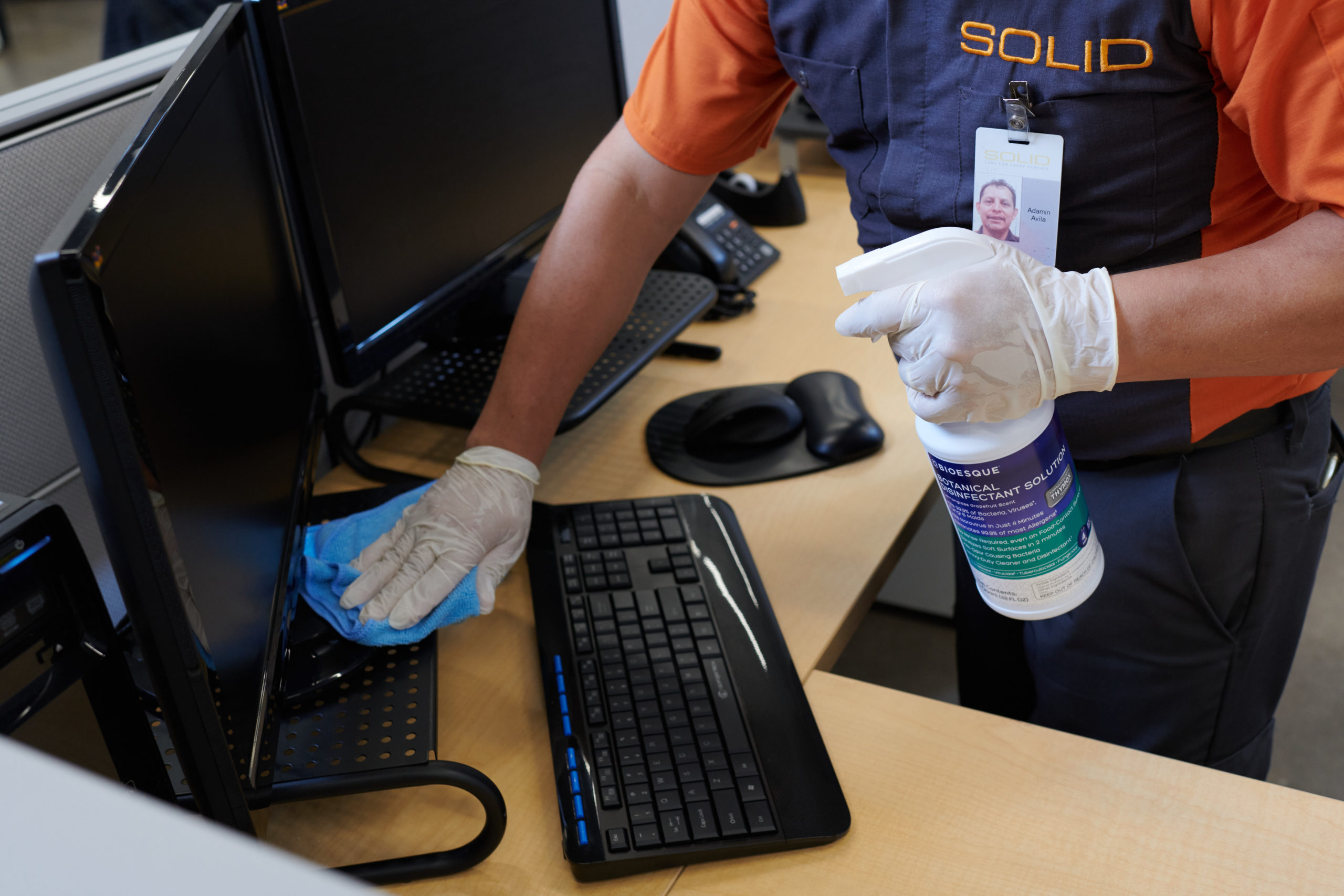 Many employees are returning to the office on a part-time basis. A new reality of shared workspaces is emerging – desks, computers, office equipment, and other high-touch surfaces will be used by more than one employee throughout the workweek.
The CDC recommends more frequent cleaning and additional disinfecting in shared spaces if certain conditions apply that can increase the risk of infection from touching surfaces: 
High transmission of COVID-19 in the community,

 

A low number of people wearing masks,

 

Infrequent hand hygiene, or

 

Certain populations occupy the space, such as people at increased risk for severe illness from COVID-19.
If there has been a sick person or someone who tested positive for COVID-19 in your facility within the last 24 hours, the CDC recommends cleaning AND disinfecting the space.
"High-touch surfaces should be cleaned at least once a day," states the CDC. "In most situations, regular cleaning (at least once a day) is enough to sufficiently remove viruses that may be on surfaces. However, if certain conditions apply, you may choose to disinfect after cleaning."
Specialized Care Services Performed by SOLID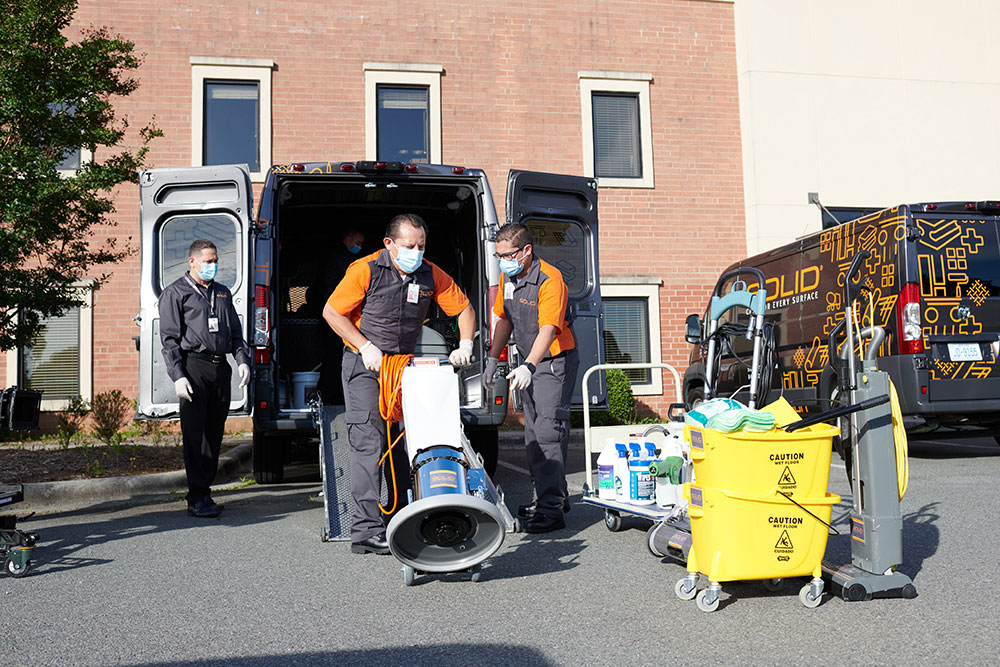 Before reoccupying spaces, it is best to deep clean and disinfect the facility with SOLID's specialized services. First, deep cleaning removes viruses and germs that are on surfaces. It may also weaken or damage some of the virus particles, which decreases the risk of infection from surfaces and helps maintain a healthy facility. 
SOLID disinfects using EPA List N disinfectants to kill any remaining germs on surfaces, further reducing any risk of spreading infection.
After occupancy, reassure employees and the public that your spaces remain clean, safe, and healthy in the future with a customized care plan from SOLID.  
Layers of Protection for Health and Safety
Having proper layers of protection in the deep cleaning and disinfecting processes is crucial. SOLID ensures our technicians are trained to use cleaning and disinfecting products properly. We utilize the appropriate PPE, including masks and gloves, for all tasks in the cleaning process. Products from the EPA List N are an essential part of SOLID's disinfecting protocols. And, we ventilate as necessary to increase air circulation in the area. 
Customized Care for Your Facility
Cleaning for health works! SOLID partners with you to create a customized care plan that takes into consideration your facilities' re-occupancy plan. We ensure your workplace looks clean, feels clean, and is clean so your employees can return to the office safely, with confidence. 
Get your free, clean for health facility assessment from SOLID today.