Facility Management
Articles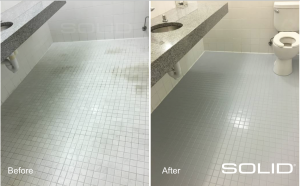 Slush. Sleet. Snow. Ice. If you live in a region affected by winter weather, you're probably not looking forward to the next few months. Neither are your facility's flooring surfaces.
In addition to posing slip and fall risks, wet weather – especially winter weather – can wreak havoc on even the toughest hard surfaces. One surface that needs proactive maintenance is vinyl composite flooring, or VCT. This resilient flooring material is often found in schools, hospitals, retail spaces, grocery stores and public facilities.
Manufacturers apply a wear layer on the surface of VCT products to help protect against stains, moisture, scratches and other damage. The wear layer can vary in thickness and quality depending on the product style and the manufacturer. Some manufacturers offer additional protective coatings, such as a UV coating, that is applied over the wear layer.
However, even the thickest and most durable wear layers do not make VCT a maintenance-free product – especially when snow and ice are underfoot. And where there is snow and ice, you will usually find salt and sand following close behind. These materials are abrasive and known to destroy wear layers.
VCT is a porous material, which means it's only as good as its wear layers. If not properly maintained and the top wear layer is worn down or damaged, the appearance and integrity of the floor will be compromised and may need to be replaced.
VCT Solution: High Performance Coatings from SOLID
In addition to a proper, scheduled maintenance surface care plan, applying a high performance coating to VCT flooring – ideally before harsh winter weather arrives – is the best solution to protect your investment.
SOLID's high performance coatings are designed for public, high-visibility and high-traffic areas of facilities. Our specialty coatings enhance the performance of vinyl materials and almost any surface easier to clean.
High performance coatings also:
Preserve the beauty of your space
Provide greater protection against friction and scratching (compared to alternative methods)
Reduce cleaning costs and extend the life of flooring products
Improve hygiene and increase safety by minimizing chances of slipping
Offer multiple finish, color and clear coat options
Create a non-stick surface to repel graffiti
Avoid the high cost of replacing VCT flooring – and help keep flooring waste out of the landfill – apply a high performance coating solution. Talk to a SOLID surface care Solutionists to assess your facility's needs.
About SOLID:
SOLID Surface Care, Inc., is a unified team of surface care experts who deliver the highest level of care for all hard and soft surfaces while providing a world-class client experience. With SOLID, your surfaces are protected, your spaces are kept clean and healthy, and your expectations are exceeded. From carpet to concrete to metal and wood, we care for the most precious surfaces in the world – Yours.
Please contact SOLID for more information 844.227.6543 ext. 3 or fill out our online contact form.