Facility Management
Articles
Whether your facilities have remained occupied throughout the COVID-19 pandemic or are preparing for reoccupation in the near future, surface disinfecting to help prevent or abate the spread of the virus is likely a top priority. Multiple disinfecting methods have been promoted as effective solutions for eliminating viruses on surfaces – from traditional hand spray and wipe, to advanced technologies using ultraviolet light. Choosing the right disinfection method or combination of methods will not only help ensure spaces are as safe as possible, but will also give building inhabitants peace of mind that they are in a healthy environment.
Before any disinfecting method is used, surfaces must be properly cleaned as a first step to ensure the disinfectant is as effective as possible. After cleaning, one or a combination of the following disinfecting options should be implemented by a highly trained specialty surface care provider.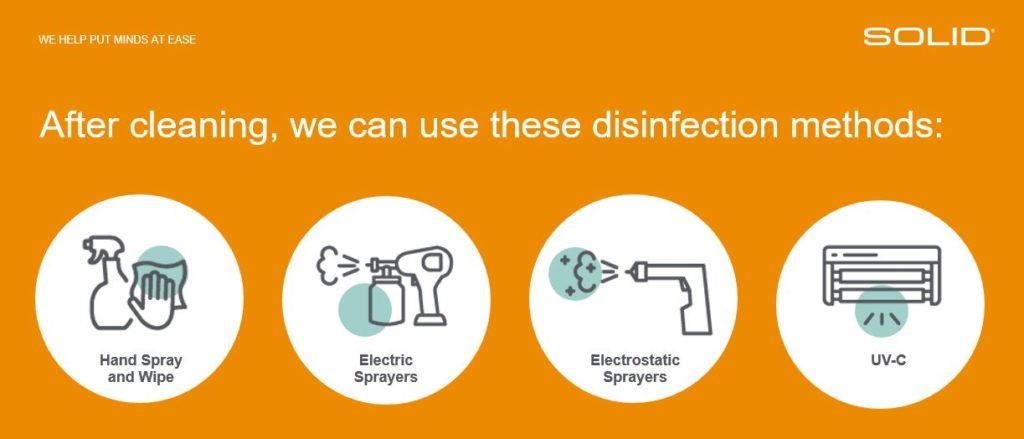 Hand spray and wipe, while widely used within facilities, is generally considered the least effective approach for several reasons:
The disinfectant product is not atomized.
Surfaces may not receive adequate coverage.
There is risk of cross-contamination from wiping the same cloth across multiple areas.
It requires a high level of training for effective application.
Proper dwell time is critical.
There is the potential for areas to be missed.
Electric spraying is the second best approach to disinfecting surfaces.
Electric sprayers have a tip that produces an atomized spray between 20 to 120 microns, which is the micron size recommended by disinfectant manufacturers. The size and volume of the droplet is critical to ensure total and uniform coverage of surfaces. Because the droplet is above 15 microns in size, it is not ingestible.
Because of the volume and uniformity produced by electric sprayers, proper coverage and dwell time (as recommended by the disinfectant manufacturer) can be guaranteed and has a high probability of killing pathogens on a surface.
Electric sprayers are more readily available than electrostatic sprayers, but electric sprayers do not charge the disinfectant as it is propelled from the nozzle. Therefore, all multi-dimensional surfaces must be sprayed at different angles to ensure 100% coverage.
Electrostatic spraying is considered the best option to disinfect surfaces within facilities.
Some sprayers produce both a negative and positive charge, which increases coverage and efficiency.
The charged particles, or droplets, have an attraction force 75x greater than gravity – far surpassing the efficacy of the hand spray and wipe approach.
The electrically charged disinfectant clings to and envelops every side of vertical and horizontal surfaces, ensuring the proper dwell time and dramatically increasing the ability to kill harmful viruses and pathogens.
Electrostatic spraying is safe for use on electronics and keyboards and almost completely mitigates the chance for human error.
UVC is an emerging disinfectant technology that has proven to be an effective solution for a variety of surfaces.
Short wavelength ultraviolet light, known as UVC, kills inactive microorganisms by disrupting their DNA and RNA.
UVC is a chemical-free method of disinfecting surfaces.
No-touch application eliminates human error and cross-contamination.
UVC is safe to use on sensitive items such as electronics, making it an ideal disinfection method for server rooms.
It is important to remember, disinfecting methods are fully effective only when used correctly. Your cleaning and disinfecting service provider must ensure disinfecting products remain on a surface wet (dwelling) for the proper time frames. Anything less does not produce the intended results and will not kill viruses, bacteria and other pathogens.
Determining the appropriate disinfection method – or combination of methods – for your facilities should involve a detailed assessment led by your service provider. The right partner will guide you through a holistic cleaning and disinfecting strategy that incorporates your current and future state of occupancy, procedures for suspected or confirmed cases of the infection, and the trained application of disinfectants on a prescribed schedule. This combination of advanced planning and expertise will help you, your facilities and your people reoccupy reassured.
—
SOLID's account management and operations teams are expert at developing cleaning and disinfecting solutions for facilities based on reoccupation timelines. For a complimentary facility assessment, please contact us at 844.227.6543 ext. 3 or visit solidcare.com/contact.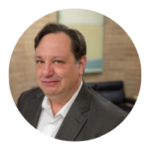 About the Author, Scott Calabritto
Scott Calabritto is Senior Vice President of Technical Services for SOLID Surface Care, Inc. Scott is a fifth generation surface care craftsman with more than 30 years of experience developing and testing products, tools and training for the facilities management industry.
About SOLID Surface Care, Inc.
With over two decades of experience, SOLID® Surface Care, Inc. is the nation's largest self-performing facility care company. SOLID is revered for its breadth of science-based cleaning/enhanced disinfection experience and world-class specialty surface care. We are passionate about being environmentally conscious with our methodologies, and extending the life of every surface. Our well-trained teams deliver the highest level of cleaning, disinfecting, restoration and maintenance for all hard and soft surfaces, while providing a best-in-class client experience.
The SOLID team is responsible for maintaining over 700 million square feet of commercial flooring annually. We always put the needs of clients first by going beyond the surface to grasp their brand, budget and culture to develop a Consolidated Care Plan, all with an advanced online data management platform that assures immediate information and transparency.
With SOLID, you can rest assured that your surfaces are protected, your spaces are kept clean and healthy, and your expectations are exceeded.