News and Events
Articles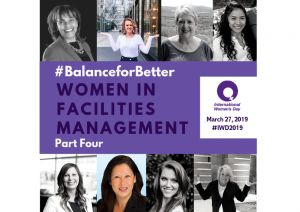 I hope you have found inspiration in the words shared by our International Women's Day (IWD) participants throughout the #BalanceforBetter: Women in Facilities Management series. In the fourth and final installment you will meet Christine Bailey, Senior Facilities Manager at Colliers Facility Solutions, and Erin DeVoe, Operations Manager for multiple locations at SOLID Surface Care, Inc.
It has been an honor to share the stories of female leaders in the Facility Management, Property Management and Commercial Real Estate industry. We greatly appreciate each woman's willingness to contribute. Please take a moment to read the stories of the first six women featured in Part One, Part Two and Part Three.
International Women's Day is celebrated once a year, but to truly fulfill IWD's mission, we must strive for gender-balance in every workplace, every day. Join us on SOLID's social media channels (Twitter, Facebook  LinkedIn and Instagram) to ask questions, share what you learned from the series, and to tell your own story. We look forward to continuing the conversation.
#IWD2019
Christine Bailey, RPA®
Atlanta, Georgia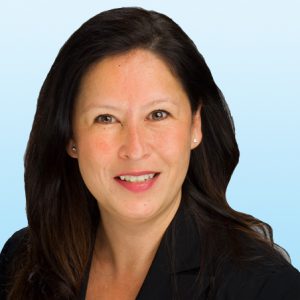 How/why did you choose a career in the Facility Management (FM)/Property Management (PM)/Commercial Real Estate (CRE) industry?
My career started in 1993 working for a service provider within the commercial real estate industry. I worked daily with Facility and Property Managers as an Account Executive providing commercial cleaning. In 2001, an opportunity was presented to me with Carter & Associate for an Assistant Facility Manger position for a portfolio of 7 facilities for a large telecommunication company in Atlanta. Almost 18 years have passed since my transition into FM, and I've been honored to have served great Fortune 500 companies allowing me to provide service catered to the uniqueness of each client.
What contributions do you think women bring to FM/PM/CRE?
Whether you are a women or man, we have a fiduciary responsible to protect the owners and to provide daily need to millions of people in commercial buildings. We keep tenants safe; we provide lights and air, clean work environments, and we manage all of the mechanics behind it. It is a role that doesn't stand out to most people outside the industry, but it is a necessity and a valuable contribution to the commercial real estate industry.
What is the most rewarding part of FM/PM/CRE?
The most rewarding part of being an FM is the relationships and providing exceptional customer service. I get the most out of providing cost conscious operations to the customers we service and allowing them to focus on their core business while our team focuses on what we do best, and that is the management of facilities.
What advice would you give women who are working in or interested in a FM/PM/CRE career?
If you have a service mind-set, are authentic and take joy in providing exceptional customer service, it's a great industry. Not one day is the same as another. Not one opportunity to improve, to learn and to challenge yourself is the same as the day before. If you do get into the industry, I highly suggest getting involved in professional organizations within the industry. BOMA, IFMA and CREW are great organizations to get involved in. Be an active member; develop relationships with Allied members as they are great resources for your day to day operations. Participate on committees and take full advantage of the educational opportunities these organizations provide.
What does the future hold for women in FM/PM/CRE?
It's limitless!
#BalanceforBetter
Erin DeVoe
Reston, VA, Washington, D.C., Maryland and Philadelphia, PA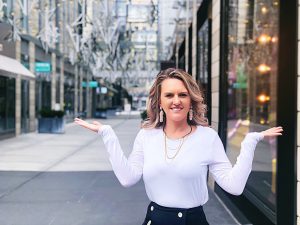 How/why did you choose a career in the Facility Management (FM)/Property Management (PM)/Commercial Real Estate (CRE) industry? 
I was previously in IT asset management in New York for 10 years. When I moved to DC, I took an assistant position quickly with SOLID to start working in the area. I thought it would be a temporary position while I looked to get back into IT management. I quickly came to find a home in this industry where I was consistently challenged and able to think outside of the box to find solutions. I was able to build relationships with my clients that made the work enjoyable, and overall, I have found I enjoy moving the pieces around in Operations to complete a goal.
What contributions do you think women bring to FM/PM/CRE?
Women have a great ability to show empathy and self-awareness.  In this industry you work with many different internal and external clients. Being able to empathize with the needs of a wide variety of people and having a strong self-awareness of what you are asked to complete can make you very successful in the position.
What is the most rewarding part of FM/PM/CRE?  
The most rewarding part of working in the facilities management industry is being able to work with all different sections of the industry. I am a very social person, so I greatly enjoy getting the opportunity to build a relationship with my clients and exceed their expectations. Receiving that phone call or email from a client who is delighted with your service, and knowing that my team and I had a role in improving their day, is invigorating.
What advice would you give women who are working in or interested in a FM/PM/CRE career?
Get right in the game. Don't be intimidated or afraid to ask questions so you make sure you have the correct understanding of your client's needs.
Honoring International Women's Day: Additional Resources
IFMA  – International Facility Management Association
PRSM – Professional Retail Store Maintenance Association
BOMA – Building Owners and Managers Association International
CORENET GLOBAL – The Global Association for Corporate Real Estate
CREW NETWORK – Commercial Real Estate Executive Women
IREM – Institute of Real Estate Management
Celebrating Gender-Balance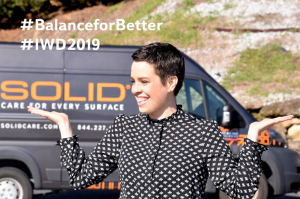 Alissa Ramsay, CFE
Dir. of Marketing, SOLID Surface Care, Inc.
About the Author:
My career brought me into the FM industry over six years ago, and I immediately fell in love with the level of care and commitment to service the people of FM share. Part of my job responsibility is to lead the team when our company exhibits at industry conventions and expos. Over the years, it has been invigorating to see a noticeable and continual increase in gender balance of all ages in the commercial real estate, facilities and property management industries. A perfect example is, 13 of the 23 2019 IFMA Foundation Scholarship winners were women. It is a highlight each year to meet the next generation of FM superstars!
Outside of trade show season, I don't have to travel far to encounter positive examples of women in FM. From SOLID's CIO, Elizabeth Crippen, and CFO, Lynn Comstock, to Operations, Human Resources, Accounting, and field teams, SOLID represents #BalanceforBetter every day in each division of the company, coast to coast. And outside of the SOLID offices, our teams have the honor to work with incredible women who lead by example in their respective roles as our clients, vendor-partners and industry friends.
Working in a company that recognizes gender balance as a standard business practice should not be a privilege reserved for the few. To be respected as an equal, paid a competitive wage, and have the opportunity to earn a seat at the table should be the norm. Thank you to SOLID and each woman who participated in this four-part series for naturally embodying the #BalanceforBetter mission.
I hope you enjoyed the insights shared by our participants. If you would like more information about the industry, please click on the links above to connect with industry organizations.