COVID-19
Articles
As the facilities and property management industry navigates the global outbreak of the coronavirus (COVID-19), SOLID is helping stop the spread of the virus in commercial spaces across the country. Our methods are delivered by experts in our technical and operations teams, and we follow guidance from the Centers for Disease Control and Prevention (CDC), the U.S. Environmental Protection Agency (EPA) and other reputable sources.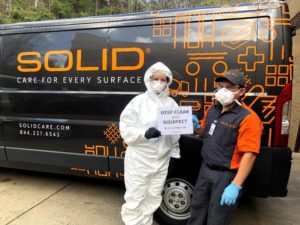 CDC Cleaning and Disinfecting Recommendations
The CDC offers a clear, two step prescription for defeating the virus: "Cleaning of visibly dirty surfaces followed by disinfection is a best practice measure for prevention of COVID-19 and other viral respiratory illnesses in community settings."
Whether proactively addressing the spread of COVID-19 or abating a confirmed case of the virus in a facility, it's first important to differentiate between cleaning and disinfecting.
Cleaning is the necessary first step of any disinfection process. Cleaning refers to the removal of dirt and impurities, including germs, from surfaces. Cleaning alone does not kill germs but removes the visible dust, dirt and grime that germs can hide under.
Disinfecting works by using chemicals to kill germs on surfaces. This process does not necessarily clean dirty surfaces or remove germs. Instead, disinfecting kills germs remaining on a surface after cleaning and further reduces any risk of spreading infection.
To ensure this step is effective, facility managers should confirm that the disinfecting products used within their buildings are on the EPA List N: List of Disinfectants for use Against Coronavirus (COVID-19).
Disinfecting products with EPA-registered emerging viral pathogens claims are expected to be effective against COVID-19 based on data for harder to kill viruses. However, it is critical to not only use EPA-registered products, but also to follow the manufacturer's instructions for concentration, application method and contact time.
EPA Cleaning and Disinfecting Recommendations
The EPA does not recommend that disinfectants are applied using a method that is not described in the directions for use on the product label, as the efficacy of the product has not been verified using these methods. It is imperative that the disinfectant remain wet on a surface for the full duration of the dwell time or contact time indicated on the product label to ensure effectiveness against COVID-19.
See the CDC's complete Environmental Cleaning and Disinfecting Recommendations.
SOLID's team of experts is equipped to help facilities mitigate the impact of COVID-19 through cleaning and disinfecting services using EPA-registered List N products and application methods that ensure the greatest efficacy. Our team can walk you through creating a plan if your facility is occupied, minimally occupied or closed, and/or help you prepare for reoccupation to welcome your employees back to a clean and healthy environment. For more information about our solutions for your facilities, please contact our team.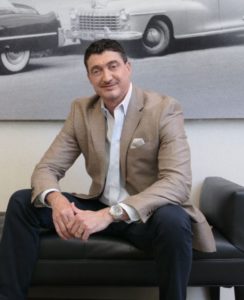 Dan Abitol
Senior Vice President of Operations, SOLID Surface Care, Inc.
About the Author:
Dan has been a SOLID partner for nearly two decades and directs the targets and performance of all operations personnel, selects world-class chemistries and equipment, and designs processes that continually delight clients.