Associate Spotlight Award
Articles
At SOLID, we value our associates' contributions and appreciate their impact on daily business operations. That's why we honor an associate who goes above and beyond each month. The April Associate Spotlight award recipients are Kaitlyn Corn, an Order Management Specialist, and Angel Hotel, a Field Technician. 
Epitomizing SOLID Core Values
"Kaitlyn epitomizes all of SOLID's core values, but she stands out as exemplifying "Be Great" and "Be Expert," says Tara Walker, Operations Manager for SOLID, who nominated Kaitlyn for the award. "She's committed to developing expertise daily through hard work and getting the job done."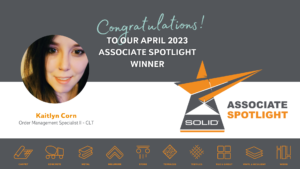 Hard Work and Commitment
"Angel is an MVP for certain," says Seng Saechao, Operations Manager for SOLID, who nominated Angel for the award. "He's traveled and assisted multiple markets, including New Jersey, Arizona, Texas, and Phoenix – and the year isn't over yet. He is a class act and exemplifies the SOLID value of being great, and what impresses me most, he is humble. I love to see the opportunities Angel Hotel has been provided at SOLID as he continues to learn and develop his skills while being caring and is a prime example of what you can achieve if you believe."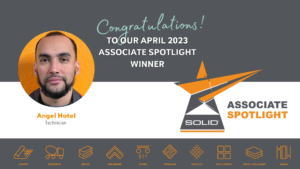 On behalf of everyone at SOLID, congratulations, Kaitlyn and Angel. 
Learn more about the Associate Spotlight Award and previous winners here.