Associate Spotlight AwardFeatured
Articles
Here at SOLID, we genuinely appreciate every employee; their incredible work never goes unnoticed. Each month we honor an associate or team with the Associate Spotlight Award for their dedication to the company. At SOLID Surface Care, we hire only the best of the best. That's why in this blog, we are recognizing THREE of our outstanding associates from June and July! These winners embody the Core Values that SOLID instills in all its employees.  
For June, the Associate Spotlight award goes to Jariel "Jah" Tate, an Operations Assistant!
Be Caring: We are stewards of all we touch. 
"Jah has been with SOLID since August of 2022. Since the day he joined our team, the core value of Be Caring was already a part of Jah's character," says Davis Cavalier, Operations Manager – CLT Hardsurface, who nominated Jah.  
"The level of professionalism Jah communicates with peers and leadership in search and requests to complete his duties are second to none. The level of detail and communication relayed to all technicians he deals with on a nightly basis is also second to none. Jah's caring attitude is picked up on quickly by all around him and makes working at SOLID easier, and having him on your side gives you a feeling of being set up for success." 
"And for Being Caring – Jah listens deeply to his team; he keeps operations running smoothly, and he fosters an atmosphere of camaraderie and collaboration. Also, he's always willing to lend a helping hand around the office." 
The July Associate Spotlight Award goes to Travis Hernandez, Field Supervisor, and Eugene Floyd, Field Manager!

A SOLID GOLD Associate 
"Travis is the true example of a Great SOLID GOLD Employee," praises Dianne Pedraza, who nominated Travis. "BE CARING: Travis cares about his work and the client, always making sure that the client is pleased with his work. BE EXPERT: Travis is an expert; his knowledge of SOLID processes and client expectations is what drives him to be one of the best in his field. BE CREATIVE: Travis will make sure the work gets done, developing creative ways to ensure the job gets done right the first time. BE GREAT: Travis is always great at what he does by not taking shortcuts."  
Dianne continues her praise by saying, "Travis is an ANYTHING, ANYTIME kind of guy, whatever, and whenever we need it, he is always there to lend a hand. Travis is an Amazing Tech and a great mentor to others. A real asset to SOLID."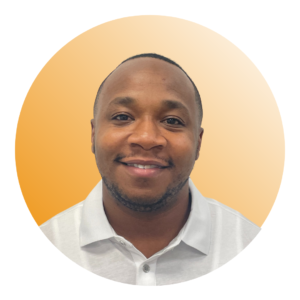 World Class Dedication 
Nominated by Tom Haslach, Chief Development Officer, Regional Operations Manager, Southeast, and Rob Neal, "Gene is a caring teammate and caring family man. Honest—Gene is thoughtful and kind. He knows when to speak up and when to listen and learn. Creative—Gene is often heard saying, 'You know, I was thinking, what if we did it this way?' He is always seeking the best way to solve a problem. Expert—Gene began as a carpet technician. When it came time to be a field manager, he dedicated himself to working with the teams, side by side, learning how to restore hard surfaces. He has done this in the field and at the ATL Airport. Great—Gene is dedicated to being the best person he can be—you can see it in his dress code, showing up on time, representing SOLID well, and continuously being open to learning. 
"Gene is world-class. I'd have him on my team every day and twice on Sundays!"  
Congratulations to our winners for all our winners! SOLID is honored to have you all as a part of our team! We could not do it without you!  
To learn more about SOLID's Associate Spotlight Awards and read about our past winners, click here. 
About SOLID
SOLID Surface Care, Inc. is a unified team of surface care experts who deliver the highest level of care for all hard and soft surfaces while providing a world-class client experience. With SOLID, your surfaces are protected, your spaces are kept clean and healthy, and your expectations are exceeded. From carpet to stone to metal and wood, we care for the most precious surfaces in the world – Yours.
Contact SOLID for a complimentary site assessment: Call 844.227.6543 ext. 3 or visit https://www.solidcare.com/contact/.