Featured
Articles
Get ready to welcome the holiday season with a sparkling facility! As the year draws to a close, it's important to make sure your facility surfaces, including carpet, LVT, tile and grout, metal, wood, upholstery, and more, are kept in pristine condition. Whether you're a facility manager preparing for increased foot traffic in your retail store or another commercial sector, these essential surface care tips will help you maintain a flawlessly clean and inviting environment.
The Importance of Maintaining a Clean Facility During the Holiday Season
The holiday season is a time of joy and celebration, but it can also bring increased foot traffic and potential mess. For facility managers in the commercial sector, maintaining a clean facility is crucial during this time. A clean and well-maintained environment not only creates a positive impression but also ensures the health and safety of everyone who enters your space.
During the holidays, customers are more likely to notice the cleanliness and overall appearance of your facility. A dirty or unkempt environment can leave a negative impression on your customers, affecting their perception of your business. On the other hand, a sparkling facility exudes professionalism, attention to detail, and a welcoming atmosphere.
Facility Cleaning Care and Industry Stats
Maintaining surfaces in top condition is particularly crucial during the holiday season, and industry statistics reflect the significance of this effort. The adage "first impressions are everything" holds especially true in the retail sector during the holidays. Shoppers are not only looking for great deals but also for a pleasant shopping experience. A clean and well-maintained environment sets the stage for positive first impressions. Shoppers are more likely to spend time and money in a retail space that looks and feels inviting.
According to industry data:
In the commercial sector, 90% of consumers are more likely to visit a business that appears clean and well-maintained during the holiday season.
For businesses, the holiday season can account for up to 30% of annual sales, making the appearance and cleanliness of the facility a significant factor in attracting customers and driving revenue.
Customers have high expectations during the holiday season. They expect stores to be well-organized, clean, and fully stocked. According to surveys, the cleanliness of restrooms plays a significant role in customers' overall shopping experiences. Neglecting cleanliness can result in dissatisfied customers and lost sales.
Daily Cleaning Routines for a Sparkling Facility
Maintaining a clean and inviting facility during the holiday season requires a commitment to daily cleaning routines. By following these practical tips, you can ensure that your facility remains sparkling throughout this festive time:
Sweep or Vacuum Floors: Start each day by sweeping or vacuuming your floors to eliminate loose dirt and debris. This is especially crucial for high-traffic areas. Choose the appropriate broom or vacuum cleaner for your specific flooring type, and don't overlook corners and hard-to-reach spots where dirt tends to accumulate.
Dust Surfaces: Regularly dusting surfaces not only enhances their appearance but also aids in preventing scratches and allergies. Employ a microfiber cloth or a duster to gently remove dust from furniture, countertops, and other areas. Don't forget to address challenging-to-reach places like ceiling fans, light fixtures, and window sills.
Wipe Down Countertops and Tables: Countertops and tables are susceptible to spills, stains, and fingerprints. Following dusting, clean these surfaces with a mild all-purpose cleaner or a mixture of mild soap and water. Pay extra attention to areas that come into direct contact with food, such as kitchen countertops. For glass or mirrored surfaces, rely on a glass cleaner to achieve a streak-free shine.
Clean and Disinfect High-Touch Areas: During the holiday season, high-touch surfaces like doorknobs, light switches, and handrails can become breeding grounds for germs. It's essential to regularly clean and disinfect these areas using the appropriate disinfectant spray or wipes. This practice contributes to the overall hygiene of your facility and minimizes the risk of illnesses spreading among your customers.
Empty Trash Cans: Consistently emptying trash cans not only prevents unpleasant odors but also promotes a clean and orderly environment. Incorporate a daily routine of emptying trash cans, especially in areas where food waste or other perishable items are disposed of. Be sure to replace trash can liners as needed to maintain freshness and hygiene.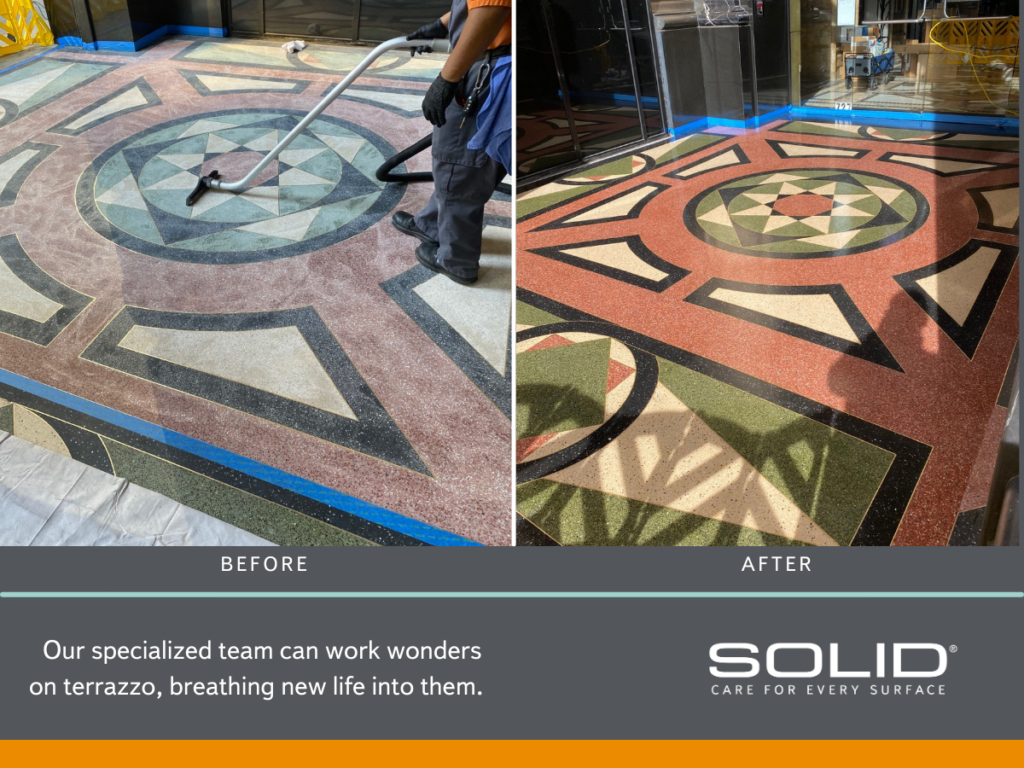 Holiday Season Facility Maintenance: High-Traffic Area Tips
Maintaining a clean facility during the holiday season involves paying special attention to high-traffic areas. These locations often bear the brunt of dirt, stains, and wear and tear. To keep these areas looking their best, here are some essential surface care tips for high-traffic zones:
Place Mats and Rugs: Strategically position mats and rugs in high-traffic areas to safeguard your floors against dirt, scratches, and moisture. Opt for mats and rugs that are compatible with your specific surface and ensure they have a non-slip backing to prevent accidents. Regularly clean and vacuum these protective covers to eliminate dirt and debris.
Promptly Address Spills and Stains: Accidents can be frequent in high-traffic zones. Swiftly attending to spills and stains is vital in preventing them from setting in and becoming more challenging to remove. Keep a spill kit readily available, complete with absorbent cloths and stain removers. Act swiftly to blot spills and treat stains, minimizing their impact on your surfaces.
Increase Cleaning Frequency: High-traffic areas demand more frequent cleaning to maintain their pristine appearance. Elevate the frequency of your cleaning routines in these zones, paying extra attention to the removal of dirt, debris, and stains. Regularly sweep, vacuum, and mop these areas to prevent the buildup of dirt and ensure they remain fresh.
Use Protective Coatings: For surfaces susceptible to wear and tear, consider applying protective coatings. These coatings act as an additional layer of defense against scratches, stains, and other forms of damage. Consult with professionals or refer to manufacturer guidelines to identify suitable protective coatings for your specific surfaces.
Implement Regular Maintenance: Regular maintenance is the cornerstone of keeping high-traffic areas in optimal condition. This entails routine inspections, quick touch-ups, and the prompt addressing of any issues. Regularly scrutinize for signs of damage or wear, such as scratches, chips, or loose tiles. By addressing these concerns promptly, you can prevent further damage and preserve the integrity of your surfaces.
Preventive Measures to Keep Facilities Clean and Damage-Free
Prevention is always better than cure, especially when it comes to maintaining clean and damage-free surfaces. By implementing preventive measures, you can minimize the risk of stains, scratches, and other forms of damage. Here are some preventive measures to keep your surfaces looking their best:
Use Protective Measures: For hard floors, consider using mats at entrances to trap dirt and moisture. This will prevent debris from being tracked into your facility, reducing the risk of scratches and stains. Additionally, using felt pads under furniture legs can prevent scratches on delicate surfaces like hardwood or laminate.
Regular Maintenance: Make it a habit to sweep or vacuum floors daily to remove loose dirt and debris. For countertops and tables, wipe them down with a damp cloth after each use to prevent buildup and stains. Investing in high-quality cleaning tools, such as microfiber cloths or mops, can also make a significant difference in the effectiveness of your cleaning routine.
Enjoying a Clean and Sparkling Facility During the Holidays
Ensuring your facility maintains a pristine appearance during the holiday season is of paramount importance for facility managers. With an influx of shoppers and visitors, the cleanliness and overall ambiance of your establishment play a pivotal role in creating a positive impression.
As a facility manager, your commitment to cleanliness in high-traffic zones, especially entrances and checkout counters, is essential. It's crucial to identify areas that require more frequent cleaning and allocate sufficient time and resources. A well-structured cleaning schedule will help you oversee all tasks, ensuring no corner is left unattended.
While routine cleaning is the foundation, deep cleaning and maintenance activities are equally vital in preserving the overall condition and appearance of your facility during this festive season. By addressing these tasks diligently, you can guarantee that your facility remains immaculate, welcoming, and fully prepared for the holiday rush.
Moreover, the support of SOLID Surface Care is at your service for addressing those hard-to-reach areas and specialized cleaning requirements. Our trained experts possess the proficiency to manage even the most challenging cleaning scenarios. With their assistance, your facility will shine brilliantly throughout the holiday season, leaving a lasting impression on your shoppers and visitors.
For more information and to explore how SOLID Surface Care can help you achieve and maintain a spotless facility, don't hesitate to reach out to us. We offer a free consultation to address your specific needs and elevate your facility's cleanliness to new heights.
---
ABOUT SOLID
SOLID Surface Care, Inc. is a unified team of surface care experts. We deliver the highest level of care for all hard and soft surfaces while providing a world-class client experience. With SOLID, your surfaces are protected, your spaces are kept clean and healthy, and your expectations are exceeded. From carpet to stone to metal and wood, we care for the most precious surfaces in the world – Yours.