Hard Surface Care
Articles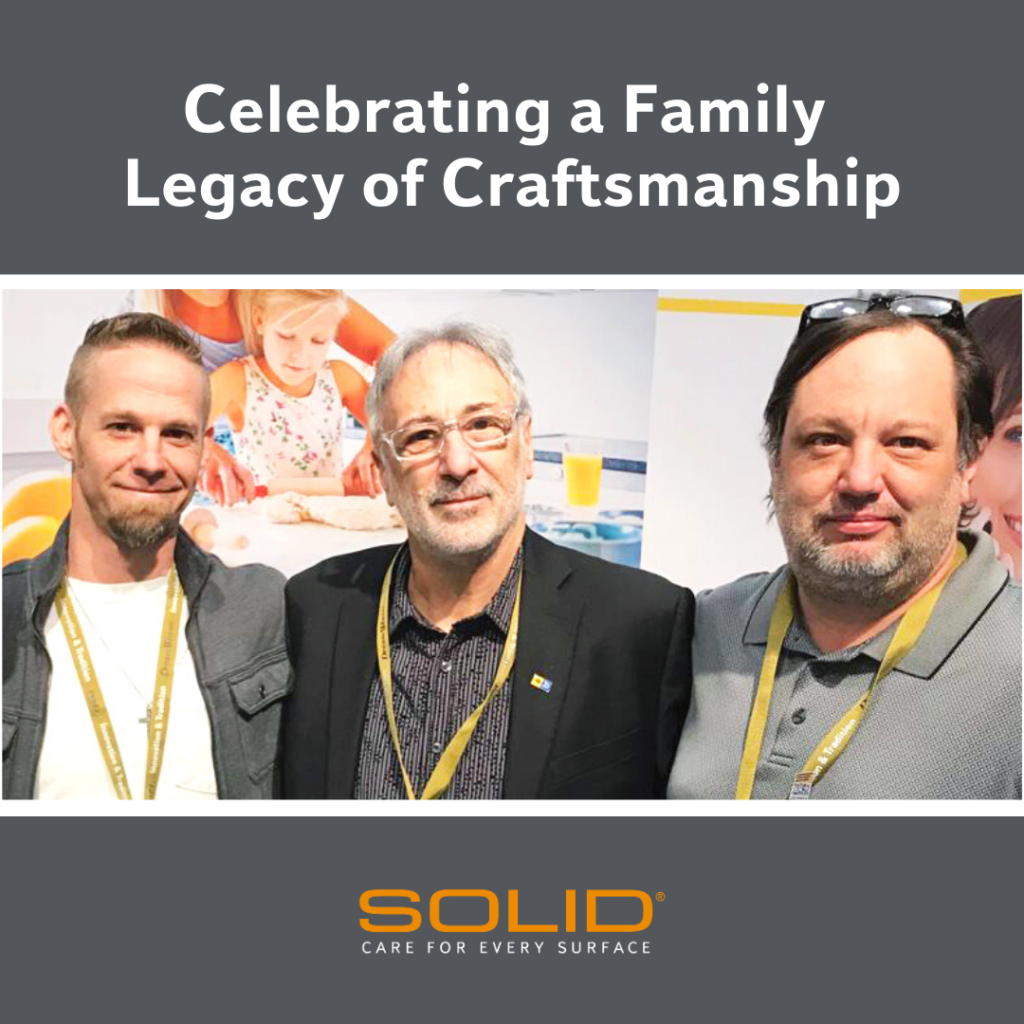 It is not often that a child chooses to follow the same career path as a parent; even less so for that path to continue for multiple generations, or to move across countries and continents. But within SOLID's Technical Services team, one family's passion for stone restoration remains as strong as the surfaces in their care, honed over five generations from fathers to sons, and resilient in an ever-changing industry.
The family's patriarch, Phil Calabritto, is SOLID's Senior Consultant for the Technical Services division. Phil has been instrumental in keeping the art of stone restoration alive and well, and his advice on stone care is world-renowned. But one of his greatest contributions to the industry has been his commitment to mentoring the next generation of craftsmen, including his sons, Scott Calabritto, SOLID's Senior Vice President of Technical Services, and Chad Nance, National Technical Manager.
A Family Tree Rooted in Stone Craftsmanship
The Calabritto family's history of developing stone craftsmen dates back to Phil's great-grandfather, a stone mason in Italy. After immigrating from Italy to the United States, Phil's grandfather and uncle installed marble and granite in Catholic churches in the Philadelphia area, and later worked in a stone quarry.
Phil did not intend to follow the same path, but while working in an unrelated industry in the early 1970s, he came across a client in need of assistance with a stone project. Phil reached out to his uncle for advice – who was still in the stone business, as many of his relatives were – and reeducated himself on stone installation and polishing. From that point on, Phil was committed to continuing the family's trade.
Growing up in the family business, Phil's sons found themselves drawn to stone craftsmanship the way their father had been. Phil began bringing his sons to work on stone restoration jobs early, his mentorship beginning when Scott and Chad were teenagers. "Phil wanted us to learn every part of this niche craft," says Scott. Phil didn't pressure his sons to go into the trade; they developed their own passion for the craft and the industry.
The Ever-Changing Industry of an Age-Old Material
Phil, Scott and Chad have seen waves of changes in stone trends and installation and maintenance techniques over the decades. The principles of stone restoration have remained largely unchanged, even over thousands of years. And the labor has always been physically demanding, from working by hand with raw equipment and extended periods of kneeling on hard stone, to bending over a machine as technology has advanced over time. But the introduction of more technically advanced tools, chemistries and equipment have helped make the processes less physically difficult and more cost effective.
Clients' expectations for stone restoration and maintenance have also evolved over time. It had long been the norm for building owners and managers to rely on restoration to undo years of neglect. Thanks to Phil's contributions to the hard surface industry, he helped pioneer methods of ongoing maintenance and preservation to protect these timeless stone materials.
As architectural design trends change, so does the craft of stone care. For centuries marble, granite, travertine and other natural stone have been built into huge blocks weighing multiple tons. It's now common for buildings to use stone blocks a fraction of this size and weighing one pound or less. More recently preferences have also changed from highly-polished stone to more honed finishes, and grinding and grout cleaning methods continue to evolve. The introduction of man-made, engineered stones to the building industry has also presented restoration and maintenance challenges that keep Phil and his sons learning and adapting to bring the best solutions to their clients. After all, "one of the best parts of the job is bringing a stone surface back to life, and seeing the client's reaction when they didn't think it could be done," says Chad.
Living the Legacy
More than 30 years ago, Phil helped restore the stone surfaces of an impressive state capital building. He was recently called to restore the same space, and he watched his sons lead the project just as he had done decades before. As Phil nears 60 years of experience as a stone craftsman, one of his greatest rewards is watching his sons continue the family trade. "It's thrilling to see my children take on the same responsibilities," he says. Phil is proud to point out that when added together, he and his sons have more than 100 years of stone care experience.
As Scott and Chad continue the legacy started three generations prior, they too have found fulfillment in developing an expertise very few have, marrying science and art to restore the beauty of stone surfaces and preserve these natural finishes for generations to come.
Even as technology advances the possibilities for stone craftsmanship, Phil has never lost his respect and appreciation for the timelessness of natural stone. Years ago he took a trip to visit ancient building ruins in his family's home country of Italy. Among the ruins he found familiarity in the millennia-old stone with the surfaces in his daily care. The trip to Italy, Phil says, is one he plans to experience again with his sons.
—
The Calabritto and Nance family story is not the only of its kind at SOLID. As Scott reflected, "Someone can take a job at SOLID because they were referred by a relative who works here, and as a family they build a career together."
In honor of Father's Day 2020, we will celebrate some of the other fathers at SOLID who, like Phil Calabritto, are passing down their craft to their children. We look forward to sharing their stories on our social media pages in the week ahead. Please follow the hashtag #SOLIDFathers to stay updated on the latest posts.
About SOLID Surface Care, Inc.
SOLID Surface Care, Inc. is the largest national self-performing surface care company in the facilities industry with over two decades of deep cleaning and disinfecting experience. Our well-trained team of experts provide the highest level of restoration and maintenance for all hard and soft surfaces, and treat spaces with the appropriate level of disinfecting while providing a world-class client experience. What makes us solid is our diligence in going beyond the surface to grasp your brand, budget and culture, develop a customized Consolidated Care Plan, all with an advanced data management platform (ES4U) that assures immediate information and transparency. With SOLID, your surfaces are protected, your spaces are kept clean and healthy, and your expectations are exceeded.
Contact SOLID for a complimentary site assessment: Call 844.227.6543 ext. 3 or visit solidcare.com/contact.