Facility Management
Articles
Today, cleaning isn't just about appearances. It's about the health of the people in your facility. Your business needs professional surface care and here's why.
When implementing a deep cleaning and disinfecting program, an essential step is to align with a qualified specialty provider. Choosing certified surface care experts and craftsmen that are equipped with world-class training, tools and materials will help ensure spaces look and feel their best.
Yes, janitorial teams are important for day-to-day facility upkeep. However, even after daily cleaning, deeper dirt, germs, dust, allergens, and other pathogens remain in carpets, on hard flooring, and high-touch surfaces throughout the facility.
Now more than ever, your customers and employees want to feel confident that the spaces that they occupy are clean, healthy, and germ-free. Reassure them by using SOLID's specialty care services alongside your usual daily cleaning services. SOLID technicians are trained and experienced in the latest deep cleaning and disinfecting protocols so you can continue to occupy – or reoccupy your space with confidence.
Benefits of SOLID's Professional Surface Care Services 
A combination of advanced planning and SOLID's expertise will help you, your facilities, and your staff and guests reoccupy reassured. Here are some of the benefits of investing in regular, proactive surface care to promote a clean and healthy environment.
Reduced Risk of Illness, Increased Productivity 
Did you know that the standard spray and wipe approach can cause cross-contamination and miss hard-to-reach areas? Our trained technicians will work with you to choose the right disinfection method or a combination of methods to help ensure spaces are as safe as possible and give building inhabitants peace of mind that they are in a healthy environment. Our deep cleaning,  disinfectant solutions, and antimicrobial experience:
provides virus-killing solutions for all surfaces.
eliminates odors and allergens.
kills mold and mildew.
includes a combination of delivery methods such as foggers and electrostatic sprayers.
SOLID's Cleaning for Health processes mitigate the spread of harmful pathogens and reduce the spread of illness. Less illness means fewer sick days and increased employee productivity.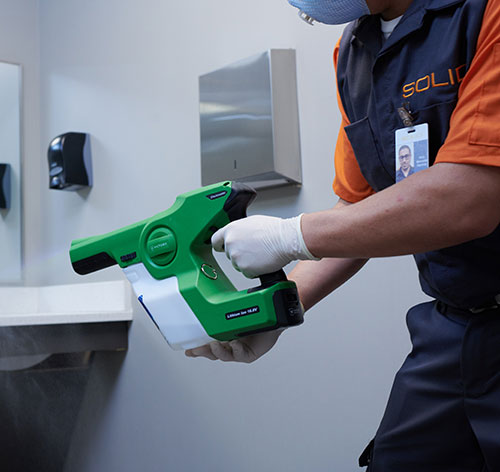 EPA-Approved Products and Processes 
We use EPA-approved cleaning and disinfecting products and processes, including antimicrobial treatments. Our technicians ensure disinfectants and other agents stay on surfaces for the recommended dwell time to kill germs and pathogens.   


Improved Air Quality 
Our restorative, professional surface care solutions and regular maintenance programs remove dirt, allergens, pathogens, and harmful corrosive material. As a result, up to 99% of pollutants and allergens are eliminated, significantly improving indoor air quality. 
A Positive, Professional Appearance 
Our expert approach to cleaning for health will result in a clean and healthy environment. Therefore, your facility will not only LOOK clean, and it will BE clean and healthy, restoring confidence in employees and visitors alike. 
Long Term Cost Savings, Extending Asset Life
Basic janitorial services only remove surface dirt, dust, and other contaminants. By investing in regular, periodic cleaning, maintenance, and restoration programs, your surfaces stay clean and healthy. Therefore, carpet, tile, resilient flooring, and other surfaces won't need to be replaced as frequently, saving you money in the long run. 
Resourced & Ready for Deployment
Staff shortages have caused many janitorial companies to be inconsistent with the level of service they can provide. SOLID has almost three decades of expert experience in professional surface care, deep cleaning, restoration, and maintenance across various industry sectors nationwide.
SOLID:
is

a national team of self-performing surface care experts.
currently has 35+ office locations with a team of 500+ surface care experts – ready to work.
cares for over 700 million square feet of commercial flooring annually across all 50 states and Puerto Rico.
takes pride in understanding your brand, budget, and culture to develop a Consolidated Care Plan.
provides an advanced online data management platform that assures immediate information and transparency.
is well-trained, experienced, and stays ahead of updates and recommendations from the CDC, EPA, OSHA, GBAC, and other leading authorities.


Why Wait? 
Every facility is different. SOLID offers a complimentary, professional consultation and site assessment to identify the best cleaning for health needs for your surfaces. Your reoccupation plans, traffic patterns, and facility usage are just a few of the items we review. For example, as your partner, we will determine the best course of action, including frequency, the best cleaning methodology, and more.
With SOLID, you can rest assured that your surfaces are protected, your spaces are kept clean and healthy, and your expectations are exceeded. Contact us today to discuss your facility assessment from SOLID.