News and Events
Articles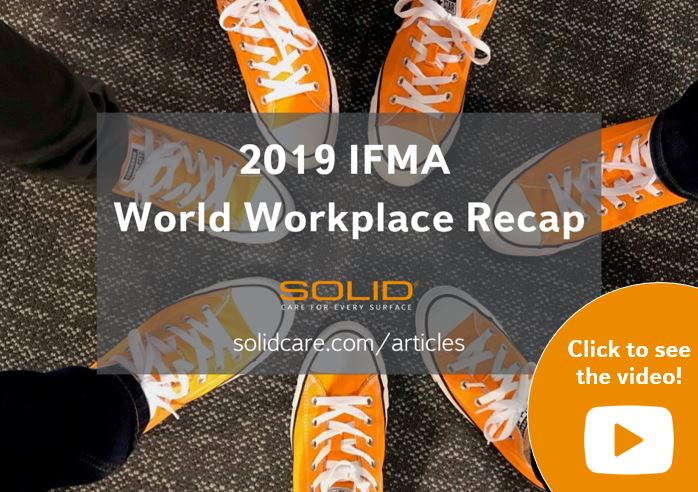 There are many ways to take your facility and career to the next level, one of which is professional development. That's why we enjoy meeting and networking alongside facility managers and industry leaders at the International Facility Management Association's (IFMA) annual World Workplace Conference & Expo.
Last week the SOLID Surface Care team headed to Phoenix for World Workplace 2019 to network and exhibit in booth number 1141. We were inspired by Robyn Benincasa and Peter Hinssen's keynotes, expanded our knowledge about the future of facility management in the educational sessions, connected with clients on the expo floor and enjoyed meeting new friends at many other IFMA hosted events. In keeping with this year's theme, we wanted to share some of the ways that SOLID Surface Care can help take your facility and career to the next level.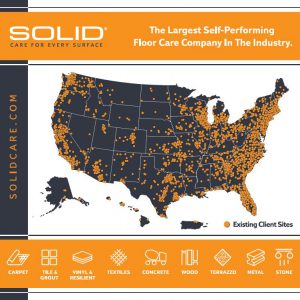 Creating Industry Standards
SOLID is setting the standard as the largest self-performing floor maintenance company in the industry. By consolidating your floor maintenance and surface care with one partner who can provide one source, one point-of-contact and one invoice for all surface care, you will save time and increase credibility by reducing your vendor headcount.
Recognize Maintenance Strategies
The SOLID team of surface care experts offer ongoing professional consultation to our clients. We want you to be the hero of your facility! Our team works with you to define routine and preventative maintenance strategies for all of your floor and architectural surfaces. Flooring restoration may be needed in select areas of your facility and those areas will be identified during your site assessments. With a customized Consolidated Care Plan by SOLID, you'll be able to set the standard for your facility's maintenance plan to protect your investments and ensure your facility looks like new.
Easy Access to Account Information
Communication is important in any relationship, including those you have with facility management partners. SOLID has a proprietary online data management platform, ES4U, which allows you—as our client— to view service notes and before and after photos, monitor work-orders, make notations directly to floor plans and much more. Anytime, anywhere. We want to make surface care management a breeze and provide information all in one place. Since ES4U can be accessed 24/7/365, your online account management platform is always available to help streamline your day.
Staying ahead of your surface care will help make you a standout facility manager. Take your career—and your company—to the next level with SOLID Surface Care. We look forward to seeing everyone next year at World Workplace 2020 in Chicago, Illinois. Until then, contact us anytime at solidcare.com/contact or 844-227-6543 ext 3.