Featured
Articles
Are you looking to breathe new life into your commercial space? If so, proper concrete care is essential, and SOLID Surface Care is here to help. Whether you own a retail store, office building, or warehouse, maintaining your concrete floors and surfaces can significantly impact the overall appearance and functionality of your space. In this step-by-step maintenance guide, let's explore the best practices for revitalizing your commercial space through effective concrete care. From routine cleaning and stain removal to crack repair and sealing, we will cover it all. By following these expert tips and techniques, you can ensure that your concrete floors and surfaces remain in pristine condition, enhancing the aesthetic appeal and longevity of your commercial space. Get ready to transform your environment with the power of proper concrete care. Let's dive in and discover the secrets to maintaining a vibrant and inviting commercial space.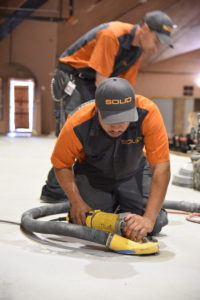 The Importance of Concrete Maintenance in Commercial Spaces
Maintaining your concrete floors and surfaces is crucial for the overall well-being of your commercial space. Concrete, while durable and long-lasting, is not immune to wear and tear. Over time, it can develop cracks, stains, and other issues that can detract from the overall appearance and functionality of your space. By investing in regular concrete maintenance, you can prevent these problems from escalating and ensure that your commercial space remains in top condition.
One of the primary reasons why concrete maintenance is essential is its impact on safety. Cracks and uneven surfaces can pose a significant risk to employees and customers, leading to slip and fall accidents. Regular inspections and repairs can help identify and address these hazards promptly, minimizing the chances of injuries in your commercial space. Additionally, well-maintained concrete surfaces can create a positive impression on visitors, boosting your brand image and attracting potential customers.
Assessing the Condition of Your Concrete
Before diving into the actual maintenance process, it is essential to assess the condition of your concrete. This step will help you identify existing issues and determine the appropriate course of action. Start by thoroughly inspecting the surface for cracks, spalling, discoloration, or any other signs of damage. Take note of the severity and location of these issues.
If you notice small cracks or minor damages, they can often be repaired using DIY methods. However, for significant cracks or extensive damage, it is best to consult a professional concrete contractor. They will have the expertise and specialized equipment to handle complex repairs and ensure a long-lasting solution. Assessing the condition of your concrete will guide you in determining the level of maintenance required and help you prioritize the necessary steps to revitalize your commercial space.
Step-by-Step Guide to Cleaning Concrete Surfaces
Routine cleaning plays a vital role in maintaining the appearance and hygiene of your concrete surfaces. Regular foot traffic, spills, and dirt can gradually dull the surface and make it look unattractive. By incorporating proper cleaning practices into your maintenance routine, you can keep your commercial space looking fresh and inviting.
Start by removing any loose debris, such as dirt, sand, or leaves, using a broom or a dry mop. This step will prevent these particles from scratching the surface during the cleaning process. Next, prepare a solution of mild detergent and warm water. Avoid using harsh chemicals or cleaners that contain acids, as they can damage the concrete. Dip a mop or a soft-bristle brush into the solution and gently scrub the entire surface, paying extra attention to areas with stains or spills.
After scrubbing, rinse the surface thoroughly with clean water to remove any soapy residue. Use a wet vacuum or a squeegee to remove excess water and ensure that the surface dries completely. Avoid air drying, as it can lead to water spots or streaks. For stubborn stains, you may need to use specialized concrete cleaners or poultices. Follow the manufacturer's instructions carefully and test the product on a small, inconspicuous area before applying it to the entire surface. Cleaning your concrete surfaces regularly will help maintain their appearance and prevent the buildup of dirt and grime.
Repairing Cracks and Damages in Concrete
Cracks in concrete can occur due to various reasons, such as shrinkage, settling, or heavy loads. Ignoring these cracks can result in further damage and compromise the structural integrity of your commercial space. Therefore, it is crucial to repair them promptly to prevent them from spreading and causing more extensive problems.
For small cracks, you can use a concrete crack filler or a patching compound. Start by cleaning the crack with a wire brush to remove any loose debris. Then, apply the filler or patching compound according to the manufacturer's instructions. Use a trowel or a putty knife to smooth the surface and ensure that the compound fills the crack completely. Allow it to dry thoroughly before applying any sealants or coatings.
For larger cracks or significant damages, it is recommended to consult a professional concrete contractor. They will be able to assess the severity of the issue and provide appropriate repair solutions. Depending on the extent of the damage, they may use techniques such as epoxy injections, concrete overlays, or even complete replacement. Remember, addressing cracks and damages promptly will help maintain the structural integrity of your commercial space and prevent further issues down the line.
Applying Protective Coatings to Concrete
Applying protective coatings to your concrete surfaces is an excellent way to enhance their durability and longevity. These coatings act as a barrier, protecting the concrete from moisture, stains, chemicals, and other harmful substances. They also provide a glossy or matte finish, depending on your preference, adding an aesthetic appeal to your commercial space.
Before applying any coatings, it is crucial to prepare the surface properly. Start by cleaning the concrete thoroughly, following the steps mentioned earlier. Once the surface is clean and dry, apply a concrete primer to promote adhesion. Allow the primer to dry as per the manufacturer's instructions. Next, apply the desired coating using a roller or a sprayer, ensuring even coverage. It is essential to follow the manufacturer's instructions regarding the number of coats, drying time, and any additional steps, such as sanding or buffing.
There are various types of coatings available, including epoxy, polyurethane, acrylic, and more. Each type offers different benefits and is suitable for specific applications. Consider factors such as the level of foot traffic, exposure to chemicals, and desired aesthetic when choosing a coating for your commercial space. Applying protective coatings regularly will help extend the lifespan of your concrete surfaces and keep them looking great for years to come.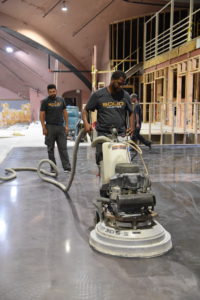 Preventive Measures for Long-Term Concrete Care
In addition to routine cleaning and repairs, taking preventive measures can significantly contribute to the long-term care of your concrete surfaces. These measures can help minimize the chances of future damages and reduce the frequency of maintenance tasks.
One of the most effective preventive measures is to apply a concrete sealer. Sealers penetrate the surface of the concrete, forming a protective layer that repels moisture, stains, and other contaminants. They also help prevent cracking and spalling caused by freeze-thaw cycles in colder climates. Regularly applying a concrete sealer will help maintain the integrity of your concrete and minimize the need for extensive repairs.
Another preventive measure is to use mats or rugs in high-traffic areas or places prone to spills. These mats can help trap dirt and moisture, preventing them from reaching the concrete surface. Additionally, they can provide additional traction, reducing the chances of slip and fall accidents. Encourage employees and visitors to wipe their feet or remove their shoes before entering the space to minimize the transfer of dirt and debris further.
Regular inspections are also crucial for identifying potential issues early on. Conduct periodic evaluations of your concrete surfaces to check for any signs of damage, such as cracks, spalling, or discoloration. Promptly addressing these issues will prevent them from worsening and save you from costly repairs in the future. Finally, it is essential to educate your employees on proper maintenance practices
and provide clear guidelines for handling spills or accidents. By fostering a culture of care and responsibility, you can ensure that everyone plays a role in maintaining the condition of your commercial space.
Hiring Professional Concrete Maintenance Services
While some concrete maintenance tasks can be performed as DIY projects, there are instances where hiring professional services is the best course of action. Professional concrete maintenance companies have the expertise, experience, and equipment needed to handle complex repairs, deep cleaning, and specialized coatings. Their knowledge of industry best practices and access to high-quality materials can ensure optimal results for your commercial space.
When selecting a concrete maintenance service provider, it is essential to do thorough research. Look for companies with a proven track record, positive customer reviews, and appropriate certifications. Request quotes from multiple providers and compare their services and pricing. It is also beneficial to ask for references and examples of their previous work to assess their capabilities. By hiring a professional concrete maintenance company, you can save time, effort, and resources while ensuring that your commercial space receives the care it deserves.
Conclusion
SOLID Surface Care can help maintain your commercial space's concrete floors and surfaces – assisting in creating a vibrant and inviting environment. By following the step-by-step maintenance guide outlined in this article, we can help you revitalize your commercial space and ensure its longevity. Regular cleaning, repairing cracks and damages, applying protective coatings, and taking preventive measures will help keep your concrete surfaces in pristine condition. We can help you assess the condition of your concrete, provide professional technicians, and use recommended products for optimal results. With proper concrete care, your commercial space will shine, leaving a lasting impression on visitors and creating a positive environment for your business to thrive.
About SOLID:
SOLID Surface Care, Inc. is a unified team of surface care experts who deliver the highest level of care for all hard and soft surfaces while providing a world-class client experience. With SOLID, your surfaces are protected, your spaces are kept clean and healthy, and your expectations are exceeded. From carpet to concrete to metal and wood, we care for the most precious surfaces in the world – Yours.
Contact us today for more information about concrete and other surface care by calling 844.227.6543 ext 3 or filling out our online contact form.