Featured
Articles
In the highly competitive retail industry, where floor maintenance in retail spaces plays a pivotal role, every aspect of a store's appearance and functionality contributes significantly to attracting customers and ensuring their satisfaction. Among these aspects, flooring often takes center stage. The right flooring not only enhances the aesthetics of retail space but also contributes to safety and maintenance efficiency. In this comprehensive guide, we'll explore the significance of durable flooring in retail settings and delve into the transformative power of NeverStrip and SOLID. With insights from key industry figures, Eric Wroldsen, Chief Sales Officer of SOLID, and David Beedie, President of NeverStrip, we'll uncover how our partnership, expertise, and national footprint are changing the game for retailers.
Floor Maintenance: The Backbone of Retail
The phrase "first impressions matter" couldn't be truer for the retail industry. When customers walk into a store, the visual impact of the space can significantly influence their perception of the brand and their willingness to make purchases. This is where flooring plays a pivotal role.
Eric Wroldsen, Chief Sales Officer of SOLID, emphasizes the importance of floor maintenance: "In the world of retail, the floor is the canvas upon which the entire shopping experience unfolds. It must not only look visually appealing but also withstand the daily wear and tear of high foot traffic. Maintaining and caring for your flooring isn't just an investment; it's a strategic necessity for retailers."
NeverStrip Floor Coatings: A Game-Changing Solution
NeverStrip stands out as a notable player in the flooring industry. These innovative floor sealers are changing the way retailers approach floor maintenance, and for good reason.
David Beedie, President of NeverStrip, sheds light on the transformative nature of their products: "At NeverStrip, we understand the challenges that retailers face in maintaining their spaces. Our sealers are engineered to not only enhance the aesthetics of a retail environment but also to provide durability, sustainability, and cost-efficiency. Our partnership with SOLID has allowed us to combine our exceptional products with their expertise and national presence, resulting in a winning formula for retailers."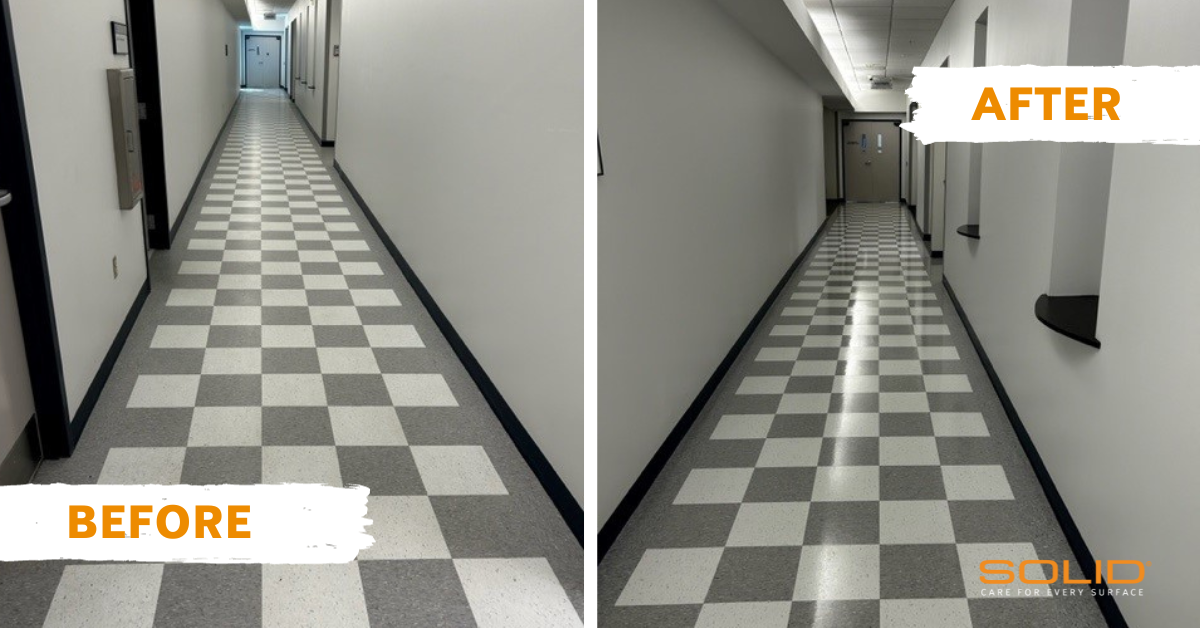 Benefits of NeverStrip Sealers
Let's now examine several key benefits that NeverStrip offers for retail spaces:
Labor-Saving
One of the primary advantages of NeverStrip Sealers is their ability to save on labor costs. SOLID's expert technicians efficiently apply these sealers, reducing the need for constant maintenance and ensuring that your retail space always looks its best.
Sustainable Floor Care Method
NeverStrip's focus on extending the life of your flooring and reducing the need for frequent replacements aligns with sustainable practices. This not only saves you money but also contributes to a greener environment.
Cost-Saving
By significantly lowering floor care costs, NeverStrip Sealers allows retailers to allocate resources more efficiently, ultimately increasing their bottom line.
Consistently Better-Looking Floors
The aesthetics of a retail space are paramount. NeverStrip ensures that your floors consistently look their best, bidding farewell to dull and worn-out flooring.
Non-Yellowing
Unlike traditional coatings that may turn yellow over time, NeverStrip Sealers maintain their clarity and aesthetics, enhancing your retail environment's appeal.
Long-Lasting Performance
NeverStrip Sealers will not flake, peel, wear, or "walk-off" the floor. This durability ensures that your retail floors stay in top condition for years to come.
No Stripping Required
One of the standout features of NeverStrip is that no stripping is EVER required during a typical lifecycle. This not only saves time but also reduces maintenance costs.
Easily Refreshed
If your retail space needs a quick refresh, NeverStrip makes it easy. Our technicians can refresh your floors without the hassle of extensive maintenance.
Natural Look on Terrazzo, Concrete, Stone
For retail spaces with terrazzo, concrete, or stone flooring, NeverStrip provides a more natural appearance that complements your design.
UV-resistant and Suitable for Outdoor Use
NeverStrip is not affected by UV exposure, making it ideal for both indoor and outdoor applications, adding versatility to your retail space.
Superb Traction
Safety is paramount in retail. NeverStrip's excellent traction properties ensure that your customers and staff move around safely, reducing the risk of accidents.
Easy to Keep Clean
Maintaining a clean environment is effortless with NeverStrip. It's much easier to keep your floors looking pristine, especially in high-traffic areas.
Dust-Free Burnishing
In healthcare settings or areas where dust is a concern, NeverStrip's dust-free burnishing ensures a clean and healthy environment for all.
Quick Dry Times
With 10-minute dry times, your retail space can be back in service with minimal delay, minimizing disruptions to your operations.
Easy Repairs
Should any damage occur, NeverStrip allows for easy spot repairs without the need to address the entire floor, saving you time and money.
Traditional vs. Innovative: Why Sealers Are a Benefit
Traditional strip and wax methods have long been the norm in floor maintenance. However, these methods are time-consuming, labor-intensive, and costly. Retailers must shut down sections of their stores, leading to lost revenue during maintenance. In contrast, NeverStrip Sealers provides a seamless and efficient solution. With quick dry times, minimal downtime, and fewer labor hours required, retailers can enjoy a consistently attractive and cost-effective flooring solution without the inconvenience of traditional methods.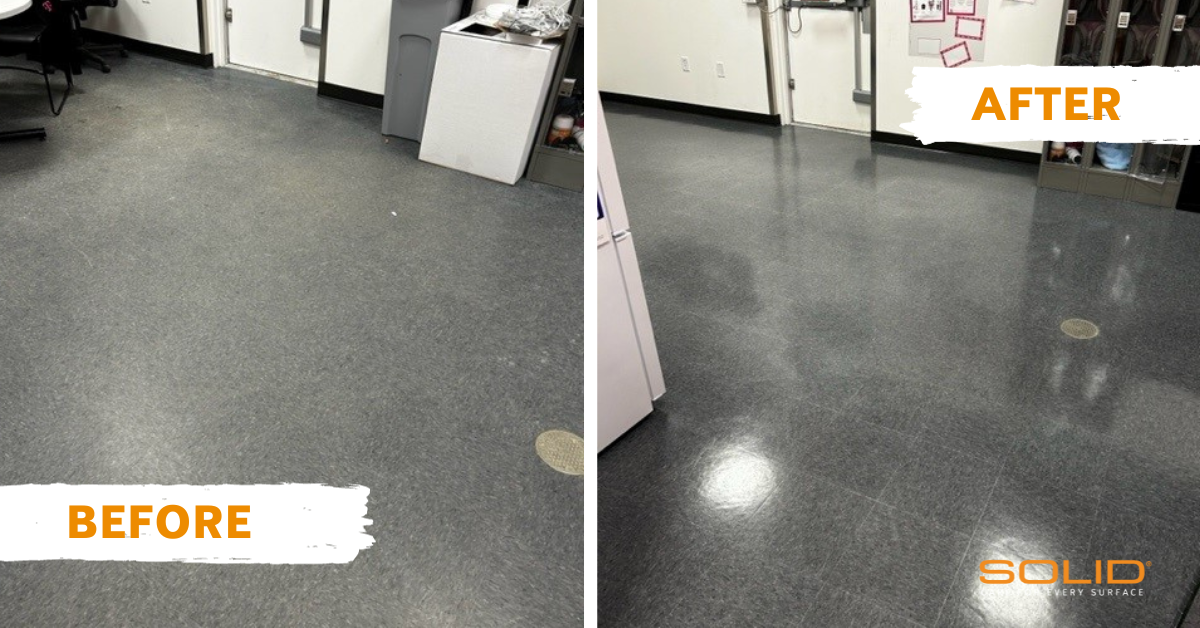 Transforming Retail Spaces: The Power of a Strong Partnership
"The success of NeverStrip in retail settings goes hand in hand with the strong partnership between NeverStrip and SOLID," shares Eric Wroldsen, Chief Sales Officer of SOLID. "Our partnership with NeverStrip is built on a shared vision of providing the best flooring solutions to our clients. This synergy enables us to offer retailers more than just products; it's a comprehensive approach that combines NeverStrip's exceptional floor sealers with SOLID's expertise in floor care maintenance and our national footprint. This has proven to be a game-changer for retailers seeking durable, cost-effective, and visually appealing flooring solutions. It's about creating spaces that not only look impressive but also stand the test of time."
David Beedie, President of NeverStrip, echoes the sentiment: "SOLID's reputation for expertise and their national presence has elevated our ability to reach and serve retailers across the country. Together, we're not just providing flooring solutions; we're revolutionizing the retail experience."
Transforming Retail Environments with NeverStrip and SOLID
In the fast-paced world of retail, where first impressions can make or break a customer's shopping journey, the importance of floor maintenance cannot be overstated. NeverStrip Sealers, with their array of benefits, are transforming the retail landscape. Our partnership with NeverStrip, coupled with our expert technicians and national reach, ensures that retailers can enjoy the advantages of durable and aesthetically pleasing flooring, all while optimizing maintenance costs.
In closing, proper floor maintenance is not just a necessity; it's an investment that pays off in terms of customer satisfaction, operational efficiency, and the bottom line. With NeverStrip and SOLID by your side, your retail space can stand out in a crowded marketplace and create a lasting impression that keeps customers coming back for more.
Ready to Elevate Your Retail Space? Contact Us Today to Explore NeverStrip's Flooring Solutions and SOLID's Expertise.
SCHEDULE YOUR APPOINTMENT HERE
---
About SOLID
SOLID Surface Care, Inc. is a unified team of surface care experts. We deliver the highest level of care for all hard and soft surfaces while providing a world-class client experience. With SOLID, your surfaces are protected, your spaces are kept clean and healthy, and your expectations are exceeded. From carpet to stone to metal and wood, we care for the most precious surfaces in the world – Yours.
 About NeverStrip
NeverStrip Floor Coatings is a leading innovator in advanced floor sealer technology, offering a range of high-performance solutions that transform the way businesses care for their floors. With a commitment to sustainability, durability, and cost-effectiveness, NeverStrip's floor sealers are trusted by industries such as retail, healthcare, education, and hospitality. Backed by years of proven success and a strong partnership with SOLID, NeverStrip continues to revolutionize flooring maintenance, delivering visually appealing and long-lasting results for clients nationwide.